The Minister for Communications, Climate Action and the Environment has been presented with the 10 recommendations of the country's first Youth Assembly on climate change, which took place in the Dáil.
Delegates Salim Kajani from Co Dublin and Saoi O'Connor from Co Cork presented the recommendations to the minister after the day of debate discussion about what Ireland needs to do to tackle environmental issues.
More than 150 young people from all 26 counties gathered for the event in the Dáil. Once the debate concluded, they announced their recommendations on climate change.
Presenting the recommendations to the minister, Salim Kajani said they did not come into the Dáil for nothing, and he said he hoped Minister Bruton could at least consider the proposals and implement something along their demands.
He said climate change is going to affect us all, and added that the fact that the Government is basically doing nothing is "sickening".
We need your consent to load this rte-player contentWe use rte-player to manage extra content that can set cookies on your device and collect data about your activity. Please review their details and accept them to load the content.Manage Preferences
He asked if they all looked like clowns, because he felt everything the youth say is treated as a joke.
He told the minister to look into the eyes of the children in front of him, because their future is in his hands. 
The assembly comes at a time when young people have helped make climate change a national talking point through a series of protests in recent months.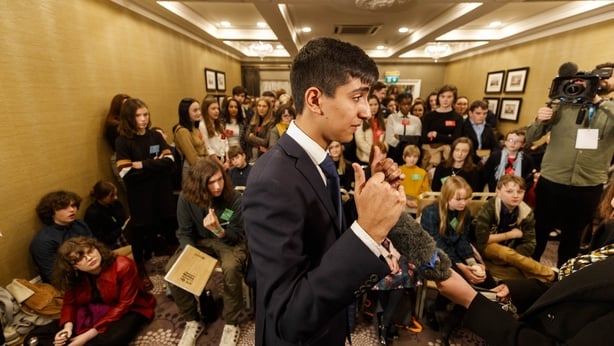 The event was a chance for the 157 young people, aged between 10 and 17, to discuss what Ireland needs to do to tackle climate issues.
Ceann Comhairle Seán Ó Fearghaíl, who chaired the proceedings, said he admired the young people enormously for the efforts that got them to the Dáil.
He said everyone should be worried about the planet, but he said fear would not serve to seek solution. Generating fear and upset was not the way to go, he said.
Mr Ó Fearghaíl urged the young people to leave fear at the door and enter their discussions with optimism.
The number of young delegates was the same as the number of TDs in the Dáil.
Those selected were in groups and, with a facilitator, worked out their proposals on climate action.
They focused on areas including environment, economics, food and farming, power and education.
Conal O'Boyle, 17, from Donegal told the Dáil that children are united behind the science that proves that we are in the "fast lane to a climate breakdown".
He said unless something is done now it will be too late. He told the Dáil that if the children are united that they will never be divided.
Conal, who was part of the power and energy group, said that we are far too dependent on fossil fuels and he criticised politicians for granting licences to drill off the west coast.
He said this was proof that calls for action on climate change were falling on deaf ears.
'The fact that we are sitting in [TDs'] seats today should serve as a massive embarrassment to them ... as they have embarrassed this country on an international level when it comes to climate action.' | https://t.co/R7I13q4fRb | #RTÉOnClimate #YouthAssembly pic.twitter.com/s9zEXmL40j

— RTÉ News (@rtenews) November 15, 2019
Sioda Monaghan, 14, from Co Mayo said the consequences for climate change are right now and ignoring this was inhumane, cruel and not an option.
She said the total number of fatalities due to Storm Lorenzo alone was ten, which was ten lives too many.
She asked how much had to be lost to call climate change an emergency and invest funding in order to prevent disasters.
Sioda, who was part of the economics group, said they would be focusing on proposals regarding money, taxes, funding and budgets.
"How many of us have paused to consider the cost of doing nothing" 14-year-old Sioda Monaghan from Co Mayo said the consequences for climate change are right now and ignoring this she said was inhumane, cruel and not an option. pic.twitter.com/ha77B2EqCp

— Aisling Kenny (@KennyAKE) November 15, 2019
Meanwhile, 16-year old Alma Victoria Krause, who was part of the food and farming group, said only 10% of Irish soil was covered with trees making Ireland the lowest forestry covered in the EU.
She said farming methods were limiting biodiversity and damaging soil and she said the production of meats and dairy are highly industrialised.
Alma said 60% of greenhouse methane came from the consumption of meat and dairy which she said needed to be reduced.
She said we must start eating consciously and locally in order to make a difference.
---
Read more:
Latest on Youth Assembly and Climate Change
---