The chair of the Oireachtas Transport Committee Fergus O'Dowd has said it is "absolutely unacceptable" that Iarnród Éireann might introduce pre-book only journeys to deal with overcrowding.
Mr O'Dowd said that pre-booking creates tension, problems and uncertainty for rail users.
Passenger numbers are at record levels with 48 million journeys undertaken in 2018 and the volume of rail travel is expected to be higher again this year.
The CEO of Iarnród Éireann, Jim Meade told RTÉ's Primetime that crowding on trains could get worse before it gets better as additional carriages will not arrive until late 2021 at the earliest. 
Mr O'Dowd told RTÉ's Morning Ireland that the investment was not there during the recession and while there "is a lot of pain for a lot of people" who are commuting, the funding has now been secured as part of the Budget to invest in 41 new commuter intercity carriages.
While he could not confirm if the carriages have been ordered, he said the process takes time and confirmed the carriages will not be in service until 2021.
---
Read More: 
Iarnród Éireann warns of introduction of pre-booked trains
'Horribly overcrowded': Ireland's trains creaking at the seams
---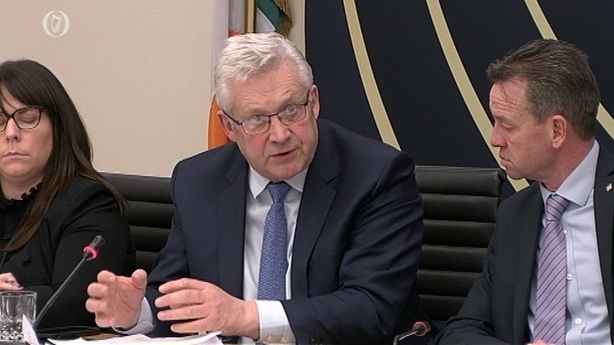 He said the growth of the economy is causing significant stress on rail lines. 
He said the costs of refurbishing 28 train carriages which were withdrawn during the recession would now be "uneconomic".
Mr O'Dowd said the future of rail will be greener and better with 600 battery and electric powered carriages set to be ordered over the next ten years.
Meanwhile, Green Party leader Eamon Ryan has said a failure to invest in public transport over the last three years and a focus on roads has led to persistent overcrowding on the rail network.
Speaking on RTÉ's Sean O'Rourke programme, Mr Ryan said Minister for Transport Shane Ross "sat on a report" for the last three years that warned investment in rail carriages was needed and recommended that unused carriages be brought back into use.
Mr Ryan said that the investment in the motorway between Castlebar and Westport should not have been a priority and the focus should have been put on a rail infrastructure in the west instead. 
Jim Deegan, CEO of Railtours Ireland First Class, told the programme that free travel needs to be regulated as most trains are being used by people travelling for free. 
Mr Ryan disputed this and said that the issue was not pensioners travelling but Government policy.