European Commission President Jean-Claude Juncker has said the EU has done "all in its power" to ensure an orderly Brexit, but said the bloc would await British parliamentary approval for a new divorce deal before ratifying it.
Mr Juncker also said dealing with Brexit had been "a waste of time and a waste of energy."
Expressing regret that Britain planned to leave the EU on 31 October, Mr Juncker said: "At least we can look ourselves in the eyes and say that we have done all in our power to make sure that this departure is orderly."
Speaking to the European Parliament in Strasbourg, Mr Juncker added: "We need now to watch events in Westminster very closely.
"It's not possible, not imaginable that this parliament will ratify the agreement before Westminster will have ratified the agreement."
In what is expected to be his last address to the European Parliament of his term in office, he added: "It has pained me to spend so much of this mandate dealing with Brexit.
MEPs gathering in Strasbourg had some degree of expectation that they might get a chance to ratify the latest Brexit deal reached at the European Council Summit in Brussels last week.
The European Parliament is not due to sit next week and some MEPs have pointed out that an emergency sitting will not be possible because they will be away on delegation visits.
This suggests that the departure deal could be pushed beyond 31 October deadline, even if it is passed by MPs in London.
In a hint that MEPs should not hold up the process any further if it passes through the House of Commons, Mr Juncker told MEPs that the agreement "addresses this parliament's demands."
President of the @EU_Commission @JunckerEU has lamented how much of his term was spent on #Brexit, saying it's a waste of time and energy pic.twitter.com/s5yY1Wf4MR

— RTÉ News (@rtenews) October 22, 2019
---
Read more
---
My last words @Europarl_EN: Thank you for your responsible position on #Brexit and extension. After what I have heard in this chamber today, I have no doubt that we should treat the British request for extension in all seriousness.

— Donald Tusk (@eucopresident) October 22, 2019
European Council President Donald Tusk said he was consulting EU leaders on how to respond to the UK's request for an Article 50 extension.
He said: "The situation is quite complex following events over the weekend in the UK, and the British request for an extension of the Article 50 process.
"I am consulting the leaders on how to react, and will decide in the coming days. It is obvious that the result of these consultations will very much depend on what the British parliament decides, or doesn't decide. We should be ready for every scenario.
"But one thing must be clear: as I said to Prime Minister [Boris] Johnson on Saturday, a no-deal Brexit will never be our decision."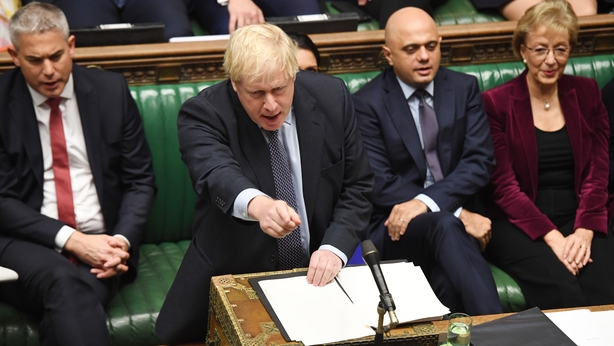 It comes as British Prime Minister Boris Johnson faces two pivotal Brexit votes in parliament today, that will decide if he can deliver on his pledge to lead the UK out of the EU in nine days' time.
After he was forced by opponents into the humiliation of asking the EU for a delay that he had promised he would never ask for, Mr Johnson is battling to ram legislation through the House of Commons that will enact his last-minute Brexit deal.
In yet another day of high Brexit drama, MPs will vote at around 6pm this evening on the 115-page Withdrawal Agreement Bill and then vote on the government's extremely tight timetable for approving the legislation.
"I hope parliament today votes to take back control for itself," said Mr Johnson.
"The public doesn't want any more delays, neither do other European leaders and neither do I. Let's get Brexit done on 31 October and move on."
Defeat in either vote would scupper Mr Johnson's plans to leave the EU - "do of die" - on 31 October.
Mr Johnson would then have to decide whether to abide by a law that demands he accept any Brexit delay offered by the EU or somehow leave without a divorce deal.
Victory, while an imperfect indicator of possible support, would simply open up another opportunity for opponents to ambush the government with amendments that could wreck Mr Johnson's plans.
Under the government's current plans, the legislation would be rushed through the House of Commons in just three days.
Previous bills to implement major European treaties have taken between ten and 40 sitting days to get through parliament, according to the Institute of Government.
A spokesman for Mr Johnson said that if the legislation strayed too far from the deal, then its ratification would be placed in question.
Additional reporting: PA