Former senior IRA member Ivor Bell has been found not guilty of soliciting the murder of Jean McConville.
The Public Prosecution Service in Northern Ireland alleged that he had encouraged Gerry Adams and another man to murder and secretly bury the Belfast mother-of-ten in December 1972.
The Louth TD and former Sinn Féin president categorically denies any involvement in Mrs McConville's killing.
The IRA claimed that she was an informer, but an investigation by the Police Ombudsman for Northern Ireland said there was no evidence to support that claim.
The trial began last week and ran for seven days, but the media was not allowed to report on it until restrictions were lifted this morning.
The case against Mr Bell was based on the contents of interviews he gave as part of an oral history project by Boston College.
The 82-year-old was given an assurance that the contents would remain secret until he died, or gave permission for them to be released.
But the PSNI took legal action that forced Boston College to hand over the material to detectives investigating the murder of Mrs McConville.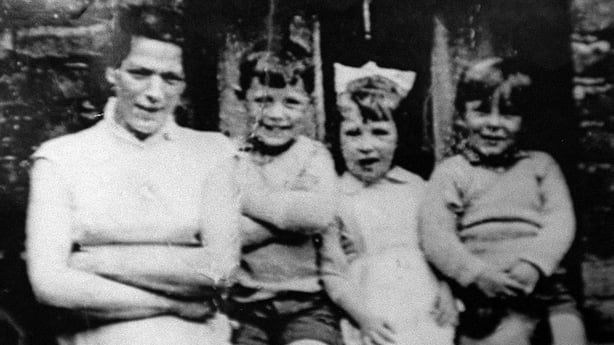 While Mr Bell was excused from attending the trial or giving evidence because of ill health, his voice was heard when 33 minutes of interviews were played in court last week.
He claimed the fate of Mrs McConville had been discussed at a meeting held in the kitchen of a house on the Falls Road in west Belfast in December 1972, shortly before she was killed.
Mr Bell claimed the others who took part in the discussions were Mr Adams and Pat McClure, a former senior IRA member who died a number of years ago.
Identifying himself as the operations officer for the Belfast Brigade of the IRA at the time, he claimed Mr Adams had been officer commanding.
At one point it was put to him: "Some of the press and some authors have stated that ... Gerry gave the order for her killing and disappearance. Is there a possibility that they are wrong?"
Mr Bell replied: "The only thing I can say about that is this - Gerry would have passed the information back to GHQ; that one, she was a tout; two, she was taking money; and three, that she had to be executed."
Mr Adams was called as a witness for the defence.
He was arrested and questioned about the murder in 2014, but released without charge.
During more than an hour of questioning on Monday, Mr Adams repeatedly denied any involvement in the killing, or the IRA.
Asked about the meeting at which Mr Bell claimed the killing of Mrs McConville had been discussed, he said he had not attended any such meeting.
"I never had any discussions with Ivor Bell or indeed any others about Mrs McConville," he told the court.
"I want to deny categorically any involvement in the abduction, killing and the burial of Jean McConville."
Mr Adams also said he believed the IRA had been wrong to kill the mother-of-ten, and that they should have shown her compassion.
The judge yesterday ruled that the key prosecution evidence against Mr Bell was inadmissible.
Mr Justice O'Hara said the Boston College interviews, which the prosecution said amounted to a "confession" by Mr Bell, were unreliable.
He said the person who conducted the interviews, former IRA member Anthony McIntyre, was clearly biased and a man with an agenda who was "out to get Mr Adams."
The judge acknowledged prosecution claims that the false promise of legal confidentiality given to Mr Bell might have "liberated him to tell the truth."
But, he said, it might also have let him feel free to "lie, distort, exaggerate, to blame and to mislead."
This morning, he directed the jury of eight men and four women to find Mr Bell not guilty.
"There now is no evidence which the prosecution can put before you in order to support the case," he said.
"My role now is to direct you to return a verdict of not guilty, because you simply cannot find him to have done the acts alleged."
Five of Mrs McConville's children were in court for every day of the trial. They looked shocked when the judge ruled the Boston tapes inadmissible.
In a statement afterwards, they said it had not been easy to listen to the interviews and "are bitterly disappointed that it cannot be used in this case."
They have called for a public inquiry into their mother's murder.
"Realistically, the only way someone is going to be brought to justice for what happened to our mother is if someone walks into a police station and admits they did it," said Michael McConville, who was 11 when his mother was abducted and killed.
Nearly half a century after her murder, they acknowledged that is now highly unlikely.