Fianna Fáil leader Micheál Martin, has said he thinks it is "conceivable" for a Brexit deal to be reached by the end of the month but that it would be "challenging".
Speaking on RTÉ's Morning Ireland Mr Martin said the situation was coming to "a cliff edge" and in that context it propels both sides to find a deal.
He said he was not surprised by yesterday's meeting between the Taoiseach and British Prime Minister Boris Johnson, and said it was less high profile "in the sort of publicity attached to it", with a degree of secrecy around the venue.
"I sensed, in the context they were meeting, something could emerge."
"What we saw yesterday was the British/Irish governmental relationship or discussions, a serious bilateral on Brexit happening. All along the mantra has been that there couldn't be such a substantive bilateral engagement in the context of the EU negotiating with Britain on the exit agreement."
Mr Martin said he thinks the two outstanding areas regarding a Brexit deal are consent and customs.
He outlined the importance of more negotiations, and the less said in public the better.
---
Read more:
Barnier and Barclay to meet as Brexit deal hope revived
Brexit deal possible by 31 October 31 deadline - Taoiseach
Leo has now entered the casino as endgame nears
---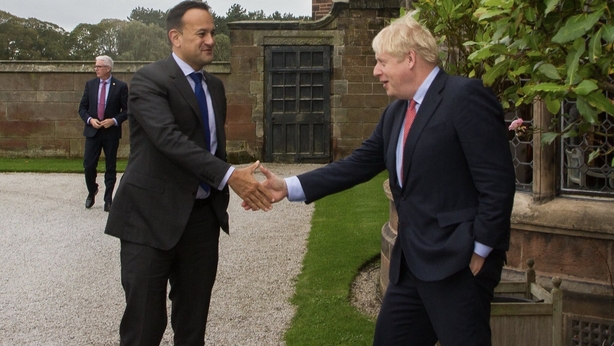 "I think the less said publicly the better at this stage. Because I think they are in good diplomacy, there has to be accommodation. You can't have one side losing face against the other.
"The bottom line is if we all understand that on the island of Ireland we have to share this island for a long time to come and accept the constitutional position, as outlined in the Good Friday agreement, and there can't be any erosion of that".
He also said the restoration of the Northern Ireland Assembly and the Executive is critical.
However, he did not think a referendum is the way to resolve it and there may not be a need for it.
He said his role regarding Brexit is to be constructive to facilitate an agreement.
"People want this resolved and done in a way that can protect relationships that have been built up between the UK, Ireland and north and south.
The Fianna Fáil leader also dismissed any chance of an election this side of Christmas.