The UK can leave the European Union on 31 October without a deal, despite a law which demands the prime minister asks for a Brexit delay if there is no agreement, British Chancellor of the Exchequer Sajid Javid has said.
Mr Javid appeared uncertain as to how the UK will leave the EU on 31 October but said he thinks he knows how British Prime Minister Boris Johnson intends to achieve it.
Mr Johnson is currently attending the Conservative Party conference in Manchester with more government spending plans to be announced, as the party prepares for a general election.
Parliament has already passed the so-called Benn Act requiring him to request a further extension to the Article 50 withdrawal process if he cannot get a new agreement by 19 October.
But there have been suspicions in pro-EU circles that the Prime Minister will try to avoid complying with the requirements.
Mr Javid told the BBC: "Of course, every government should observe all laws at all times.
"We're taking a careful look at that law.
"But we're also very clear that our policy has not changed. We will leave on October 31st
"And if you are going to ask me next, how we going to do that? We're not going to set that out right now.
"We're going to focus on trying to get a deal and continue preparations for no-deal, because it may well happen.
"And when we get closer to October 31, we'll set up exactly the form of our exit."
Mr Javid said there could be no more "dither and delay and we will leave if we have to without a deal on October 31".
Asked if he knew how the Government would get around the Benn Act, he replied: "I think I do.
"The intention of the law is clear and I do think it has absolutely made it harder for the Government to get the deal that we all want to see. That said, it can still be done.
"It's not about getting around the law... I don't really want to discuss the detail of this law, it's a pretty fresh new law, but we are also clear at all times we, of course, like any government, we will absolutely observe the law."
It comes as opposition party leaders met for further talks in Westminster later in a bid to ensure Mr Johnson cannot push through a no-deal Brexit against the will of Parliament.
The leaders were expected to discuss a plan by Liberal Democrat leader Jo Swinson to force the Prime Minister to go to Brussels to seek another Brexit delay as early as this weekend.
Leaving the meeting, Green Party MP Caroline Lucas said those at the meeting were "completely united about stopping no-deal", adding: "We'll do whatever we need to do to make sure that no-deal doesn't happen.
"I don't think anyone is expecting a vote of no confidence this week but what we are expecting is to continue to discuss the best tactics and so forth in order to make sure that Boris Johnson doesn't go ahead and defy the law and take us out with no deal."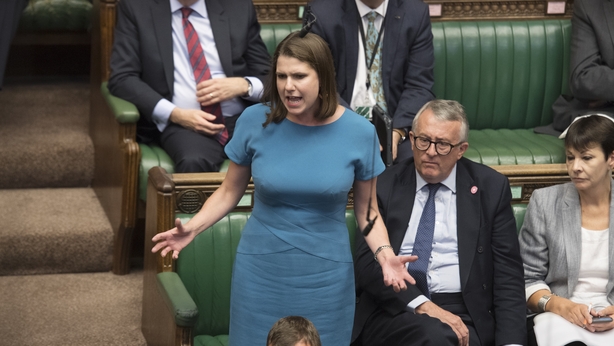 ---
Read more:
Tories walking tightrope between Brexit or an election coming first
DUP to 'look at' time-limited backstop - Foster
UK knows shape of its proposed Brexit deal - Gove
Brexit: The sound and fury, and Boris Johnson's choices
---
Asked if any firm plans were discussed about the next step, she said: "There were lots of discussions about the next steps and you won't be surprised that I'm not going to put those out publicly, but yes it was a completely united meeting and absolutely clear that we will explore the next steps that do need to be taken to make sure that we do not drop out without a deal."
Opposition leaders will not call for a vote of no confidence in the Government to topple Boris Johnson this week, Anna Soubry has said.
The leader of the Independent Group for Change, Anna Soubry, said opposition leaders will not call for a vote of no confidence in the Government to topple Boris Johnson this week
Leaving the meeting, she said: "There is no vote of no confidence this week."
Ms Soubry also said a plan backed by the parties opposing a no-deal was not accepted by the Commons Speaker John Bercow.
She said: "This country is not going to crash out of the European Union without a deal and that resolve is paramount.
"We, all of us, put in a SNP-led SO24 to get all the disclosure on no-deal planning but the Speaker refused it.
"We were all behind it, every single one of us."
Ms Swinson says the meeting of opposition parties ended with a proposal to discuss who could lead a government of national unity.
Ms Swinson said MPs agreed not to hold a vote of no confidence this week but said whips from each party would meet to discuss possible candidates to take over as prime minister if they do take down Boris Johnson's administration.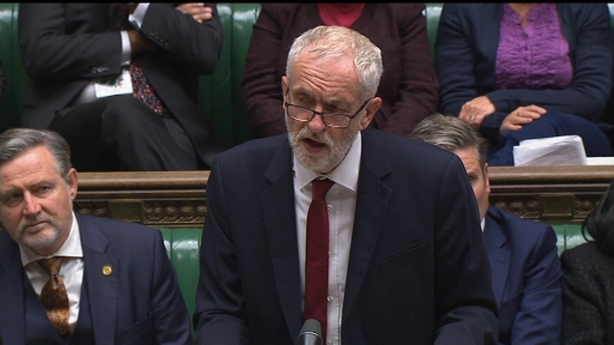 She dismissed supporting Jeremy Corbyn as interim prime minister, saying MPs from Change UK and some of the 21 sacked Tories could not back him.
"He simply does not have the numbers," she said.
Ms Swinson added: "Jeremy Corbyn's view on who should lead such a government will carry a lot of weight."
After the meeting of opposition leaders, Mr Corbyn was asked about whether a motion would be put down this week in an attempt to win a vote while Tory MPs are at their party conference in Manchester.
"Well that could only be put down if the Speaker approved of it going down through what's known as the SO24 process.
"We will be raising many issues this week about the dangers of the no-deal exit.
"We'll continue putting that pressure on the Government and we will do everything we can to make sure Parliament is in session in order to deal with these issues right up to the 19th of a October," he said.