The Taoiseach has said his meeting with British Prime Minister Boris Johnson went well and it was more detailed than their first meeting.
The two leaders held Brexit talks on the margins of the United Nations General Assembly this evening.
Leo Varadkar said he "got into some more details" with Mr Johnson but he stressed that no agreements had been made by any means.
Speaking to reporters after the meeting Mr Varadkar said: "We are very keen that there be a deal, that the UK should be able to leave the European Union in an orderly fashion. That's in Ireland's interest, it's in Britain's interest too.
"But there are certain guarantees that we expect to be honoured, that there won't be a hard border between North and South, that North-South co-operation will continue as envisaged by the Good Friday Agreement - that what was given to us by the British government back in December 2017."
Mr Johnson added: "It certainly will."
The Taoiseach said: "It's the second time we have met in person. I think the first time was an opportunity to build relationships, which happened in Dublin three weeks ago."
"We got to talk about some of the detail of the Withdrawal Agreement and the backstop. I think it was a good meeting in the sense that we were able to get into more detail this time. However there is still a very wide gap between the EU and UK in terms of achieving what we need to achieve before October."
He said the UK Supreme Court's declaration that Mr Johnson's decision to suspend parliament for five weeks was unlawful "didn't come-up in any detail."
He added: "I would be very much of the view that any decision made by the UK Supreme Court is an internal matter for the UK government and not something we are going to get involved in."
Before the meeting, Mr Johnson had said progress on Brexit would be discussed and said he was glad to see the Taoiseach and that they would talk about progress on Brexit in the short time that was left. He said: "We remain cautiously optimistic but still cautious."
The Taoiseach said Ireland was very keen that the UK be allowed to leave in an orderly fashion but certain commitments would need to be made to allow that to happen.
Ahead of the meeting, Mr Varadkar said the UK Supreme Court decision on the suspension of parliament was an internal matter for the UK and he did not think it would be helpful for the Irish Government to comment.
Asked if he would join calls for Mr Johnson to resign, the Taoiseach said absolutely not and added that the Supreme Court ruling won't change the tone of his talks this evening with the British Prime Minister.
Speaking earlier, Mr Varadkar said it would be another opportunity to compare notes and to see if progress could be made.
"Our bottom line is that we need a legally binding assurance that there won't be a hard border between north and south, that the all-island economy will continue to operate, that north-south cooperation will be able to continue and we can't accept some sort of halfway house," he said.
On the main stage today the US President Donald Trump delivered his keynote address.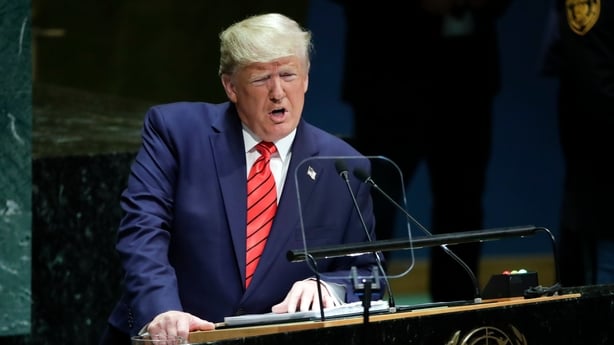 He said he was working closely with Mr Johnson preparing for an "exceptional" and "magnificent trade deal" for when the UK has left the EU.
"We are working closely with Prime Minister Boris Johnson on a magnificent trade deal," Mr Trump said.
Additional reporting AFP