A group calling itself the Independent Farmers of Ireland is to meet this evening to form a delegation which can meet with the Minister for Agriculture to discuss a resolution to the ongoing protests taking place at meat factories.
RTÉ News understands that farmers representing protesters all over the country are to attend and elect three delegates.
A statement from the organisation says that the move is being taken in order to give farmers a united voice.
The group says that after its meeting, it will have three people available to meet at all times, in order to being an end to the ongoing impasse and to "achieve the original goal of this protest".
The decision comes after one man was arrested and another taken to hospital after scuffles broke out at a protest outside the Liffey Meats plant in County Cavan.
There is a large garda presence outside the Cavan plant and there have also been reports of scuffles outside Slaney Meats in Bunclody, Co Wexford, where protesters prevented trucks from entering the facility.
Elsewhere, a delegation of Chinese inspectors has failed to gain access to the Kepak meat plant in Athleague, Co Roscommon, after a protest outside the facility meant the visit did not go ahead.
Inspectors have been visiting meat plants to approve them as exporters to China.
The delegation was due to carry out a systems audit as part of an Irish application to export sheep meat to China, but the audit did not take place.
Currently, Ireland does not export sheep meat (lamb) to China. 
Intensive efforts to find a resolution to the dispute over beef prices are continuing as protests at meat factories enter their second week.
Farmers taking part are unhappy with the price they are being paid by factories for cattle they present for slaughter. 
The Northern Ireland Secretary has cancelled a visit to a meat processing plant in Newry this afternoon.
It is understood Julian Smith will instead be attending a meeting of the British government's cabinet in London.
---
Read more:
Protesters block truck outside Roscommon meat plant
12 meat plants closed due to beef protests
---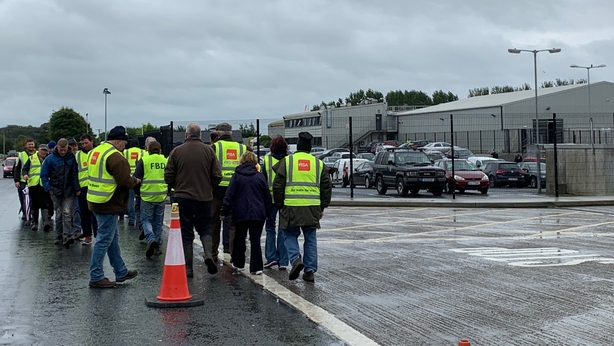 Gardaí were called to several incidents involving protesters over the weekend.
A new picket, at ABP Meats in Clones, Co Monaghan began last night. 
There are now protests at over a dozen plants.
Production at several meat processing facilities remains stalled.
High Court orders which prevent protesters from blocking the entrance and exits at factories have had effect in some locations, but in other places blockades remain in place.
The longest running is at Slaney Meats in Bunclody, Co Wexford. 
Minister for Agriculture Michael Creed met a delegation from a protest in Cork.
Throughout the weekend, there have been efforts to try to get more protesters into talks and off the pickets.
Minister Creed cannot talk price, which is what the farmers want.
It is a difficult situation and at this point all sides are hoping something will happen to break the impasse.
Speaking today, Mr Creed said the dispute at meat factories will not be settled in the courts and can only be resolved at the talks table.
He appealed to farmers protesting at meat plants to engage with their farming organisation  so talks can take place.
He said there was an anxiety on all sides to "find a way" and he hopes that will succeed in the short term.