A young man who was left on life support after he took MDMA at Electric Picnic last year has urged festival-goers not to experiment with drugs.
Speaking on Today with Miriam Brandon Webb, 20, from Kildare, said he got the "drug talk" from his mum before he left for Electric Picnic and he promised he would not touch drugs. 
He told the programme: "I had never touched drugs before and I wasn't even a big drinker at the time."
However, Brandon, who was a popular contestant on this year's Ireland's Got Talent on Virgin Media, said that on the last day of the festival he was tempted into taking drugs.
He explained: "It was the Sunday and my guard just came down and this little crystal was handed to me. About an hour or two later I said 'Go on, I'll take it. It's the last day'. And sure I paid the price for it."
Within 15 minutes, Brandon knew something was not right. 
"I was saying it to the boys and they thought I was messing," he said>
"As I was sitting in the chair I started to have a mini-stroke on my left-hand side. My whole left side was gone. I literally stood up and collapsed and my heart stopped there and then."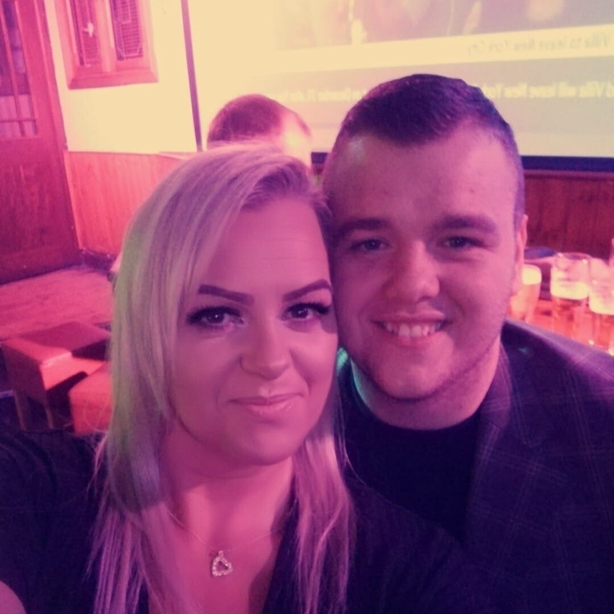 He said he was lucky as a girl he knew who was nearby was sober and gave him CPR.
 An ambulance then took Brandon to Naas General Hospital, where Brandon then had hundreds of seizures. 
As things "went from bad to worse" doctors, who still did not know what Brandon had taken, decided to put him into an induced coma because his heart was under so much pressure. 
Brandon said: "My mum said to me, I was standing looking at you with the nurse and we thought your heart was going to come out through your skin, it was beating that fiercely."
Brandon was put in an induced coma on the Monday morning and medics woke him up on the Tuesday night. But when he had another seizure he had to be put back into an induced coma.
"That is when they said, right this isn't good, so everyone was preparing to say goodbye to me," Brandon said.
Remarkably, Brandon woke up on the Friday and all that was wrong with him was a collapsed lung. 
Brandon said he knows how lucky was after his heart had "stopped three times".
Brandon said the doctor who treated him and who "saved his life" gave him a sharp wake up call as he outlined the severity of what he had done.
Brandon recalls: "He said 'You don't understand how stupid you are. The consequences of what you have done could have torn your whole family apart'."
Brandon said he was harsh on himself in the aftermath. "I have a little brother and sister who were brought in to say goodbye to me, so that was punishment enough for me. It still affects them to this day. I know it does," he said.
Brandon said he hopes his story will make people think twice about taking drugs. 
Earlier this year, Brandon and his mother Sharon were contestants on Virgin Media's Ireland's Got Talent and received a 'Golden Buzzer' from presenter Lucy Kennedy, which guaranteed them a place in the final.
Organisers of Electric Picnic said there would be 'rigorous' drug searches at the festival this weekend. 
The festival opened at 4pm today and within minutes gardaí made a number of seizures of illegal drugs. 
Gardaí said any seizures made will have consequences for the individual.