Today With Sean O Rourke Thursday 26 April 2018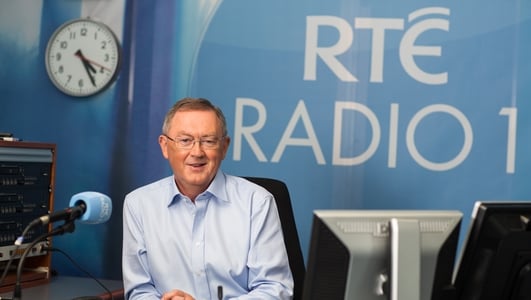 Today with Sean O'Rourke
The mid-morning current affairs magazine with the stories of the day, sharp analysis, sports coverage, in-depth features and consumer interest.
Cervical Check
One of the issues arising from Vicky Phelan's case was the delay in informing her that her original smear test in 2011 had been misreported as clear. It would appear that CervicalCheck, the national screening programme, knew about it in 2014 yet it was 2017 before she was told.
Professor Seamus O Reilly, Oncologist and Donal Buggy, Irish Cancer Society discussed this with Sean O'Rourke this morning.
Reusable Coffee Cup Levy
It was confirmed yesterday that the Government is now not going to introduce a levy on non recyclable coffee cups. Last year Communications Minister Denis Naughten signalled his intention to impose the levy to try and reduce the volume of plastic waste.
Oisín Coghlan of Friends of the Earth joined Sean O'Rourke in studio to discuss this.
GAA And The Referendum
We're turning now to the Referendum on the 8th Amendment, and I'm joined by two top GAA players who have decided to campaign on either side of this issue.
This of course follows the GAA distancing itself from the referendum this week, by writing to all 32 county boards, and instructing that the Association is a non-party organisation, and does not take a position, or comment in any way, on either elections or referendums.
Eamon McGee, All Ireland Winner with Donegal and Patrick Gallagher, Inter-County Footballer with Antrim spoke to Sean O'rourke this morning on this issue.
Mandatory Sentencing for Sex Offenders
Shaneda Daly is a survivor of child sexual abuse and brought her father to court in 2011. She is calling for life sentences for all rapists and a minimum of ten years for sexual assault.
Harry Daly was jailed for 227 sex crimes against Shaneda and he will be released from prison this year, having spent little more than seven years behind bars.
Shaneda joined Sean O'Rourke in studio this morning.
Cancer Test Errors
Professor Grainne Flannelly, Clinical Director of Cervical Check responded to those claims surrounding the misdiagnosis of cervical cancer smear tests with Sean O'Rourke this morning.
Ultan Conlon Live
Galway singer sondgwriter Ultan Conlon and his band joined Sean in studio this morning. He's performed 'The Measure' taken from his latest album, 'Last Days Of The Night Owl'.
Pay for Retail and Bar Workers
Should retail and bar workers earn more? Mandate, the union representing 40 000 of them thinks so. It's calling for its members to be paid a minimum of €15 per hour, that's fifty per cent higher than the national minimum wag But can employers afford it?
John Douglas, Mandate General Secretary, Lorraine Higgins from Retail Excellence and Maeve McAlwee, Director of Employer Relations at IBEC discussed this with Sean O'Rourke this morning.
The Big Picture, Young and Troubled: Youth Mental Health
All this week, RTÉ has been running an initiative in youth mental health across various programmes, culminating in a Big Picture documentary, Young and Troubled, on RTÉ 1 tonight at 9.35pm.
Brian O'Connell who has been looking into the whole area of addiction and mental health and he spoke to Sean o'Rourke this morning.