The Speaker of the House of Commons and the former chancellor of the exchequer have accused British Prime Minister Boris Johnson of a "constitutional outrage" after his government's plans to prorogue or suspend parliament in the lead-up to the 31 October Brexit deadline were revealed.
John Bercow and Philip Hammond were speaking after Mr Johnson announced that he would be seeking a longer suspension of parliament than usual in September and October to draw up a new legislative programme.
Mr Bercow, commenting on the move to prorogue parliament in preparation for a Queen's speech on 14 October, said: "I have had no contact from the Government, but if the reports that it is seeking to prorogue parliament are confirmed, this move represents a constitutional outrage.
"However it is dressed up, it is blindingly obvious that the purpose of prorogation now would be to stop parliament debating Brexit and performing its duty in shaping a course for the country.
"At this time, one of the most challenging periods in our nation's history, it is vital that our elected parliament has its say. After all, we live in a parliamentary democracy.
"Shutting down parliament would be an offence against the democratic process and the rights of parliamentarians as the people's elected representatives."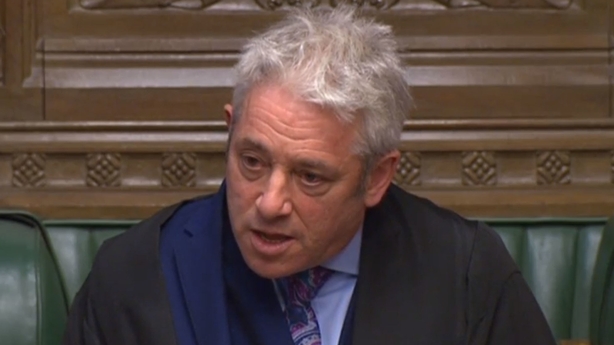 Mr Hammond, who resigned as chancellor before Mr Johnson took power, said: "It would be a constitutional outrage if parliament were prevented from holding the government to account at a time of national crisis. Profoundly undemocratic."
Labour leader Jeremy Corbyn said Mr Johnson's plan was an "outrage and a threat to our democracy".
"I am appalled at the recklessness of Johnson's government, which talks about sovereignty and yet is seeking to suspend parliament to avoid scrutiny of its plans for a reckless no deal Brexit. This is an outrage and a threat to our democracy," he said in a statement.
Campaigners for a second Brexit referendum also accused Mr Johnson of "trashing the constitution".
Shadow chancellor John McDonnell tweeted: "Make no mistake, this is a very British coup.
"Whatever one's views on Brexit, once you allow a prime minister to prevent the full and free operation of our democratic institutions you are on a very precarious path."
"Boris Johnson and his government are trashing the constitution," said MP Margaret Beckett, a leading supporter of the "people's vote" campaign.
---
Read more:
Latest Brexit stories
---
It would be a constitutional outrage if Parliament were prevented from holding the government to account at a time of national crisis. Profoundly undemocratic.

— Philip Hammond (@PhilipHammondUK) August 28, 2019
"This is a government with no majority of its own in parliament. While parliament is not even sitting, he is disgracefully dragging the Queen into the heart of the most difficult and dangerous exploitation of the usual powers of government.
"In the referendum, Boris Johnson promised the people a great deal. Now he is trying to force on us a no-deal for which neither the people nor parliament have voted."
Mr Johnson has been accused of acting like a "tin pot dictator" and mounting a "coup" as he is seeking an extended suspension of parliament, which could hamper MPs' efforts to block a no-deal Brexit.
The House of Commons is currently expected to resume sitting after its summer break on 3 September and Mr Corbyn and other opposition leaders have agreed to seek legislative changes to prevent a no-deal Brexit.
The Commons was expected to break again for the party conferences then return in early October after the Conservative gathering had finished, but Mr Johnson is seeking to extend that break until Queen Elizabeth opens a new session of parliament.
That would mean suspension from around 11 September until 14 October, giving MPs little time to use parliamentary procedures ahead of the 31 October Brexit day.
The process of suspending parliament ahead of the state opening of a new session - known as prorogation - usually only lasts for a few days.
The reports sparked outrage from opponents of Mr Johnson's approach and led to claims the monarch was being dragged into a political row.
Tory MP Simon Hoare said: "This is not 'taking back control' it's certainly not respecting/restoring parliamentary sovereignty.
"Rather it's an executive seeking to abuse one of its (perfectly proper) powers."
Deputy Labour leader Tom Watson posted on Twitter: "This action is an utterly scandalous affront to our democracy. We cannot let this happen."
Liberal Democrat leader Jo Swinson, who was one of the MPs at a meeting Mr Corbyn yesterday to agree tactics to prevent a no-deal Brexit, said the prime minister was embarking on a "dangerous and unacceptable course of action".
She said: "Shutting down parliament would be an act of cowardice from Boris Johnson.
"He knows the people would not choose a no deal and that elected representatives wouldn't allow it. He is trying to stifle their voices."
Independent Group for Change MP Chris Leslie wrote on Twitter: "If true, this undemocratic manoeuvre to try and shut down parliament must be fought every step of the way.
"How totally underhanded of Boris Johnson to make the Queen sign off on this plot it in a secret ceremony up in Balmoral. The House of Commons must assemble and veto this." 
Scottish First Minister Nicola Sturgeon said today would go down as a "dark one indeed for UK democracy" unless politicians join forces next week to stop the prime minister.
First Minister of Wales Mark Drakeford tweeted: "Boris Johnson fought a referendum campaign to put power back in the hands of Parliament and now he wants the Queen to close the doors on our democracy.
"The Leave campaign claims are unravelling. It's time to put this to the people."
The government's announcement today makes a confidence motion now certain, a general election more likely and is seen as a positive move by Brexiteers.

The unanswered question is whether Boris Johnson intends to pursue the Withdrawal Agreement.

— Nigel Farage (@Nigel_Farage) August 28, 2019
European Parliament Brexit co-ordinator Guy Verhofstadt said British government plans to suspend parliament are "unlikely to help deliver a stable future EU-UK relationship".
"'Taking back control' has never looked so sinister," he tweeted. "As a fellow parliamentarian, my solidarity with those fighting for their voices to be heard.
"Suppressing debate on profound choices is unlikely to help deliver a stable future EU-UK relationship."