Taoiseach Leo Varadkar has said that Ireland will not vote for the EU-Mercosur Free Trade Agreement if Brazil does not honour its environmental commitments.
In a statement, Mr Varadkar said he was very concerned over the record levels of destruction of Amazonian rainforests by fire.
He said that the Mercosur deal is two years away from a vote on approval in Europe and that during this time Brazil's environmental actions will be monitored "closely".
The Mercosur deal is a trade deal agreed between the EU and four south American countries - Brazil, Argentina, Paraguay and Uruguay.
Amid record fires in the Amazon, crowds protest at Brazilian embassies | https://t.co/JThd5AFXGI pic.twitter.com/BBq4ZlzxHL

— RTÉ News (@rtenews) August 23, 2019
Mr Varadkar also described Mr Bolsonaro's efforts to blame NGOs for the fires as "Orwellian".
He said: "His statement that Brazil will stay in the Paris accords on climate change 'for now' will raise antennas across Europe.
"There is no way we can tell Irish and European farmers to use fewer pesticides, less fertilizer, embrace biodiversity and plant more of their land and expect them to do it, if we do not make trade deals contingent on decent environmental, labour and product standards."
Crowds gather at Brazilian Embassy in Dublin to protest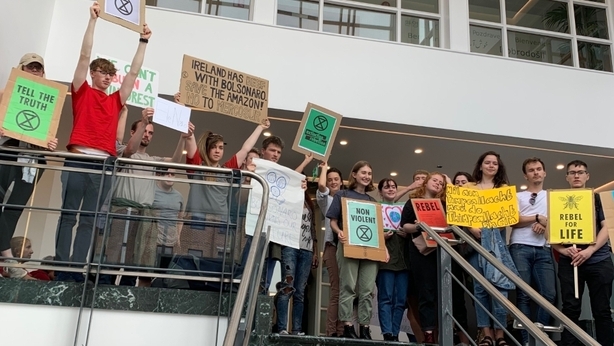 Around 70 people are protesting at the Brazilian Embassy in Dublin.
They are voicing their opposition to the acceleration of burning in Amazon rainforest under Brazil's President Jair Bolsonaro.
The protesters chanted: "When our planet's under attack, we stand up and we fight back."
They have called for Irish people and the international community to support their call.
We need your consent to load this rte-player contentWe use rte-player to manage extra content that can set cookies on your device and collect data about your activity. Please review their details and accept them to load the content.Manage Preferences
Meanwhile, John Sweeney, a climatologist at NUI Maynooth, told RTÉ's Today with Miriam that it is very difficult to underestimate the importance to the globe of the Amazon rainforest.
He said that every fifth breath one takes is consuming oxygen produced by the Amazon forest.
Mr Sweeney said the lack of political leadership in Brazil is making the problem worse and said there is "no excuse for Brazilians not pulling their weight as international citizens".
He said there are dramatic consequences of not getting the fires under control, as rainforests take over a century to regrow.
Mr Sweeney said that the Amazon is vital in storing carbon, and stores about a decades-worth of human emissions.
Removing that, he warned, "sets us back in fighting the intolerable and potentially irreversible warnings about climate change".