A report by the Inspector of Prisons has found that a small number of members of a special prison security unit carried out unauthorised surveillance on staff and visitors at the Midlands Prison over a two-year period.
The report found evidence that a tracker device was placed on a prison officer's car and on prison service vehicles, a covert camera was installed in the prison, and conversations between inmates and visitors were recorded in 2011 and 2012.
The investigation found no evidence that solicitor client conversations were monitored.
The Inspector, Patricia Gilheaney, concluded the activities were carried out without the knowledge or authorisation of senior management within the prison service.
Minister for Justice Charlie Flanagan said he is concerned at the findings that a small number of personnel may have acted wrongfully.
The Prison Service has handed evidence that may have been unlawfully obtained to the gardaí and notified the Data Protection Commissioner, which the Inspector of Prisons says are the appropriate bodies to carry out any further investigations.
The report confirms the veracity of most but not all of the allegations of unauthorised surveillance made by a serving senior prison staff member in a high court affidavit.
A small number of personnel in the Prison Service's Operational Support Group became so concerned about drugs and other contraband being smuggled into the Midlands Prison that the services of two private companies were engaged to carry out surveillance.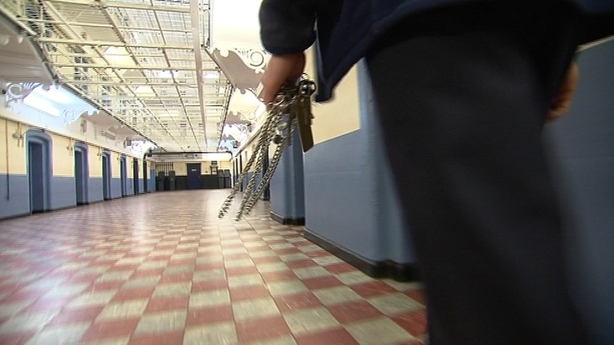 The report found evidence that a tracking device was fitted to the private car of a prison officer suspected of smuggling drugs into the prisons, but no drugs were ever found and the Inspector could not make a finding that the allegation was true.
A device was also fitted to prison service vehicles. A Private company showed an officer how to attach and monitor the tracker.
Conversations between prisoners and visitors were also secretly recorded, but the report does not find any evidence that conversations with solicitors were deliberately monitored.
A covert camera was also installed in an office on prison landing where prison officers are and in the Prisons Canine Unit after members of the OSG suspected dogs were being mistreated.
The "unauthorised and unilateral" surveillance was carried out in 2011 and 2012 unbeknownst to senior management at the Prison Service.
There is also a conflict of evidence in the report as to whether this activity was authorized by the Governor in charge of the Operational Support Group at the time.
Two Private Companies were paid over €29,000 for services including covert surveillance, tracking and CCTV which were procured outside normal rules.
The report also found evidence that in an OSG operation in January 2011, a van containing drugs and telephones entered the Midlands Prison and was seized by the OSG.
Mr Flanagan said he is concerned at the findings that a small number of personnel may have acted wrongfully, going far beyond their remit and engaging in unacceptable practices.