British Prime Minister Boris Johnson has said the backstop must be abolished to move Brexit forward.
"It must be clearly understood that the way to the deal goes by way of the abolition of the backstop," Mr Johnson said in his first speech to parliament as prime minister.
He said the current terms of the Withdrawal Agreement are unacceptable "to this parliament and country".
Mr Johnson said: "I would prefer us to leave the EU with a deal - I would much prefer it.
"I believe that it is possible even at this late stage and I will work flat out to make it happen.
"But certain things need to be clear.
"The Withdrawal Agreement negotiated by my predecessor has been three times rejected by this House.
"Its terms are unacceptable to this Parliament and to this country." 
When questioned about Mr Johnson's comments on the backstop, Taoiseach Leo Varadkar said he looks forward to discussing the issue with him.
The Taoiseach said that the threat of a no-deal Brexit is a British one, and said he hopes Mr Johnson has not chosen it.
Mr Varadkar repeated that he hopes to meet Mr Johnson soon and did not want to start negotiating with him over the airwaves.
Speaking during a break at the Cabinet meeting in Co Donegal, the Taoiseach said he did not know if Boris Johnson was bluffing or not about a no-deal Brexit. 
Mr Johnson said his government was ready to meet EU officials "whenever, wherever" to try and get a deal, stating: "I hope that the EU will be equally ready and that they will rethink their current refusal to make any changes to the Withdrawal Agreement.
"If they do not, we will, of course, have to leave - the UK - without an agreement under Article 50.
"The UK is better prepared for that situation than many believe.
"But, we are not as ready yet as we should be."
Mr Johnson also promised to make the UK the greatest place on earth by leaving the European Union on 31 October.
"Our mission is to deliver Brexit on the 31st of October for the purpose of uniting and re-energising our great United Kingdom and making this country the greatest place on earth," Mr Johnson told parliament.
"And when I say the greatest place on earth, I'm conscious that some may accuse me of hyperbole, but it's useful to imagine the trajectory on which we could now be embarked.
"By 2050 it's more than possible that the United Kingdom will be the greatest and most prosperous economy in Europe at the centre of a new network of trade deals which we have pioneered."
Infrastructure investment, high-speed broadband, free ports and "unleashing the productive power" of the whole UK were ways he would deliver his vision, Mr Johnson said.
Mr Johnson said he is launching a new approach to drive independent trade policy and so would not nominate a UK commissioner to take a place in the new European Commission.
"I want to start unshackling our officials to undertake this new mission (to strike trade deals) right away. So we will not nominate a UK commissioner for the new commission taking office on the first of December, under no circumstances." 
Earlier, he chaired the first meeting of his new cabinet, following a cull of Theresa May's top team.
More than half of his predecessor's cabinet are no longer in their roles.
Within hours of taking office, the new prime minister put Brexiteers into key cabinet posts as he vowed to take Britain out of the EU by 31 October deadline.
Twelve of the 31 ministers in Mr Johnson's cabinet publicly backed the Leave campaign in the 2016 EU referendum,which is double the number in the previous cabinet.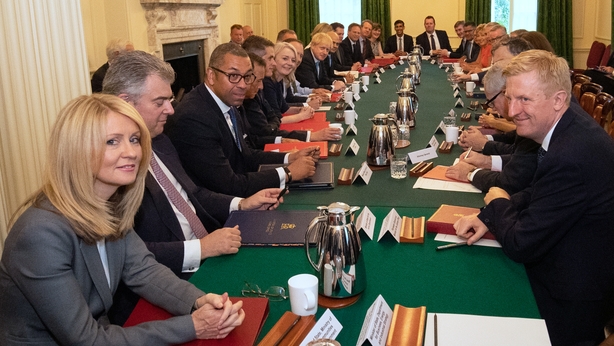 In the most eye-catching appointment of a dramatic day, arch-Brexiteer Jacob Rees-Mogg, who proved such a thorn in the side of Mrs May, entered the government as Leader of the Commons.
Unusually, however, Downing Street said that he would not be a full cabinet member, although he will attend cabinet meetings.
Following his appointment, Mr Rees-Mogg, who led the pro-Brexit Tory European Research Group (ERG), denied there had been a "Leave" takeover at the top of the new administration.
"Boris is bringing the country together, the party together, through his cabinet appointments. It is not a Leave takeover cabinet by any means," he told Sky News.
However, he issued a sharp warning to disgruntled former ministers plotting to thwart Mr Johnson's Brexit plans that it was hard to see how they could succeed.
"The Withdrawal Act means that the default position is that we leave on October 31. That would have to be changed to stop the law taking its course," he said.
"Parliament would have to change the law and it is hard to see how that will happen."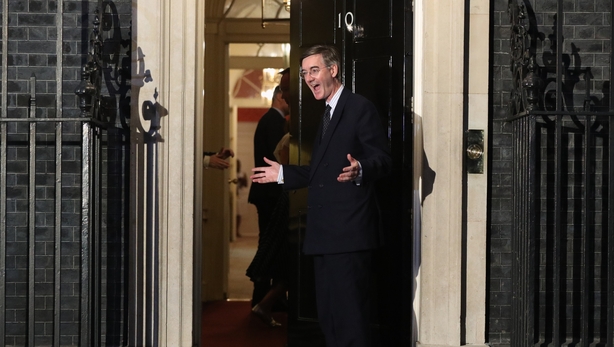 With more than half of Mrs May's cabinet having quit or been sacked, Mr Johnson is well aware that he could face a difficult time at Westminster.
It prompted speculation that he could hold a snap general election after MPs return in September, once they have finished their summer break which starts on Friday, to try to break the deadlock.
The most high profile casualty of Mr Johnson's cull was his defeated leadership rival Jeremy Hunt, after he refused to accept a demotion from the Foreign Office.
Others to be sacked included Penny Mordaunt and Liam Fox, both prominent backers of Mr Hunt, who lost their jobs despite their record as committed Brexiteers.
In contrast, Dominic Raab, who quit the cabinet over Mrs May's Brexit deal, returned as Foreign Secretary and First Secretary of State, making him Mr Johnson's de facto deputy.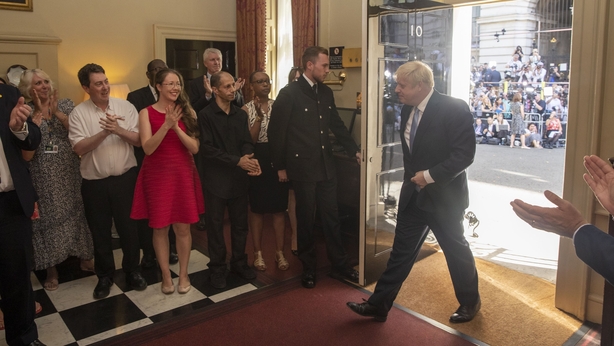 Priti Patel, another ardent Brexiteer and Thatcherite who has previously advocated the return of capital punishment, was made Home Secretary.
Michael Gove, who spearheaded the Vote Leave campaign in the 2016 referendum with Mr Johnson but then scuppered his subsequent leadership bid, became Chancellor of the Duchy of Lancaster in the Cabinet Office.
Stephen Barclay, another prominent Brexiteer, retains the key post of Brexit Secretary.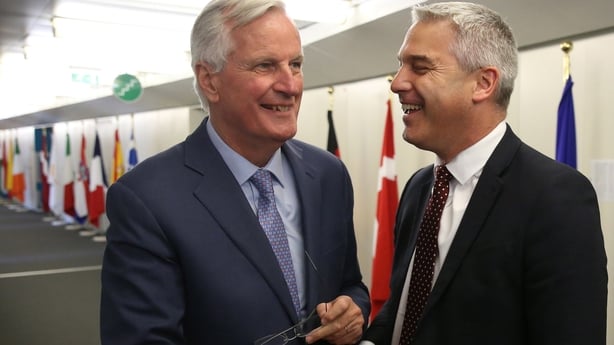 In another potentially controversial move, Mr Johnson brought in the abrasive Vote Leave mastermind Dominic Cummings in an advisory role.
The appointments were to some extent offset by promotions for former Remainers such as Rob Buckland, who becomes Justice Secretary, while Nicky Morgan returns to the Cabinet as Culture Secretary.
Mr Johnson also brought his brother Jo - who campaigned for Remain - back into the government as Minister at the Business Department and at the Department for Education, attending cabinet.
---
Boris Johnson's key cabinet appointments:
The Rt Hon Priti Patel @patel4witham has been appointed Secretary of State for the Home Department @ukhomeoffice pic.twitter.com/O5PCExDg8O

— UK Prime Minister (@10DowningStreet) July 24, 2019
Sajid Javid - Chancellor
Priti Patel - Home Secretary
Dominic Raab - Foreign Secretary and First Secretary of State
Stephen Barclay - retains role as Brexit Secretary
Ben Wallace - Defence Secretary
Amber Rudd - retains role as Work and Pensions Secretary, also becomes Minister for Women and Equalities
Liz Truss - International Trade Secretary
Matt Hancock - retains role as Health Secretary
Michael Gove - Chancellor of the Duchy of Lancaster
Theresa Villiers - Environment Secretary
The Rt Hon Theresa Villiers has been appointed Secretary of State for Environment, Food and Rural Affairs @DefraGovUK pic.twitter.com/p2DMHWkyzJ

— UK Prime Minister (@10DowningStreet) July 24, 2019
Gavin Williamson - Education Secretary
Nicky Morgan - Culture Secretary
Andrea Leadsom - Business Secretary
Robert Jenrick - Housing Secretary
Robert Buckland - Lord Chancellor and Justice Secretary
Alok Sharma - International Development Secretary
Grant Shapps - Transport Secretary
The Rt Hon Julian Smith @JulianSmithUK has been appointed Secretary of State for Northern Ireland @NIOgov pic.twitter.com/RSm2tXc7Kl

— UK Prime Minister (@10DowningStreet) July 24, 2019
Julian Smith - Northern Ireland Secretary
Geoffrey Cox - retains role as Attorney General
Jacob Rees-Mogg - Lord President of the Council and Leader of the House of Commons
Jo Johnson - Minister at the Department for Business, Energy and Industrial Strategy and the Department for Education. He will also attend Cabinet.