The Irish woman who travelled to Islamic State-controlled territory and who is now being detained in a Syrian camp has said she does not think she will ever be coming back to Ireland.
In an interview with journalist Norma Costello for RTÉ News, Lisa Smith also rejected the suggestion she travelled there to fight alongside the group and denied that she trained young girls in how to handle weapons.
Ms Smith is sitting in Ain Issa refugee camp where she is being held following the collapse of the so-called Islamic State caliphate.

The 37-year-old Dundalk woman travelled to Syria to join IS a number of years ago and now has a two-year-old daughter.
Taoiseach Leo Varadkar has said he wants Ms Smith to come home, but he said there were concerns over security, risk and cost.
Speaking on RTÉ's Today with Sean O'Rourke, Mr Varadkar said: "I definitely want her child to be able to come home, and I would never separate a child from her mother - so yes, I do want her to come home."
He said they were both Irish citizens and he was very conscious that there was a child involved.
However, Mr Varadkar said they were in a war zone and that military personnel or diplomats could not be put at risk to bring them back to Ireland.
Should Ms Smith return home, he said, gardaí would want to speak with her.
As a former member of the Irish Defence Forces, Ms Smith says her continued detention in the refugee camp could be due to the fact that she is an Irish woman who has a military background.
She says she wants to return to Ireland, but fears that she is being made an example of.
"To be honest I don't think I will be going back, ever," she said.
"That's what I feel. That's what I think. They could be trying to make an example of me because I'm Irish and I'm military and I'm a woman.
"To be honest I don't know what's going on. If it's just the Irish Government or its Europe as a whole because there's a big delay on all the countries at the moment."

As the weeks pass by in the Ain Issa camp, Ms Smith says she never expected to be detained for so long.
Speaking to journalist Norma Costello, who travelled to Syria for RTÉ News, she said, "Everyone is getting stressed and frustrated because they don't know what's happening to them. One minute they are saying deportation and you are going back to your country and people are coming to talk to you, but nothing is happening."
Ms Smith says she does not understand what people mean when they suggest that she has been motivated by 'radical beliefs'.
"What is radical? I don't understand clearly. Someone needs to explain it to me properly because I don't understand what radical is. In terms of being a Muslim and wanting to live in a Muslim state, I don't understand how that is radical."
The Department of Foreign Affairs has said a request for consular assistance has been made and that officials are continuing to work on that.
A spokesperson said the case was being taken very seriously.
---
Prior to the collapse of the Islamic State caliphate, Ms Smith said her husband kept her inside their home every day and she only learned of some of the acts of brutality carried out by IS after speaking to other women in the refugee camp.
She said: "You can't blame me for what the Islamic State done. I don't hold the same beliefs as them. I came to a caliphate where Islam was supposed to be implemented. I have different beliefs than the majority of people.
"People in the Islamic State come from all over the world. They have different beliefs and different understandings of Islam. Since I came here I have seen that no-one has any real understanding of Islam."
Once again, Ms Smith has denied having any active part in the violence or fighting that IS was involved in.
"What did I do? I just joined the Islamic State and now I just become a monster. How? The British and the Irish fought for many years. If someone moved from England then what would they say about them? How am I monster? I came here to Islamic State and I didn't do anything."
She says she does not know if the Irish people will believe her, but she said: "It's up to them. I'm telling you myself, I didn't fight."
Ms Smith said the killing of American journalist James Foley was "completely wrong". The freelance correspondent was abducted in Syria and murdered by IS.
"I don't believe with the killing of James Foley. I totally disagree with this. This is completely wrong. Why did they do that? I don't know.
"The thing with James Foley, these kids doing these videos, learning how to kill people, for me this is not what you call Islam."
Ms Smith said life among IS was "unjust" at times. She heard stories about those who complained about oppression losing their jobs.
It has been alleged that Ms Smith had trained children in firearms, and while doing this had complained about a Tunisian colleague being too aggressive with the children, which she then complained about and subsequently lost her job.
However, during the interview with Ms Costello, Ms Smith denied this saying: "This is completely news to me - so not true."
"I don't want to be without my daughter"
It is believed her husband and father of her child, a British-born Jihadi, died in fighting earlier this year.
Ms Smith says she was in a lot of pain for a long time after the birth of her daughter.
"I went into labour and 20 minutes later I was giving birth to my daughter. It was terrible. They pushed the baby, basically, out of me. I was in a lot of pain for a long time after that. Other than that it was okay."
Asked if she would send her daughter back to Ireland, she said: "No. I don't want to be without my daughter. I love my daughter. What mother is going to give up her daughter like that."
She said she had no plans to have children and her family would be aware of that "so the fact that I even had a child is even a shock to me".
Ms Smith said she is concerned that her daughter would be seen as the child of a terrorist if she returned to Ireland.
She said she can also understand the concerns of her family back in Ireland.
"I'm a parent now so I can understand their concerns. I'm shocked myself. It's very hard to interpret my family. I haven't seen them. It's hard."
Life on the Government jet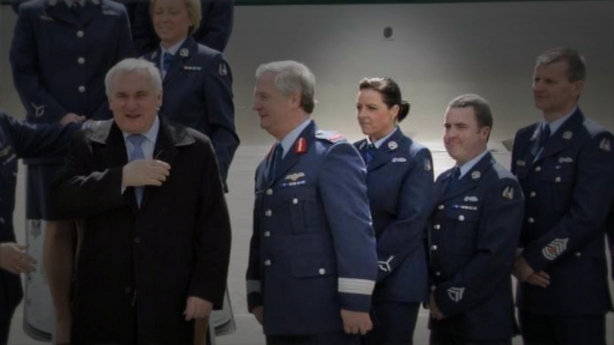 Aged 19, Lisa Smith joined the Irish Defence Forces and during her career served in the Air Corps, working for a time on the Government jet, where she came into contact with former Taoiseach Bertie Ahern.
"I liked Bertie. He was very sound. Mary McAleese, she was down to earth as well. Micheál Martin. I liked working with him. He was okay. There was a few who were nice."
"I just came here and now it didn't work out"
Any return to Ireland for Ms Smith is sure to involve security assessments and the possibility of surveillance.
Mr Varadkar has previously said that if she was to return to Ireland then she would "certainly" be investigated.
Ms Smith says the authorities do not have to be concerned about her.
She told Ms Costello: "I told you I'm just a person who came to the Islamic State like any other. There are other people here with really extreme and radical views. I don't even want to communicate with these people.
"I just came here and now it didn't work out. The Islamic State failed because of everything they have done."