"It wasn't worth it. We failed," says Lisa Smith of her decision to leave Ireland and join the caliphate in Syria around three years ago.
"What we believed; we actually thought it was going to be an Islamic State ... and we would all be joined as one and be very happy, you know like. It didn't happen," Ms Smith said.
"I don't know what the people came here for, free money? To get married, have four wives? I don't know what people came here for. I don't know why people gave up their lives around the world to come here and to go through this experience."
Speaking to journalist Norma Costello, who travelled to Syria for RTÉ News, Ms Smith said: "I am so angry and confused as well. I just don't understand how the people failed so badly."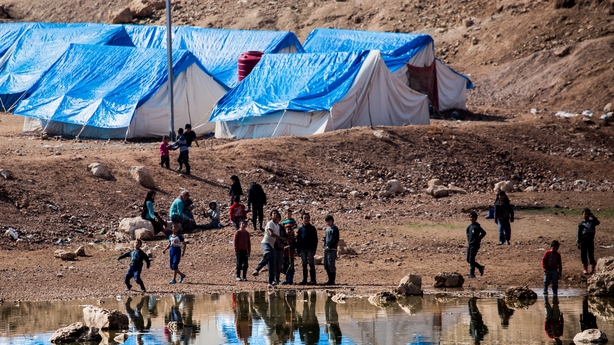 Claiming she was unaware of "what's going on outside", Ms Smith and her two-year-old daughter are now living in the Ain Issa refugee camp, which was established in 2016 near Syria's border with Turkey.
It is located halfway between the border town of Tell Abyad and the regional capital Raqqa.
Previously, Ms Smith was at the al-Hawl refugee camp on the border with Iraq, but said she moved to Ain Issa after she was told that she would spend just two months in a camp and then be deported.
"When I came here [Ain Issa] with the Kosovan people from al-Hawl on the bus for deportation, that's when we thought we were getting deported at that time.
"They lied to me. They said they were going to deport me and to get my stuff ready. I left everything. Then we came here and this is where they left us. They didn't say anything.
"They just kept saying 'after ten days you're getting deported'. 'After two days maybe you're going' and they keep saying things like this," she added.
---
Read/watch more:
---
Ms Smith, who is originally from Dundalk in Co Louth, travelled to Syria around three years ago.
She previously served as a Private in the Irish Defence Forces, having joined at 19.
She also served in the Air Corps, working for a time on the Government jet. It is believed her husband, a British-born Jihadi, died fighting earlier this year.
IS once ruled over millions in a swathe of Syria and Iraq, but lost all that territory, including the town of Baghouz in northern Syria, the final significant stronghold of Islamic State, from where Ms Smith first fled.
In March, the US-backed Syrian Democratic Forces announced the end of IS's self-declared "caliphate".
However, despite her desire to return to Ireland, Ms Smith said the reality of living in the so-called Islamic State was not how it was portrayed in the media.
"In reality, I lived day-to-day life like I live in Ireland. I go out shopping, I go to my friend's house, I go to have coffee, and this, that and the other. A bomb will fall here, a bomb will fall there, and you'd be like, ohhh! Just make, like, a prayer that nothing happens to you, and everything's going to be okay and you're not going to get injured. But other than that - it's fine."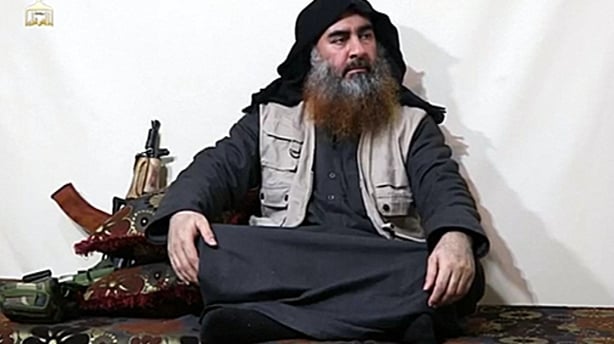 In April, IS's Al Furqan media network published what it said was a video message from its leader Abu Bakr al-Baghdadi in which he said the group would seek revenge for the killing and imprisonment of its militants.
The authenticity and date of the recording could not be independently verified, but a bearded man with Mr Baghdadi's appearance sits cross-legged on the floor and gives an 18-minute address. Several aides with their faces covered are shown listening.
Asked if she would go back if Mr Baghdadi declared another caliphate, Ms Smith replies "no", adding that she does not think there is an Islamic State anymore.
"He [Baghdadi] said 'come to our land and we give you this and we give you that, and we do this, and we do that'. He didn't give us this and he didn't give us that, and he didn't do anything," Ms Smith said.
As to whether this is how she saw her journey to Syria ending, she replies: "No. I actually thought we'd have somewhere to live, a state. Or maybe I'd be killed. But I didn't think I'd have a child and be in a camp like a home."
Meanwhile, the Government has not contacted the Kurdish authorities about foreign fighters or civilians, a senior figure in the administration of Kurdish-controlled North-East Syria has told RTÉ.
Speaking to journalist Norma Costello, Dr Abdulkarim Omar, head of foreign relations in the autonomous administration of North-East Syria, said "We do not have any contact from the Irish Government, not for fighters, not for women".
Dr Abdulkarim said that the Kurdish authorities wanted to try foreign fighters in the Kurdish-controlled region, but said civilians should be taken home.
He said it was "a big mistake" for the European governments not to bring home the children of citizens who had travelled to the so-called Islamic State.  
Dr Abdulkarim said that fears that such children were dangerous were unfounded, but that they could become dangerous if they are left in camps in Syria.
Meanwhile, the Chair of the Irish Muslim Peace and Integration Council has said a very comprehensive investigation should take place to ensure Lisa Smith is not a threat.
Dr Umar Al-Qadri, who is also the Chief Imam at the Islamic Centre of Ireland, said it should be a joint investigation between gardaí and law enforcement agencies in other countries, particularly those that have experience interviewing detainees in Syria.
Speaking to RTÉ's News At One, Dr Al-Qadri said an investigation is the only way to know if Ms Smith did participate in the training of young girls.
"I think that before the investigation concludes, for her to be roaming freely in the streets of Ireland is quite worrying,"  Dr Al-Qadri said.
"The whole world knows about the horrors committed against humanity by the so-called Islamic State, and for her to continuously insist that she didn't do anything wrong and she just moved there."
Dr Al-Qadri said a number of important questions need to be asked, such as if Ms Smith made any attempt to leave.
He said he believes Ms Smith will be brought back to Ireland eventually, but that the security and safety of the Irish people must be prioritised, and that an investigation must take place if Ms Smith returns to Ireland.
He said he believes Ms Smith will be brought back home eventually.
Additional reporting Colm Ó Mongáin