US President Donald Trump told British Prime Minister Theresa May that the United States would do a "very substantial trade" deal with the United Kingdom after Brexit.
Mr Trump and Mrs May hosted round table talks with business leaders at St James' Palace on the second day of the president's state visit to the UK.
The gathering attended by Prince Andrew and senior ministers and officials brought together senior representatives of five US and five British firms.
United States committed to a 'phenomenal trade deal between the US and the UK' - @realDonaldTrump on #Brexit pic.twitter.com/0hmSxR6F0O

— RTÉ News (@rtenews) June 4, 2019
Mr Trump said the the US was already the UK's largest trading partner and that he believed there was scope for further expansion.
"I think we will have a very, very substantial trade deal. This is something you want to do and my folks want to do," he said, adding to Mrs May: "Stick around. Let's do this deal."
We need your consent to load this rte-player contentWe use rte-player to manage extra content that can set cookies on your device and collect data about your activity. Please review their details and accept them to load the content.Manage Preferences
Mrs May said that there were "huge opportunities" for Britain and the US to work together in the future.
"It is a great partnership but I think a partnership we can take even further. Of course that is with a good bilateral trade deal," she told the US president.
"I think there are huge opportunities for us to do more together in the future and challenges to work on as well."
This evening, Mr Trump and his wife Melania hosted a dinner at Winfield House - the official residence of Woody Johnson, the US ambassador to the UK - in Regent's Park, which was attended by Prince Charles and his wife Camilla, who are representing the Queen.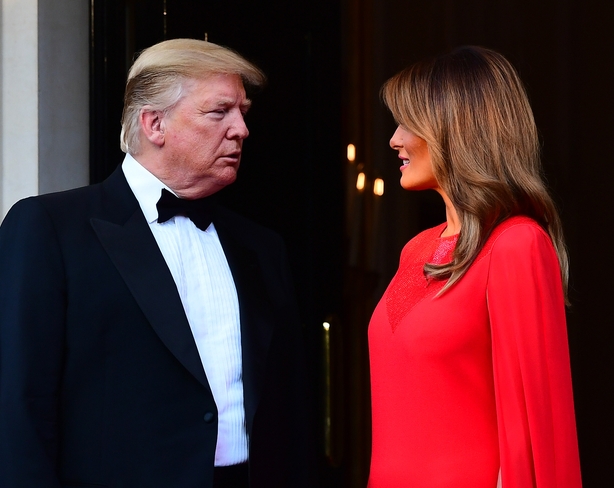 Wine from a Californian winery that has supplied the White House for five consecutive presidential administrations was served at the gathering.
Iron Horse Chardonnay and Pinot Noir, the winery's "rising star", were poured, while guests also sipped a 2005 Brut Reserve.
They dined on a menu with European influences, including a salad of heritage tomatoes and burrata, a soft cheese from Italy, and a traditional British main course of fillet of beef.
I want to ensure that our economic partnership not only endures but continues to grow stronger for many years to come. #USStateVisit 🇬🇧🇺🇸https://t.co/LzduzyfmwY pic.twitter.com/5CeihZene1

— Theresa May (@theresa_may) June 4, 2019
Meanwhile, protesters were out in force in central London today, although a policing operation meant they could not demonstrate at the entrance to Downing Street.
Mayor of London Sadiq Khan said Mr Trump was a poster boy for far-right activists all over the world, continuing a long-running spat with the US President.
"Surely we should be saying 'listen, you know, you do realise you're a poster-boy for the far-right movement around the world," he told Sky News in an interview, citing Mr Trump's policies on Muslims and immigration centres.
The US leader said yesterday that he had only seen "tremendous crowds of well wishers" and that he expected "fake news" would be "working hard" to find protesters.
The Prince of Wales, The Duchess of Cornwall @ClarenceHouse The Duke and Duchess of Cambridge @KensingtonRoyal, The Duke of York and The Earl and Countess of Wessex are also in attendance at the #USStateVisit banquet at Buckingham Palace. pic.twitter.com/rSWSNV1FKn

— The Royal Family (@RoyalFamily) June 3, 2019
It comes after a day of pomp and ceremony as Mr Trump was welcomed by Queen Elizabeth and lunched at Buckingham Palace with senior royals.
A visit to Westminster Abbey, where the Trumps were met by the Duke of York, preceded tea at Clarence House with the Prince of Wales and the Duchess of Cornwall, ahead of the splendour of a state banquet at Buckingham Palace yesterday evening.
Shortly before last night's formalities, Mr Trump tweeted that the trip was "going really well" and the royal family had been "fantastic".
London part of trip is going really well. The Queen and the entire Royal family have been fantastic. The relationship with the United Kingdom is very strong. Tremendous crowds of well wishers and people that love our Country. Haven't seen any protests yet, but I'm sure the....

— Donald J. Trump (@realDonaldTrump) June 3, 2019
He then used the occasion to praise the Queen's "spirit of dignity, duty and patriotism that beats proudly in every British heart".
Mr Trump told the Buckingham Palace banquet guests, who included senior royals, captains of industry and other leading figures from national life: "As we honour our shared victory and heritage, we affirm the common values that will unite us long into future.
"Freedom, sovereignty, self-determination, the rule of law and reference for the rights given to us by almighty God.
"From the Second World War to today, Her Majesty has stood as a constant symbol of these priceless traditions."
In her address, Queen Elizabeth celebrated the special relationship between the UK and the US, and while Brexit was not mentioned she highlighted how the two countries faced "new challenges of the 21st century".
However, the president's visit started with a series of controversial Twitter messages, with tirades against the London mayor, "fake news" and China.
Moments before he and the First Lady touched down at London's Stansted Airport, Mr Trump had called Mr Khan a "stone cold loser", but misspelled his surname in one of the posts.