The Supreme Court has dismissed an appeal by Facebook aimed at stopping a referral to the European Court of Justice (ECJ) about the validity of EU-US data transfer channels.
The High Court referred the case to the European court in October last year and said the Data Protection Commissioner had "well founded" concerns about whether or not US law provided adequate protections for EU citizens' data privacy rights.
One of the first questions to be answered by the Supreme Court was whether or not Facebook was entitled to an appeal such a referral by the High Court.
Today, the Supreme Court ruled it was open to the court to entertain an appeal against a decision of the High Court where it had made a referral to the ECJ but there were significant limitations on the issues it could consider.
Chief Justice Frank Clarke said the Supreme Court could not hear an appeal against the decision to make a reference or against the terms of that reference.
However, it was open to the court to hear an appeal against facts found by the High Court.
Some of the areas appealed by Facebook concerned a direct appeal against the decision to refer to the ECJ and could not be dealt with by the Supreme Court, he said.
Other areas which could be considered by the court involved Facebook's "characterisation of facts" rather than the finding of facts themselves and in that case the court did not propose to overturn any of the findings of fact made by the High Court.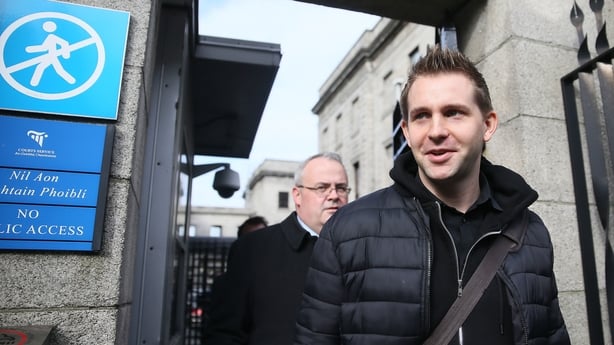 The High Court's decision to refer the case to the EU was made in proceedings brought by the Data Protection Commissioner following complaints by Austrian lawyer Max Schrems.
He complained that the transfer of his personal data by Facebook to the US breached his data privacy rights as an EU citizen. Ms Justice Caroline Costello referred 11 issues to the ECJ.
They raise significant issues of EU law including whether the High Court was correct in finding there was mass, indiscriminate processing of data by US government agencies.
Facebook said the High Court failed to have regard to the 'Privacy Shield' decision under which the European Commission had approved the use of certain EU-US data transfer channels.
It says it is concerned the ECJ could make its decisions on foot of the High Court's views relating to US law.
---
Read more:
Supreme Court ruling in Full
Supreme Court to hear Facebook data transfer appeal
---
After today's Supreme Court judgment a spokesperson for Facebook said: "We are grateful for the consideration of the Irish court and look ahead to the Court of Justice of the European Union to now decide on these complex questions.
"Standard Contract Clauses provide important safeguards to ensure that Europeans' data are protected once transferred overseas.
"SCCs have been designed and endorsed by the European Commission and are used by thousands of companies across Europe to do business."