Those who work closely with John Gillen describe him as "a powerhouse". He turned 71 in November. He is 1.98m (6ft 5in) and straight as a steel rod. He has maintained a keen interest in sport since childhood. He plays golf as often as he can. He is a keen supporter of Liverpool FC. He and his wife live on the outskirts of Belfast. They have two grown up daughters.
What is sometimes forgotten is that while he, his peers and predecessors carried out their essential work, they did so in a Northern Ireland where their lives and the lives of their families were often under threat.
It was last year that the Rt Hon Lord Justice Gillen was asked to carry out a review of how Northern Ireland's courts deal with cases involving charges of serious sexual assault.
NI review recommends banning public from rape trials
He was given the role following a high-profile trial that was held over 42 days at Belfast's Laganside Court.
Irish international rugby players, Paddy Jackson and Stuart Olding and their friends Blane McIlroy and Rory Harrison were tried and acquitted in relation to a series of offences.
The Gillen Review flowed from the public debate created by that trial. An interim report was completed late last year and the final work, including a series of recommendations, has now been submitted to Northern Ireland's Department of Justice
Sir John Gillen - in his own words
When I interviewed him, Sir John Gillen told how he considers this review the most important task of his professional career.
"I have spent approximately 45 years in 'the law' - barrister and judge - and I have to say that the interviews I had with the complaints - there were about 35 to 40 - and with accused persons and their families were amongst the most harrowing that I ever encountered. They had an enormous impact on me and they have flavoured my views. But secondly, I have found it immensely rewarding and if I can do something to make the criminal justice system in this area more efficient, more expeditious, more fair and more compassionate, then I will have found that to be the most rewarding task that I have completed in the law."
Why the public should be excluded for serious sexual offences
Sir John Gillen recommends that in Northern Ireland the public should not be allowed to attend trials involving serious sexual offences allegations.
"My thinking is that the public should be excluded, the press in its entirety, provided they are bona fide representatives of the press, be admitted and that the families of the complainant and of the accused be admitted. In addition the judge should have discretion to admit others that he deems appropriate. For example, you might have the Child Commissioner or those who are doing research etc.
"Why do I say the public should be excluded? Two reasons - first because in my discussions with complainants and across the board, one of the main harrowing aspects of the current system is the obligation to give evidence of the most personal, intimate details in front of what can be the cruel gaze of an unthinking public.
"Insofar as I am attempting to encourage complainants to come forward I think excluding the public is an important factor.
"The second reason why I think it is important is this - social media is a major problem with criminal justice trials and with the public there, you have tweeting occurring almost immediately, tweeting that very often is inaccurate, but of prime importance is that the anonymity of the complainant which is a legal obligation is completely removed and the identity of an accused, particularly I might say in small towns. And if I might add just a final matter, this is not just in cases where you get huge numbers, but in small towns, such towns as Derry or Strabane or Newry, where everybody knows everyone, you only need a handful of people attending for the word to go out. That's why I am against it."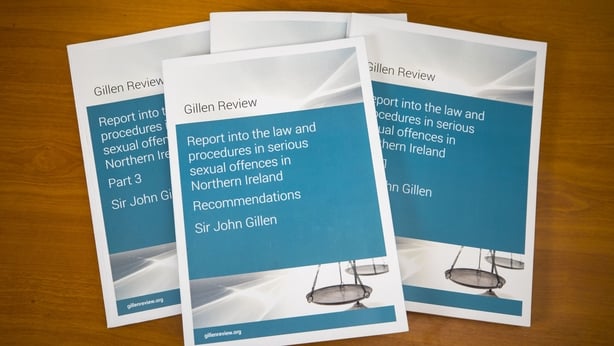 Regulation of social media is required
Sir John Gillen believes measures should be taken to control how social media interacts with sexual offences trials.
"I think it has to be dealt with on a cross-jurisdictional basis. I think Ireland and the United Kingdom and so on have to have a joint approach to this. Northern Ireland going out on its own I don't think is sufficient. That's the first thing it must be a joint approach and indeed they are doing it in England and Wales at the moment.
"The second thing is this. I think that you have to look at jurors. Jurors have to be educated to understand the dangers of social media. Not only must they be educated, I think the penalties for breaching the directions about social media have to be severe.
"The third thing is this. I think that the platforms themselves, the social media firms themselves have to take on more civic responsibility themselves than hitherto has been the case. And I think that legislation to enforce that is necessary."
The identity of an accused person should be published
Sir John Gillen recommends that once charged, the identity of an accused person should be published.
"Pre-charge, I have absolutely no doubt that there should be anonymity. The Sir Cliff Richard case is a classic example - a man who had never been arrested, never charged and yet his name is all across all the newspapers. So that should be clear.
"Post charge I think there is a difference. Post charge there has been a hurdle crossed. The state has decided that there is enough evidence to prefer a charge.
"I think for two reasons the name of the accused should be published. The first reason is because there is I think incontrovertible evidence that it does bring other witnesses forward. You have to recognise that the latest figures in England - and I think they are a bit better here in Northern Ireland now - but the latest figures in England show that 83% of women and men, more men than women I might say, or a higher percentage of men, do not report these crimes to the police. They mention them to other people but they don't go to the police. Something has to be done to encourage those women to come forward. I think the evidence shows that if the accused is named, it can give a sense of empowerment to people to come forward. It's not only women, it is also institutional offences where boys who have been accused come forward once they hear the name of the accused being put forward.
"The police in Northern Ireland and the Public Prosecution Service assure me that they have chapter and verse of instances where that has happened.
"The second reason is this. I think there has to be a sense of equality across the criminal justice system and I have some logical difficulty in seeing why if the names of those who are accused of serious sexual offences should be anonymised, but not those who are accused of heinous murders, heinous child abuse, blackmail, drug offences and so on."
What about the Republic of Ireland system where an accused person remains anonymous unless convicted?
"Let me make it clear, we have looked at sixteen different countries throughout the world and there are differences right across the board. The Republic of Ireland has a different system and I am sure it works for the Republic of Ireland. I just think that the system here merits a different approach.
"The fact that the Republic Ireland is the only country in the western world that I know of, that we have ever come across, who gives blanket anonymity is neither here nor there. But it does indicate that the views that I have expressed and the views that I have found in other countries, do find general approval.
"......I am not saying the Republic of Ireland is wrong or imperfect. They take a different view and as I hope my report makes clear, there are clear arguments on either side and I have to say that I have met a number of accused persons and their families who have suffered indelibly as a result of their names being published despite the fact that they were acquitted.
"So there is a strong argument for it. I just think that balancing the two sides of the equation, I came down in favour on anonymity not being granted."