Senior gardaí have said the absence of a police presence along the border is a factor in the recent increase in subversive and organised crime in the area.
They are calling for more armed response units and faster response times.
The Association of Garda Superintendents said there are large areas where no garda station is open or gardaí are available and this has impacted on the force's ability to respond to major incidents, such as ATM robberies.
An absence of gardaí and armed support units, an increase in vexatious complaints, the divisional policing model and the language around drugs use, are some of the issues of concern to Garda superintendents at their annual conference, which begins today.
Senior gardaí say the issues have been brought into sharp focus by the increase in ATM robberies and other subversive and organised crime, particularly along the border.
They said there should be sufficient armed support units to allow a response time of between 15 and 30 minutes, similar to that expected for routine patrols and units in Dublin.
The AGS said there are no 24-hour garda stations operating north of a line running from Carrick-on-Shannon in Co Leitrim, through Castleblaney, Bailieborough and Dundalk, and that stations have also been closed on the northern side of the border.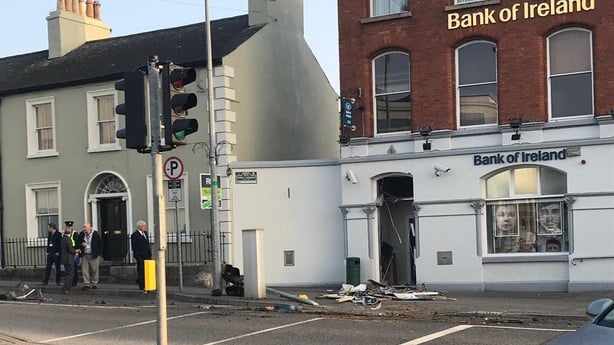 Speaking to RTÉ News, AGS President Noel Cunningham said an absence of a garda presence in the border region has contributed to a rise in crime there.
Superintendent Cunningham said this, combined with a reduction in PSNI stations on the northern side of the border, creates a vacuum.
He added that paramilitaries and criminals will fill a vacuum if one is created.
Supt Cunningham said there must be an immediate presence on both sides of the border in order to respond properly to any incidents.
He has also criticised the use by public bodies and the media of the term "recreational drugs".
Supt Cunningham says it legitimises and normalises something unlawful which destroys individuals and communities.
He said there is no such thing as a "recreational drug" and that such language "plays into the hands of organised crime".
The association is also concerned about proposed structural changes in the Divisional Policing Model currently being piloted in four divisions.
It is concerned about changes in the role of the district officer which could mean the loss of a local superintendent in some districts.
Supt Cunningham said this could adversely affect the relationship between gardaí and the community in some areas.
He has also criticised the Garda Ombudsman for continuing to require garda superintendents to investigate complaints against other gardaí, which he said, should be carried out independently by GSOC.
The association also wants sanctions to be introduced against those who make vexatious complaints or protected disclosures.
---
Read more
Garda Superintendents call for clarification from GSOC chair
---