Hundreds of thousands of people have attended more than 100 parades and festivities in cities, towns and villages across the country today to mark St Patrick's Day.
Young and old alike of all nationalities lined streets across the country dressed in varying shades of green to celebrate the national day.
In his traditional St Patrick's Day message, President Michael D Higgins said: "May I, on this St Patrick's Day 2019, send my warmest greetings as Uachtaran na hEireann, President of Ireland, to all our extended family across the world.
"Wherever you may be, and in whatever circumstances, you are part of Ireland's global family joining with us as we celebrate our shared Irishness, its culture, heritage and history.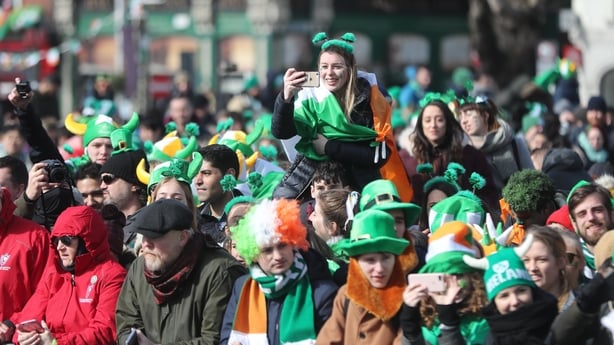 Hundreds of thousands of people took part in #StPatricksDay Festival events in Dublin, reports @SineadCrowley | https://t.co/1ATWXjxVvO pic.twitter.com/0tZQ7pEHBO

— RTÉ News (@rtenews) March 17, 2019
In Dublin, President Higgins and his wife Sabina joined the crowds that thronged central Dublin for the country's flagship parade, which got under way around midday before bright and sunny conditions turned more cold and blustery.
It was led by the Lord Mayor of Dublin Nial Ring and grand marshals Deirdre O'Kane and Jason Byrne.
It also involved street theatre and pageant companies, including Artastic, Dowtcha puppets and Spraoi.
Motorists are advised that many streets in Dublin's city centre will be closed until 6pm this evening.
Merrion Square South will be closed until 6am on Monday to accommodate the St Patrick's Festival Funfair.
There will also be parades held in other European capitals, including Paris and Copenhagen.

Large crowds gathered from early morning to nab the best vantage points. Every window sill and even some lampposts were used to gain some height to watch the parade pass by.
Pageant ensembles and arts groups from the capital and further afield delighted onlookers with colourful costumes, larger than life puppets and dancing performers.
The theme of this year's parade was storytelling. It featured marching bands from home and abroad including the US and Germany.
Participants made their way from Parnell Square across the Liffey to St Patrick's Cathedral over several hours in the afternoon.
It was a day to reflect on many new Cork stories at the #stpatricksday parade there | https://t.co/1ATWXjxVvO pic.twitter.com/MBFOT7ak8c

— RTÉ News (@rtenews) March 17, 2019
In Cork, over 30,000 people watched on as one of the city's most vibrant parades in many years made its way through the city centre.
Lord Mayor Councillor Mick Finn chose to travel the route by bike while this year's Grand Marshall Olympian and World Champion race walker Rob Heffernan was cheuffeured in vintage style.
The proud Corkman said he was truly honoured to be leading the parade.
Some 2000 people from community and voluntary as well as sporting groups across the city took part among them the young hurlers of Na Piarsaigh, cricketers from the the Cork and County Cricket Club and the Rebel Wheelers multi-sports Club.

Limerick's #StPatricksDay parade was out of this world. @HalloranCathy reports | https://t.co/1ATWXjxVvO pic.twitter.com/DSajcozpZa

— RTÉ News (@rtenews) March 17, 2019
A similar number was expected to line the streets of Limerick.
The theme of its parade, which took place on O'Connell Street in the city, was the wonders of space.
In Galway, Paralympic medallist Shane Curran was the guest of honour, while the earliest parade of the day got under way in Dingle. It began at 6am.
30,000 people turned out for the #Galway #StPatricksDay parade, reports @patmcgrath | https://t.co/1ATWXjxVvO pic.twitter.com/P90GOGDUX1

— RTÉ News (@rtenews) March 17, 2019
An pharáid sa Daingean roimh bhreacadh an lae ag 6am, dar le @Buailtin | https://t.co/MD4VQIKAEj pic.twitter.com/0w2Ju94jQo

— RTÉ News (@rtenews) March 17, 2019
Taoiseach Leo Varadkar said reaching out to the Irish diaspora, the 70 million people who call Ireland home, was really important, especially on Ireland's National Day.