The Taoiseach Leo Varadkar has said Ireland would be happy to look at talks about "mechanisms" that would give the UK further assurances that the Irish backstop, if ever applied, would not be permanent.
Speaking in the Egyptian Red Sea resort of Sharm El-Sheikh, Mr Varadkar said neither Ireland nor the EU could agree to something that would contradict the "legal reality" or the "spirit behind what is already agreed" in the Withdrawal Agreement.
Mr Varadkar and British Prime Minister Theresa May are among around 45 heads of state attending the first ever EU-Arab League summit in Egypt.
The leaders will discuss migration, the ongoing turmoil in the Middle East, human rights, counter terrorism and economic cooperation.
Mrs May met with European Council President Donald Tusk ahead of the summit.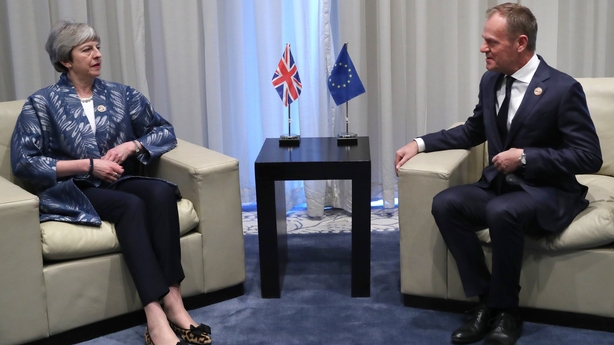 Mr Varadkar said he would meet Mrs May "today or tomorrow".
However, EU and British officials have played down expectations of any breakthrough on the Brexit negotiations at the gathering.
Asked about Mrs May's decision to defer next week's latest meaningful vote on the Withdrawal Agreement until the middle of March, the Taoiseach said the House of Commons was not under his control.
"For the European Union that doesn't change anything. It doesn't change anything from Ireland's point of view either.  
"The March 29 deadline is self-imposed, nobody in Ireland or the EU is threatening no deal. This is a situation the United Kingdom has created for itself.
"We're not playing chicken, we're not playing poker. We're just standing by our position which has been solid from day one."
Asked about the remarks by Michael Gove, the British environment secretary, that there should be a unilateral exit clause to the backstop or an expiry date, Mr Varadkar said: "A backstop that includes a time limit is not a backstop at all. Nor would a unilateral exit clause work for us.
"The whole point of the backstop is to give us an assurance that we won't see the emergence of a hard border between Northern Ireland and Ireland as a consequence of Brexit."
The Taoiseach refused to be drawn on reports of preparations for border inspection posts that would apply the EU's rules on animal health and food safety in the event of a no-deal Brexit.
We need your consent to load this rte-player contentWe use rte-player to manage extra content that can set cookies on your device and collect data about your activity. Please review their details and accept them to load the content.Manage Preferences
"There aren't any plans that we have discussed to do that. We do appreciate that in the event of no deal that we will have obligations to protect the integrity of our single market, our customs union which we're part of and which we intend to be a full member of."
Mr Varadkar told reporters ahead of the summit: "The Withdrawal Agreement, including the Irish Protocol and the backstop, are not up for renegotiation.
"We're happy to discuss with the United Kingdom assurances that they may need to give them further confident that the backstop, if ever applied, will not be permanent.  It will only apply unless and until something supersedes it.
"So we're happy to talk to them about mechanisms to give them that reassurance, which some of them need. However, we can't agree to something that would contradict the legal reality or the spirit behind what is already agreed," said Mr Varadkar.
Only 24 of the 28 EU leaders are attending the summit, but as well as her meeting with Mr Tusk, Mrs May is expected to hold other bilateral meetings.
Mr Varadkar is also scheduled to hold meetings with Arab and other EU figures.