The ISPCA said it was a hell hole, with 23 of the most popular commercial breeds - many confined in squalid narrow runs.
Evidence of proper food and water was scant, as dogs scavenged off carcasses scattered around the grounds.
The scenes were described in court as biblical.
Conor Dowling, Chief Inspector of the ISPCA, said the animals were living in "absolute squalor".
"The stench in there was something else," he added
In all, 340 dogs were removed including puppies and pregnant bitches. Eleven horses were also seized.
Twenty-four animals had to be euthanized.
Presiding Judge James Mc Court said words failed him. It was extraordinary, he said, to find someone of farming stock guilty of such an appalling crime.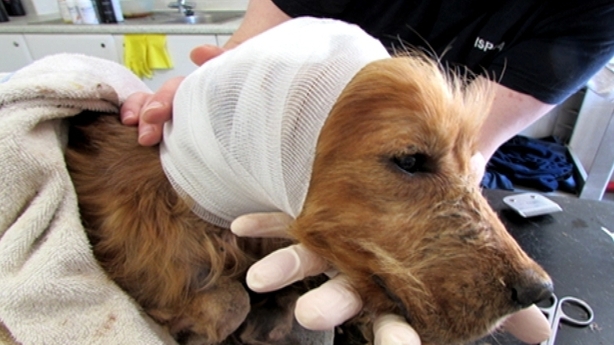 He imposed a three-year jail sentence on Jim Kavanagh and banned him from keeping dogs or equines for life and ordered him to pay costs of €35,000 to the ISPCA.
Jenny Kavanagh was sentenced to 12 months fully suspended and banned from keeping dogs for 15 years. Judge McCourt said it was hard to credit she had not been aware something was amiss.
Protesters outside the court said Ireland has gained the dubious title of 'puppy farm capital of Europe'.
Latest figures put the number of licensed commercial breeders at 78.
The Kavanagh facility was one such licensed establishment, but other puppy farms operate under the radar.
But every dog has its day.