The Health Service Executive has confirmed that mental health services have been disrupted due to today's overtime ban by the Psychiatric Nurses Association in its dispute over pay and staff shortages.
The union's 6,000 members are refusing to work overtime hours as part of an escalating campaign of industrial action over pay.
The HSE said the withdrawal of overtime for today had already affected nine mental health service sites: six in the greater Dublin area, two in the south and one in the southeast.
The PNA will again refuse to do overtime tomorrow, and on 5, 6 and 7 February.
It will escalate to full strike action on 12, 13 and 14 February, coinciding with planned stoppages by the Irish Nurses and Midwives Organisation.
It is understood that during the overtime ban, PNA members had to be satisfied before taking up today's day shift that it was fully staffed.
We need your consent to load this rte-player contentWe use rte-player to manage extra content that can set cookies on your device and collect data about your activity. Please review their details and accept them to load the content.Manage Preferences
Where that staffing complement would normally have involved overtime, alternative arrangements had to be made because the PNA was refusing to work additional hours.
In some instances, night shift personnel had to stay on beyond the end of their shift.
In four Dublin centres, the night shift could not depart until lunchtime - after negotiations with the union led to some relaxation of the overtime ban.
HSE sources said the greater impact of the withdrawal of overtime is likely to be felt at shift changeover both tonight and tomorrow.
The HSE says it has 4,700 whole time equivalent nurse positions in mental health, with attempts currently under way to recruit a further 500.
Staffing shortfalls are plugged by hiring agency staff and sanctioning overtime.
Agency personnel in mental health services cost €16 million last year, while overtime accounted for a further €16 million in expenditure.
The HSE said that €32 million represents 10% of the nursing pay budget in mental health services.
HSE Mid West Chief Officer Bernard Gloster said: "You cannot have a situation where you are spending 5% of your pay on overtime and where the majority of staff providing that overtime, withdraw their co-operation and not have an impact."
He added that there would be a "significant impact" on mental health services if three days of strike action by the PNA goes ahead.
In that scenario he said the HSE and PNA would have to negotiate minimum levels of cover to ensure those in care in acute facilities and those in residential care are prioritised.
"I would imagine there would be a fairly significant aspect of impact in relation to routine day services."
Mr Gloster said the reality is that overtime is a feature of the mental health service.
Meanwhile, yesterday's strike action by the Irish Nurses and Midwives' Organisation over pay and staff shortages, which ended at 8am this morning, has resulted in around 25,000 patients having their appointments cancelled.
The HSE has started cancelling procedures for next Tuesday, as it and the INMO discuss contingency plans for the nurses next 24-hour strike.
The Government has reiterated that the nurses' pay claim is unaffordable and breaches the public service pay agreement.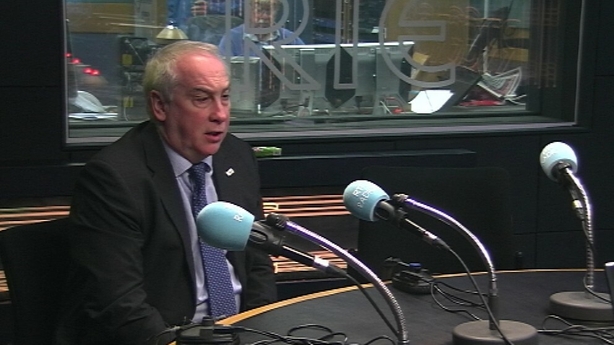 Speaking on RTÉ's Morning Ireland, PNA General Secretary Peter Hughes said there was a huge reliance on overtime in the mental health services.
He said it was not clear as yet what impact the ban on overtime would have, but he said many community services may be affected and senior nurse management may have to work to provide cover.
Mr Hughes said the problem with recruitment and retention of nurses will not go away.
While the Public Service Pay Commission has said it does not believe that pay has anything to do with the retention of staff, Mr Hughes disputes this, saying vacancy rates have increased by 40% over the past year.
The Bring Them Home campaign launched last year only resulted in six psychiatric nurses returning from the UK, he said.
Mr Hughes said the PNA spent three days in the Workplace Relations Commission last week without any negotiations taking place.
He said that any proposal would be brought to members for consideration, but as yet they have not received any.
Mr Hughes said that overtime is voluntary and therefore cannot be construed as industrial action.
He said the issue can be resolved and there should be no penalty on staff who take part in the ban.