US sanctions imposed on the Russian parent company of Aughnish Alumina in Co Limerick have been lifted.
There had been fears that the sanctions would threaten the future of the Limerick plant, which employs 460 workers, as well as 200 contractors.
The Irish Government had lobbied US officials to highlight the impact on Aughinish Alumina.
In December the US Treasury lifted the sanctions after the Russian oligarch Oleg Deripaska, an ally of Russian President Vladimir Putin, agreed to reduce his stake in the company.
Democrats opposed the move, accusing the Trump administration of being too soft on Russia, but their attempts to block the lifting of sanctions failed to secure enough support in Congress.
Tánaiste Simon Coveney welcomed the lifting of sanctions describing it as "very good news for Aughinish Alumina and west Limerick".
Local Fianna Fáil TD Niall Collins said: "It is very welcome news for the workers and contractors associated with Rusal in Limerick. The value of Rusal at Aughinish in Limerick to the local economy is enormous."
Widespread relief across West Limerick about lifting of sanctions against Aughanish Alumina-Ronan Madigan NCW Chambe Pres @rtenews pic.twitter.com/KiHOL2bIsn

— Cathy Halloran (@HalloranCathy) January 28, 2019
Mr Deripaska is known to have friendly relations with Mr Putin and had business ties with US President Donald Trump's former campaign chairman Paul Manafort.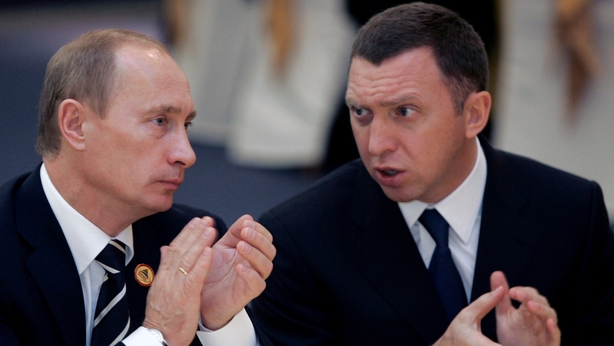 Mr Manafort was convicted in Special Counsel Robert Mueller's investigation into Russian meddling in the 2016 US presidential election.
Mr Deripaska is one of several oligarchs sanctioned last year in retaliation for what the US called "the Russian government's ongoing and increasingly brazen pattern of malign activity across the world," citing its interference in Syria and its seizure of Crimea.
Rusal, EN+ Group Plc and EuroSibEnergo JSC have "reduced Oleg Deripaska's direct and indirect shareholding stake ... and severed his control," the Treasury's Office of Foreign Assets Control (OFAC) said in a statement.
Speaking on RTE's News at One, Greg Barker, chairman of EN+, said Mr Deripaska will now be reducing his stake in Rusal from 70 to 35% under the terms of a new deal.
He said an independent board would be put in place, along with "very robust corporate governance measures".
Mr Barker said the future of the workers at the Aughinish Alumina plant was "in good hands", and said they could now "breathe a sigh of relief'" 
The delisting came as the companies sought to avoid being locked out of global markets due to their close association with Mr Deripaska.
The sanctions banned Americans and organisations with US divisions, such as many global banks, from doing business with the companies and froze Mr Deripaska's personal assets in US jurisdictions.
"All sanctions on Deripaska continue in force," the OFAC said.