A major report on healthy diets and food systems commissioned by the Lancet Medical Journal has called for a comprehensive shift in how the world eats.
The EAT-Lancet Commission involved a three-year collaboration between 37 scientific experts from 16 countries.
It concluded that our food systems are faulty and a major contributor to climate change, leaving civilisation in crisis.
The Commission's report calls for a dramatic reduction in the consumption of meat and dairy and a sharp increase in plant-based foods.
We need your consent to load this rte-player contentWe use rte-player to manage extra content that can set cookies on your device and collect data about your activity. Please review their details and accept them to load the content.Manage Preferences
It warned that we can no longer feed our population a healthy diet while balancing planetary resources.
Almost one billion people are hungry, almost two billion are eating the wrong food, and unhealthy diets account for up to 11 million avoidable deaths per year.
The dominant diets of the past 50 years are a major contributor to climate change and are no longer nutritionally optimal.
The scientists set out what they call a new universal healthy reference diet.
It largely consists of vegetables, fruits, whole grains, legumes, nuts, and unsaturated oils, with very moderate amounts of seafood and poultry.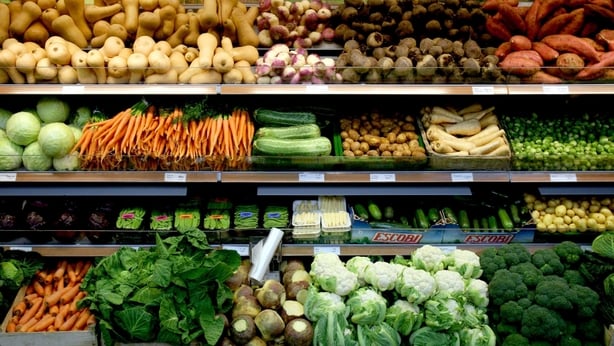 However, it allows no or only very low quantities of red meat, processed meat, added sugars, refined grains and starchy vegetables.
The recommendations would imply a 90% reduction in red meat and milk consumption in Ireland, a 70% reduction in chicken, as well as substantial reduction in the consumption of potatoes and some other vegetables.
---
Read more
---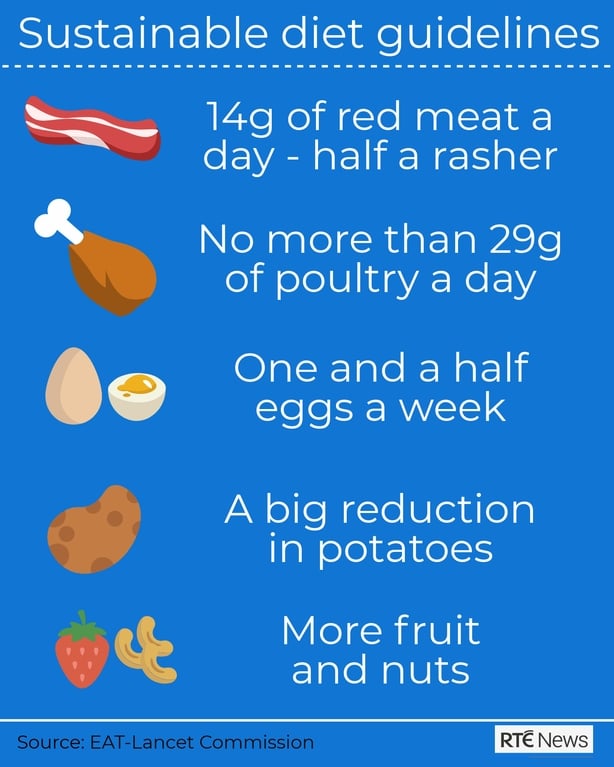 The report suggests policies to eliminate and restrict food choice, including new taxes and charges, as well as withdrawing products from sale and in some cases rationing.
The commission says food is the single strongest lever to optimise human health and environmental sustainability on Earth.
Professor Tim Lang, one of the authors from City, University of London, said: "The food we eat and how we produce it determines the health of people and the planet.
"We are currently getting this seriously wrong ... we are in a catastrophic situation.
"We need a significant overhaul, changing the global food system on a scale not seen before in ways appropriate to each country's circumstances.
"While this is uncharted policy territory and these problems are not easily fixed, this goal is within reach and there are opportunities to adapt international, local and business policies.
"The scientific targets we have devised for a healthy, sustainable diet are an important foundation which will underpin and drive this change."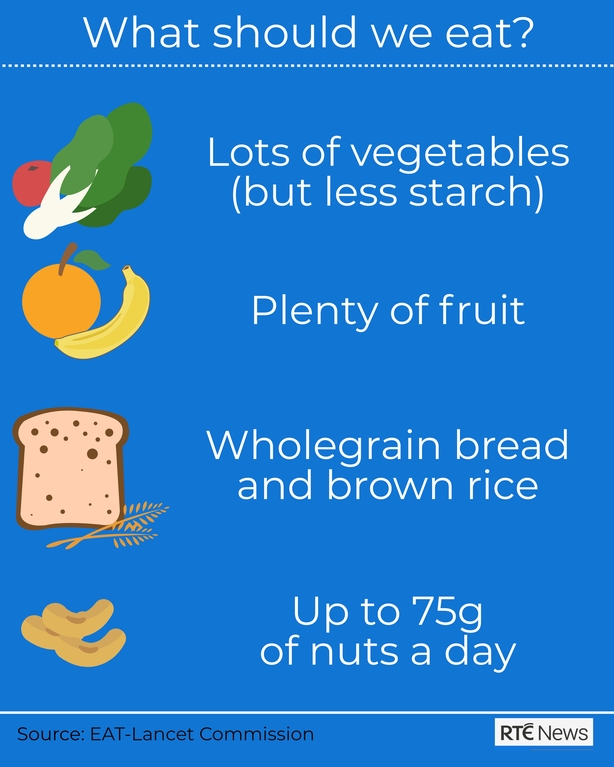 Professor Johan Rockstrom, from the Potsdam Institute for Climate Impact Research in Germany, who co-led the commission, said a sustainable system that could deliver healthy diets for a growing and wealthier world population required "nothing less than a new global agricultural revolution".
He added: "Our definition of sustainable food production requires that we use no additional land, safeguard existing biodiversity, reduce consumptive water use and manage water responsibly, substantially reduce nitrogen and phosphorus pollution, produce zero carbon dioxide emissions, and cause no further increase in methane and nitrous oxide emissions.
"There is no silver bullet for combating harmful food production practices, but by defining and quantifying a safe operating space for food systems, diets can be identified that will nurture human health and support environmental sustainability."
US colleague and co-lead commissioner Dr Walter Willett, from Harvard University, said: "The world's diets must change dramatically.
"More than 800 million people have insufficient food, while many more consume an unhealthy diet that contributes to premature death and disease."
Here, the Green Party Leader has called on the Government to change Irish agriculture and Irish food policy following the publication of the report.
Eamon Ryan accused Fine Gael of having an obsession with big business and expanding the beef, meat and dairy markets internationally, rather than focusing on the future of the Irish family farm. 
He called on the Government to change FoodWise 2025, which is a ten year plan for the agri-food sector to expand.
The Tánaiste said the Green Party Leader was not giving "a fair reflection" of the food policy in FoodWise 2025.
Simon Coveney said the Government was planning sustainable and controlled expansion of the dairy and beef sectors. 
Additional reporting PA