The chief executive of the UK's Road Haulage Association has said test-running lorries from an airfield in Kent to Dover in preparation for a no-deal Brexit is "too little too late".
The trial, called Operation Brock, has seen lorries directed along the A256 towards Dover in a 32km journey, which should take around 30 minutes.
Richard Burnett said: "Of course it's good to have a plan in place but today's limited scope trial will need to be repeated to stress test other aspects of the management of thousands of lorries properly.
"Today's trial cannot possibly duplicate the reality of 6,000 trucks that would be held at Manston airport in the event of a no-deal Brexit.
"It's too little too late - this process should have started nine months ago. At this late stage it looks like window dressing."
The convoy of lorries from regional and national haulage companies descended on Manston from 7am to form a queue along the runway.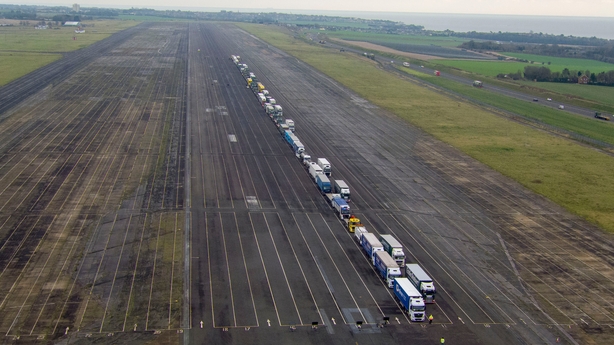 The drivers congregated in a large group before being directed by officials from the Department for Transport (DfT), Kent County Council and police officers.
The first practice run began in rush-hour shortly after 8am, with four convoys leaving at intervals between 8.13am and 8.39am.
The first of the convoys arrived in Dover at 8.52am where they were directed to do a loop around the Eastern Docks roundabout, travel along Jubilee Way and drive straight back to the airport.
Up to 150 lorries were initially anticipated to take part but only 89 were involved, the DfT confirmed after the first test. A second test began at 11am.
Congestion at the Channel ports caused by the reintroduction of customs checks on goods has been one of the most commonly cited negative effects of a no-deal withdrawal from the EU at the end of March.
Also known as Kent International Airport, the site closed in 2014 after owners were unable to find a buyer.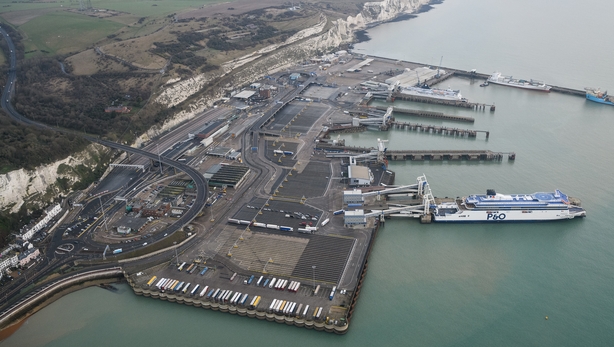 Meanwhile, the European Commission has repeated that EU leaders would not renegotiate a Brexit treaty agreed last month with British Prime Minister Theresa May and was pressing on with planning for Britain to crash out of the EU without a deal.
"The deal that is on the table is the best and the only deal possible," chief spokesman Margaritis Schinas told reporters when asked about a phone conversation on Friday between Mrs May and Commission President Jean-Claude Juncker.
"This deal will not be renegotiated."
She also repeated that there were no talks planned between negotiators from the two sides as "negotiations are complete".
Mrs Schinas repeated that Mr Juncker's conversation with Mrs May on Friday was "friendly" and that the two would speak again this week.
Mrs May's spokesman said the prime minister was still working on obtaining assurances from the EU, which MPs have said they need before they could vote for her Brexit deal.
MPs are to resume the debate on the Brexit Withdrawal Agreement on Wednesday, with a vote delayed from December due to take place next week.
Mrs May will meet MPs in the coming days as she seeks to convince them to support her deal. But there is no sign yet that she has persuaded enough MPs to back the Withdrawal Agreement.
The UK is set to leave the EU on 29 March.
---
---
Separately, 209 MPs from across the Commons have signed a letter to Mrs May urging her to rule out a no-deal Brexit.
The letter was organised by Tory former Cabinet minister Caroline Spelman and Labour's Jack Dromey.
All signatories to the letter have been invited to meet the prime minister in Downing Street tomorrow.
The meeting is one of a series being organised by Mrs May, who is also hosting drinks receptions for Tory MPs today and on Wednesday as part of a charm offensive to win support for the Brexit deal.
Over the weekend, Mrs May told the BBC's Andrew Marr Show that Britain would be in "uncharted territory" if her Brexit deal was rejected by parliament.
Mrs May said the vote in parliament would be around 15 January, despite newspaper reports that she could delay it.
Taoiseach Leo Varadkar said over the weekend that while it would be in Ireland's interests to see the Withdrawal Agreement accepted, ultimately it was a decision for the British parliament at Westminster.
Speaking during his visit to Mali in Africa, Mr Varadkar said: "You have to weigh up on the one hand our desire to see it ratified with the possibility that that could backfire if we were trying to tell another parliament, another country, how they should vote."
Additional reporting Fiona Mitchell, Reuters