British Prime Minister Theresa May has said that Britain would be in "uncharted territory" if her Brexit deal is rejected by parliament later this month, despite little sign that she has won over sceptical MPs.
Britain is due to leave the EU on 29 March, but Mrs May's inability so far to get her deal for a managed exit through parliament has alarmed business leaders and investors who fear the country is heading for an damaging no-deal Brexit.
Mrs May said the vote in parliament would be around 15 January, despite newspaper reports that she could delay it.
The prime minister has already delayed the vote once, in December, when it became clear she would lose unless extra reassurances from the EU were agreed.
Describing what would happen if she was defeated, Mrs May told BBC's The Andrew Marr Show: "We're going to be in uncharted territory. I don't think anybody can say exactly what will happen in terms of the reaction we'll see in parliament."

Mrs May's party is divided over supporting the deal, with many fearing that an insurance policy designed to avoid the re-emergence of a hard border between Ireland and Northern Ireland could leave Britain subject to EU rules indefinitely.
One of those leading that opposition, Jacob Rees-Mogg, said in a newspaper article that it was "wishful thinking" that time away from parliament over the Christmas holiday could persuade him to change his mind and back the deal.
---
Read more:
More Brexit stories
---
With the parliamentary debate on her deal due to begin on 9 January, Mrs May said there was still work to do to get reassurances over the backstop from the EU.
She also promised parliament would have a greater say in the rest of the Brexit process and warned that rejecting her deal could prevent Britain's exit.
"Don't let the search for the perfect become the enemy of the good, because the danger there is actually we end up with no Brexit at all," Mrs May said.
She did not answer whether she would, if defeated, make a second attempt to get the deal passed by parliament.
Mrs May also did not directly respond, when asked, if she was leading the country toward a no-deal Brexit.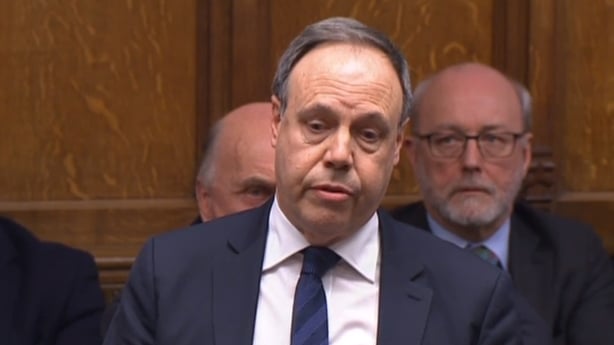 Meanwhile, DUP deputy leader Nigel Dodds has said the backstop provision remains the "poison" affecting any vote on the Withdrawal Agreement in the House of Commons.
Mr Dodds said: "Theresa May still insists that what she has negotiated is a good deal.
"She should remember that it would already have been consigned to the bin but for her pulling the vote in December."
Mr Dodds blamed the EU and the Irish Government for rejecting efforts to rewrite the deal or find a compromise.
"The responsibility for this lies primarily with the EU," he said.
"EU spokespersons have gone out of their way to reiterate that there will be no renegotiation of the Withdrawal Agreement.
"True to form the Dublin Government has quickly shut down any possibility of a breakthrough by its now familiar tactic of a fast and flat rejection of any form of compromise."
He added: "This is a time for the United Kingdom to make clear what it wants and needs for a Withdrawal Agreement to pass Parliament so that the EU is in no doubt as to what's required for a deal.
"The backstop remains the poison which makes any vote for the Withdrawal Agreement so toxic."
He added: "The EU has shown in the past that it will move but only if faced with a resolute red line on the part of the UK Government.
"The coming days will show if this Government is made of the right stuff."
Since Mrs May pulled the vote Mr Dodds said the DUP had engaged with the UK Government in an attempt to move forward towards a deal which could command support in the House of Commons.
But he said: "So far, the fundamental problems which make this a bad deal appear not to have changed."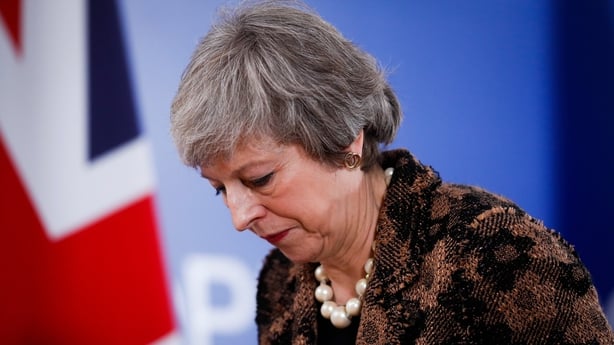 Mrs May has also said the UK is facing a moment of "profound challenge", and warned critics of the deal from both sides of the Brexit divide that they risked damaging the economy and trust in democracy by opposing her plan.
Addressing opponents on both the Remain and Brexiteer wings of the Commons, she said: "There are some in parliament who, despite voting in favour of holding the referendum, voting in favour of triggering Article 50 and standing on manifestos committed to delivering Brexit, now want to stop us leaving by holding another referendum.
"Others across the House of Commons are so focused on their particular vision of Brexit that they risk making a perfect ideal the enemy of a good deal.
"Both groups are motivated by what they think is best for the country, but both must realise the risks they are running with our democracy and the livelihoods of our constituents."
She said that the British "genius for pragmatism" had always found a way forward which commands consensus at "moments of profound challenge" such as this.
In a Mail on Sunday article she said Labour's approach under Jeremy Corbyn had been based on a "cynical tissue of incoherence, designed to avoid difficult decisions".
Additional reporting: PA