A Dublin English language college, which closed suddenly on Monday, took substantial advance fees from young people in Mongolia in recent months and has spent the money, RTÉ News has learned.
At least ten students in Mongolia paid fees of €5,300 to Grafton College in recent months for English language courses in Ireland.
The students were due to begin their course in January and they have not yet travelled to Ireland.
The owner of the company has confirmed to RTÉ News that the students paid advance fees to Grafton College. Saeed Rehman said that "the money has been spent".
Some of the students paid the fees in October, while others paid in September.
Seven of the students had their visa applications to come to Ireland to study refused. The remaining three are awaiting a decision on their visas.
Irish immigration regulations oblige students in countries such as Mongolia to pay fees to a college before they apply for a visa to allow them to come to Ireland to study.
Colleges are obliged to keep such payments in a holding account and they are obliged to return the payments within 20 working days in the case of a visa refusal.
Asked how the money has been spent, when by law it is supposed to be ring-fenced, Mr Rehman told RTÉ News "we were short of funds so we used it".
Mr Rehman confirmed that he visited Mongolia just over a month ago to recruit students.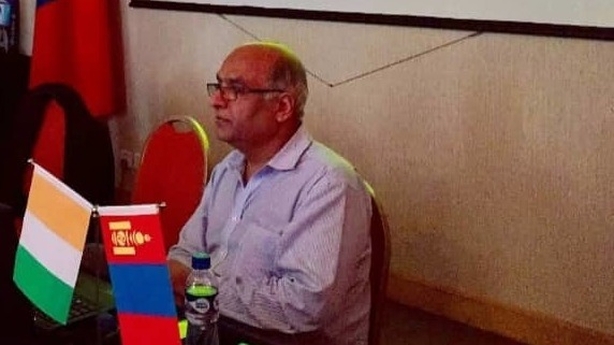 Asked why he recruited students, and took advance fees from them, when he knew the company was in difficulty, he said: "When a company is in difficulty you try to generate revenue."
"We are in an embarrassed state. We were trying to save the company," he added.
An agency that was working on behalf of Grafton College in Mongolia has told RTÉ News that Mr Rehman recruited up to 50 students in the country in late October to come to study in Dublin.
According to the agency, around 30 students provided fees to study at the college, but the agency stopped the transfer of those payments.
A representative from the Mongolian recruitment agency, Uuganbayar Badamsuren, says that Mr Rehman then travelled on to China to recruit students there.
It is not known whether students in China also paid advance fees to the college.
The fee of €5,300 is the equivalent of 18 months' pay for some on the average salary in Mongolia.
The representative initially contacted Ireland's Workers' Party on social media in an attempt to find someone who could help the students.
Eilis Ryan, a Workers' Party Dublin City Councillor, said: "These students are extremely vulnerable people. They don't speak English. This is an enormous amount of money for them."
She said they didn't have "the kind of tools that people in a country like Ireland have if they find themselves in a situation like this".
Ms Ryan called on the Government to help the students.
Mr Badamsuren said that some of the students had borrowed or sold homes in order to raise the money to come to study in Ireland.
The CEO of Marketing English in Ireland (MEI), which represents private language colleges, has expressed shock that advance fees paid by students have been spent.
David O'Grady said that this was "shameful". He said the issue now needed to be pursued at a regulatory level.
He said: "People who would do something like this should have nothing to do with education".
Grafton College shut its doors on Monday owing staff wages. It catered to around 500 foreign students.
Four years ago another private language college in Dublin, Shelbourne College, closed suddenly owing an estimated €500,000 to students in Nepal and other countries in similar circumstances.
There were calls at the time for colleges to be obliged to hold advance fees from international students in an 'escrow' account. This is a ring-fence account administered by a third party.
However, new regulations introduced in the wake of the Shelbourne College controversy stopped short of obliging colleges to hold escrow accounts.
They obliged colleges to hold such funds in "a separate client visa account". The regulations stipulated that "funds must remain in this account until the student's visa application is determined" and must be reimbursed within four weeks if the application is refused.
Last April, Ceann Comhairle Sean Ó Fearghaíl visited Mongolia as part of an official parliamentary delegation to promote ties between Ireland and Mongolia.
On our parliamentary visit to China, Hong Kong & Mongolia:
At the grave of Fr Joseph Mallin, SJ, the last surviving child of a
1916 leader. Fr Joe was buried here last week following his death at the
age of 104. Pictured with me is Kerry deputy, Martin Ferris. @OireachtasNews pic.twitter.com/swVxluxlaw

— Seán Ó Fearghaíl TD (@SOFearghail_TD) April 23, 2018
According to media reports of the visit, Mr Ó Fearghaíl spoke of collaboration opportunities between the two countries in areas including education and tourism.
He is reported as saying that Ireland was ready to help young Mongolians study in Ireland.