The number of people killed by a massive blaze in northern California has risen to 42, making it the deadliest wildfire in the history of the state.
Thousands of firefighters have spent a fifth day digging battle lines to contain the Camp Fire in the foothills of the Sierra Nevada mountains, while search teams were on a mission to recover the dead.
"As of today, an additional 13 human remains have been recovered, which brings the total number to 42," Sheriff Kory Honea told a news conference.
The blaze is "the deadliest wildland fire in California history," Sheriff Honea said.
The Camp Fire is the largest of several wildfires that have sent a quarter of a million people fleeing their homes across the state, with winds of up to 100km/h fanning the fast-moving flames.
In addition to the historic loss of life, the Camp Fire blaze is also more destructive than any other on record, having destroyed 6,500 homes in the town of Paradise, effectively wiping it off the map.
More than 5,100 firefighters from as far as the states of Washington and Texas have been working to halt the advance of the fires as "mass casualty" search teams backed by anthropologists and a DNA lab pick through the charred ruins to identify remains.
---
Read more:
Death toll from California wildfires rises to 31
Irish actor among those forced to flee California fire
In pictures: California wildfires
---
At least 44 people have died in fire zones in northern and southern California, where acrid smoke has blanketed the sky for miles, the sun barely visible.
US President Donald Trump "declared that a major disaster exists in the state of California and ordered federal aid to supplement state, tribal, and local recovery efforts in the areas affected by wildfires," the White House said in a statement.
On the ground, cars caught in the flames have been reduced to scorched metal skeletons, while piles of debris smoulder where houses once stood, an occasional brick wall or chimney remaining.
The Camp Fire is 25% contained, the California Department of Forestry and Fire Protection (Cal Fire) said.
Three firefighters have been injured in the effort to quell its advance.
At the southern end of the state, another three firefighters have been injured battling the Woolsey Fire, which has destroyed mansions and mobile homes alike in the coastal celebrity resort of Malibu.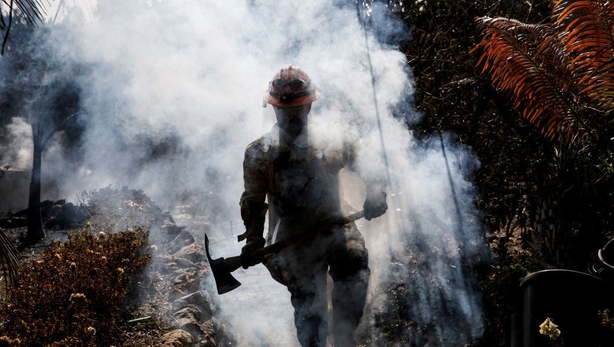 The blaze is similar in size to the Camp Fire but has been much less destructive, and the death toll has been limited to two victims found in a vehicle on a private driveway.
"This is not the new normal, this is the new abnormal. And this new abnormal will continue, certainly in the next 10 to 15 to 20 years," California Governor Jerry Brown said on Sunday in a stark warning over the likely damaging effects of climate change.
"Unfortunately, the best science is telling us that the dryness, warmth, drought, all those things, they're going to intensify."