Senior figures in both Fianna Fáil and Fine Gael have said there would be no place for Presidential candidate Peter Casey in their parties.
The businessman, who finished second in the election, has said he would like to either join Fianna Fáil or else form his own political party, which he dubbed the "New Fianna Fáil".
Speaking this afternoon, Mr Casey said he would "be more aligned to Fianna Fáil than any other party, so that would be a logical step in that direction."
He added: "I heard in the papers today that they are full up and not taking membership ... I think what it actually is, is that they are full of nonsense.
"They really need somebody who can turn around things ... the way the polls are looking at the moment they are going to end up very badly in the next election.
"Micheál (Martin) certainly would not want me, because I would like his job so that's very understandable."
He added that he would "definitely top the polls in Donegal when he stands".
Mr Casey said if he does not end up as a member of Fianna Fáil, he will consider starting his own party.
"I would probably call it the New Fianna Fáil," he said. He added that it is a realistic aim of his to become Taoiseach.
Fianna Fáil communication's spokesperson Timmy Dooley has said he does not think Mr Casey would have any chance of standing in any constituency for the party.
Mr Dooley said that Mr Casey's "utterances are controversial".
"He is speaking about problems in society that we all talk about, but he is attempting to lay the blame on the shoulders of some of the minorities in society," he said.
Mr Dooley added that doing that does not solve the problem those people face, and that it creates division in society.
---
Read more: Presidential election
---
He said that in his view it was "dangerous politics, lazy politics, and irresponsible".
Meanwhile, The Minister for Education has said it is "a healthy sign of democracy" that people are willing to put their name forward to contest Dáil elections.
However, Fine Gael's Joe McHugh said he does not agree with some of Mr Casey's divisive interventions during the recent Presidential campaign.
He said there would be no place for Mr Casey in Fine Gael, "unless he was to change his position on some of his controversial stances."
Mr McHugh, who is a TD for Donegal, added the Fine Gael selection convention for the constituency has already been held.
Mr Casey was an Independent candidate in the Presidential Election, finishing second behind Michael D Higgins on 342,727 votes, a 23% share of the vote.
Mr Casey said his political focus would be on addressing the country's housing crisis and that "the 342,000 people that voted for me, they weren't voting for Peter Casey ... they're tired, they want change, they want something different, and that's what I can offer them".
On suggestions that Renua might be interested in having him as a member of its party, Mr Casey said he has "huge respect" for the party but that he would be more aligned to Fianna Fáil.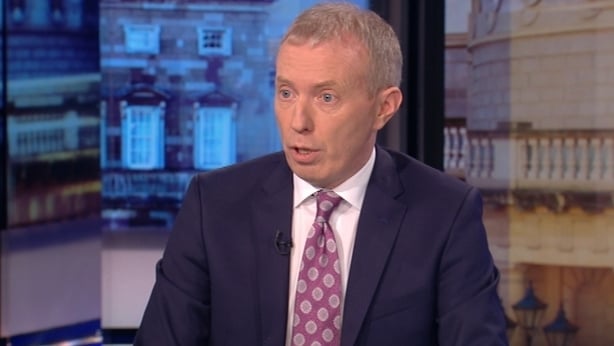 Mr Dooley also said Mr Casey ran for the Office of President and began to talk about issues which were outside the remit of that office.
He said that politics was about solving problems and that the approach Mr Casey was taking was not offering any solutions to those problems.
Additional reporting: Fergal O'Brien