Tánaiste Simon Coveney has apologised to thousands of women who have been waiting for 18 weeks to receive smear test results.
It comes as the HSE confirmed a backlog of more than 60,000 smear tests following an upsurge in testing in the wake of the CervicalCheck crisis.
There has been a huge increase in women seeking tests since the CervicalCheck crisis broke earlier this year.
Mr Coveney was responding to Sinn Féin health spokesperson Louise O'Reilly during Leaders' Questions this afternoon.
She said that after the CervicalCheck women were offered a free repeat smear test but "what we didn't expect is that nothing would be done".
She said that GPs were not consulted and no strategy or planning went into the announcement.
Ms O'Reilly said that "a good idea" has been "completely mismanaged" and the measure, which was meant to reassure women, has not worked.
She outlined that women were meant to have their results within six weeks but they have to wait for up to 18 weeks as the labs cannot deal with the backlog and tests are expiring.
Ms O'Reilly asked what was being done to address the issue and if women could be given a realistic time frame for repeat tests.
Mr Coveney said repeat tests were one of the key issues raised on the helpline in May and the HSE regretted there were significant delays on the reporting of test results.
He said: "Unfortunately results are currently being reported within 18 weeks of the tests being taken.
"In a small number of cases it is even longer than that. It is not good enough and I would like to apologise to those patients affected and assure them that everything possible is being done to try and improve this situation.
"These delays have been caused by an upsurge in women's presenting for smear tests."
He said there have been two factors contributing to the increase in demand.
As well as women presenting for out of cycle smear tests, there has also been a dramatic increase in out of cycle tests and CervicalCheck seeing an increase in the normal testing system.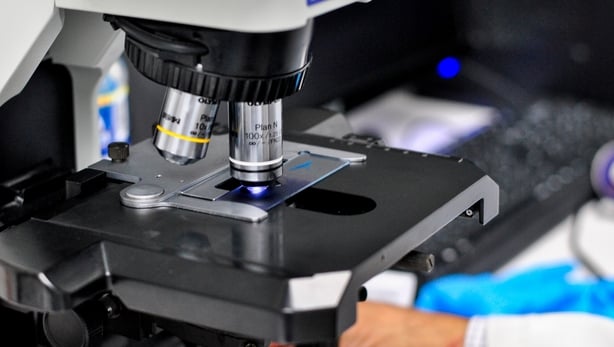 The Government announced in May that it would fund re-tests for anyone who had concerns about previous smear tests.
However, figures released to RTÉ's Morning Ireland show that the processing time has more than trebled and that some women are waiting 18 weeks to receive their results.
The HSE has apologised for the delays and confirmed that between May and September of this year, 42,469 repeat, or out of cycle, smear tests were undertaken.
More than 86,210 smear test samples are still in progress and not yet reported, compared to around 23,000 smear test samples that would normally be expected to be in progress at any one time.
"We would like to apologise to those patients affected and assure them that everything possible is being done to improve the situation," the HSE said.
Ann Kelly, 42, from Dunmanway in Co Cork told the programme that she had waited 17 weeks for the results of her smear test, which was inconclusive and required a further test.
The mother-of-four is now facing an additional, significant wait for the re-test to be read.
"I was ringing the GP practice every two weeks to see was there any updates. They didn't know any more either. The weeks were just growing," she said.
Ms Kelly said that a staff member in CervicalCheck told her that it was unfortunate that the re-tests were being done during the summer when staff were on holidays.
"17 weeks already waiting and another 17 weeks, which is eight months waiting for a simple smear result. I feel they really do need a shake up here, something has to be done soon."
In a statement, the HSE said it had asked the screening laboratories to hire additional staff and to manage annual leave to help address the backlog.
"As part of our on-going negotiations with the laboratories we are trying to source additional screening capacity within the laboratory network, which would help improve the turnaround time. We hope to be able to announce some additional capacity in the coming weeks," it said.
It also confirmed that colposcopy clinics, which receive referrals of abnormalities, are now also experiencing an increase in demand.
Labour health spokesperson Alan Kelly said the delays in the processing of smear tests were causing concern.
"The women who need the screening - women who are being referred for screening or actually it was their time slot to be screened - are now all being impacted.
He said Minister for Health Simon Harris made the announcement for the right reasons but "in a bit of a panic".
Mr Kelly said it was "probably the wrong thing to do to roll out free re-tests universally".
Dr Mary Short, Director of Women's Health at the Irish College of General Practitioners, said the delays were frustrating but that patients should not be unduly concerned.
"The smear test is not a diagnostic test. It is only to look for pre-cancerous cells which can be treated in a colposcopy clinic. The time lag between pre-cancerous cells and cancer can be over 20 years.
"I don't think there should be undue concern about the delay, it is just frustrating."
Earlier in the summer a number of smear tests could not be read due to the delay in processing.
Samples must to be transferred from a cervical pot to microscopic slide within six weeks, however in some cases this deadline was missed.
Dr Short believes the risk of tests going out of date has reduced as the service gets to grips with the volume of tests.
She said: "All of the transport medium samples are now 'plated' currently, in case there is a delay in the processing."
Additional reporting: Louise Byrne