CEO of Sport Ireland John Treacy has said the Ireland women's hockey players did not have to each pay a levy of €550 to represent Ireland at the World Cup, despite reports that they had to because of a shortfall in funding.
Speaking on RTÉ's This Week programme, he said after the Rio Olympics in 2016, Sport Ireland moved to ensure that this levy was not paid anymore.
He said they have provided some expense money to the women's hockey team, with €45,000 shared among the squad of 40.
He described it as a "token", adding that it is a way of making sure the athletes are not paying levies to compete at an international level.
However, Mr Treacy acknowledged that there is still "clearly a need for investment very quickly" in terms of high performance sport.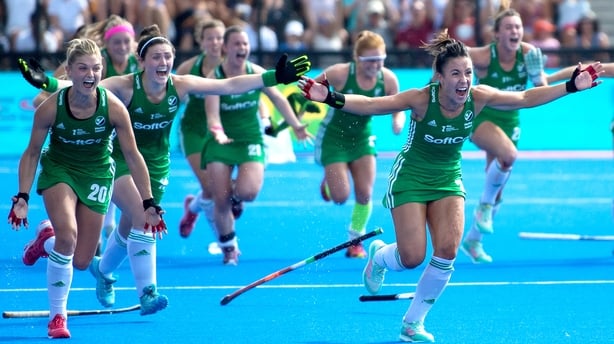 He said they would love to give more money to hockey but that Sport Ireland are "limited in terms of their budget".
Mr Treacy's comments came before the Irish team won silver at the World Cup, following a final defeat to the Netherlands this afternoon.
Mr Treacy outlined the total funding given to Irish hockey so far this year.
"They got €520k high performance, they got an additional €60k for both World Cup campaigns and then they got €45k in terms of carding. Plus an additional co-funding of €260k."
He said Sport Ireland's budget is around €10 million a year in terms of high performance sport, and said the Government has promised to double the funding for sport over the next 10 years.
However, he believes the budget needs to increase three-fold to compete at the level that the Ireland women's hockey team are now competing.
He said the funding for high performance sport has not increased since 2007 and that is the case they are making to the Government.
---
We need your consent to load this rte-player contentWe use rte-player to manage extra content that can set cookies on your device and collect data about your activity. Please review their details and accept them to load the content.Manage Preferences