British Prime Minister Theresa May will use a speech in Belfast tomorrow to reiterate her refusal to contemplate any backstop deal that treats Northern Ireland differently from the rest of the UK.
Mrs May is also to urge the European Union to "evolve" its position on Brexit and not fall back on "unworkable" ideas.
However, Mrs May will reaffirm that a hard border will never be acceptable.
She will say that her solution to the border issue is a future partnership between Britain and the EU.
Speaking at the city's Waterfront Hall, she is due to say that any such backstop deal would go against the Good Friday Agreement, which brought peace to Northern Ireland 20 years ago after decades of conflict.
Mrs May will say that following the publication of the government's White Paper agreed at Chequers, it is "now for the EU to respond".
She will add: "Not simply to fall back on to previous positions which have already been proven unworkable. But to evolve their position in kind.
"And, on that basis, I look forward to resuming constructive discussions."
The border issue is one of the most disputed parts of the Brexit negotiations.
Mrs May's speech comes the day after new Brexit Secretary Dominic Raab headed to Brussels for the first time to take part in talks with Michel Barnier, the EU's chief negotiator.
Mr Barnier told reporters that it was "a matter of urgency to agree a legally operative backstop", saying: "We need an all-weather insurance policy."
In the event of a hard no-deal Brexit, the EU wants a backstop that would effectively create a border down the Irish Sea between Ireland and Britain.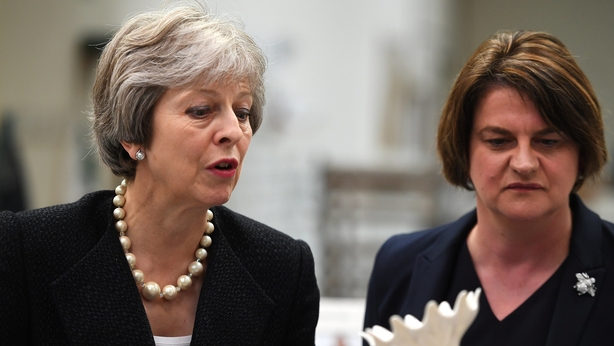 Mrs May has repeatedly voiced her opposition and on Friday is due to do so again, saying: "The economic and constitutional dislocation of a formal 'third country' customs border within our own country is something I will never accept and I believe no British prime minister could ever accept.
"And as they made clear this week, it is not something the House of Commons will accept either."
As the EU warns member states to increase preparations, Mrs May is also due to insist that a deal can be reached with Brussels "that works in our mutual interest".
She will say the deal will put the UK on the way to "a prosperous future, protecting jobs and boosting prosperity" at the same time as honouring the 2016 referendum result, adding: "I am passionate about that brighter future and the possibilities that are within our grasp."
Mrs May's comments will come on what is her first visit to the border since the Brexit referendum.
Mrs May toured the Belleek Pottery factory in Co Fermanagh earlier today, meeting workers and business representatives from both sides of the border.
DUP leader Arlene Foster welcomed her to the famous landmark, which sits close to the border.
Ms Foster, whose 10 MPs prop up the prime minister's minority government at Westminster, had extended an invite to Mrs May to visit her Fermanagh and South Tyrone constituency on what is a two-day schedule of events in Northern Ireland.
Mrs May had previously faced criticism for failing to hear first-hand from locals living and working near what is to become the UK's only land border with the European Union.
The border remains a crucial sticking point in Brexit negotiations with the EU, amid a stand-off between the UK and Brussels on how to maintain free flow of movement across the 500km frontier.
Ms Foster insisted Mrs May would come away hearing of the challenges and opportunities presented by Brexit.
"This visit will enable Mrs May to speak with people who live, work and travel across the much talked about Irish border on a daily basis," said Mrs Foster.
"She will hear first-hand examples of how people see both challenges and opportunities for their sectors as we leave the European Union.
"For our part, we want to see a sensible exit from the European Union which works for Northern Ireland, the United Kingdom and our nearest neighbours in the Republic of Ireland.
"That must mean that our national parliament takes back control of our laws, borders and money and that there are no new internal barriers created inside the United Kingdom."
Brexit and the border: Theresa May visits Northern Ireland https://t.co/WzMN3iDhLM pic.twitter.com/QqMk8UCUEy

— RTÉ News (@rtenews) July 19, 2018
---
Read more:
Johnson says border dominating Brexit debate
More Brexit stories
---
Sinn Fein vice president Michelle O'Neill branded the visit "too little, too late".
"She is coming two years after the referendum, she is coming two years after negotiating with her own party," she said.
"I am quite clear what she will hear today; she'll hear about the catastrophic implications of Brexit, the fear and trepidation of the business community in terms of what comes next for them.
"We can't withstand being outside the customs union and the single market.
"Theresa May needs to realise that we will not be collateral damage her for own reckless Tory agenda."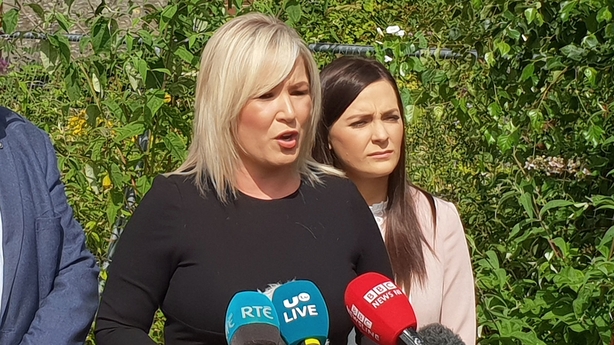 Ahead of her arrival, Mrs May had said: "I fully recognise how their livelihoods, families and friends rely on the ability to move freely across the border to trade, live and work on a daily basis.
"That's why we have ruled out any kind of hard border. Daily journeys will continue to be seamless and there will be no checks or infrastructure at the border to get in the way of this.
"I've also been clear we will not accept the imposition of any border down the Irish Sea and we will preserve the integrity of the UK's internal market and Northern Ireland's place within it."
Additional Reporting: PA