As garda motorcyclists accompanied her official car through the crowded streets of Clones yesterday afternoon, two men found a place in Arlene Foster's thoughts - Martin McGuinness and Danny Murphy.
In January 2016, as First Minister and Deputy First Minister, Arlene Foster and Martin McGuinness hosted a reception for Danny Murphy, the then Secretary of the GAA's Ulster Council, at Stormont Castle.
This was to say thanks to him for his work promoting reconciliation. It was an emotional night because everyone in attendance knew that Danny's cancer had come back.
When Danny died in December 2016, Martin McGuinness wasn't able to attend his funeral in Burren, Co Down.
By then the Deputy First Minister was himself attempting to deal with the illness that would take his life three months later.
But he sent a message that was read out from the altar by Brian McEvoy, who is Danny's successor as the Ulster Council Secretary.
In fact, Brian McEvoy had once served as press officer for Martin McGuinness in the Stormont First Minister/Deputy First Minister joint office.
Fittingly, he was the GAA official who did most of the behind the scenes logistics work to facilitate Arlene Foster's visit to Clones yesterday.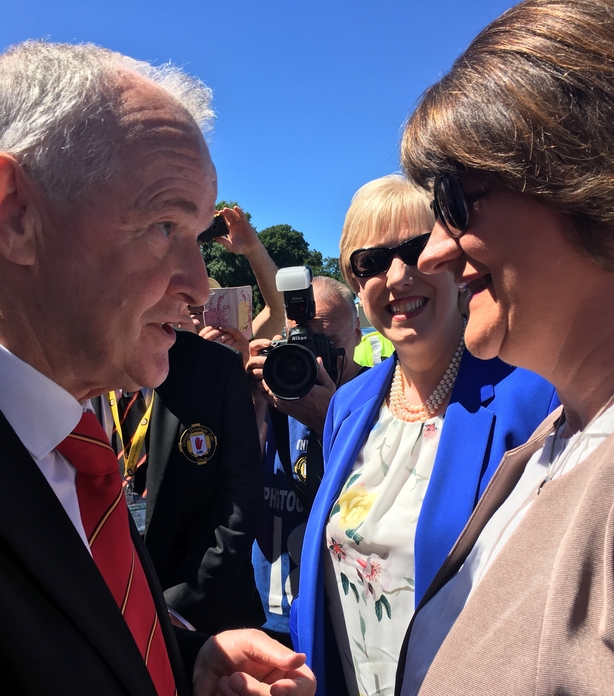 Arlene Foster's respect for Danny Murphy and members of the Ulster GAA Council was earned over a long period.
The GAA and unionism have a long, complex history. Sir Edward Carson played hurling for Trinity. Aidan McAnespie was shot by a British soldier on his way to a GAA match.
From 1897 until 2001, the GAA's Rule 21 prevented members of the British forces (including RUC officers) from playing its games.
Having a GAA jersey or hurley was often synonymous with danger when travelling through an interface area.
Unionists railed (and continue to rail) against some GAA grounds being associated with deceased IRA members.
In 2011 as preparations were being made for the first state visit to the Republic of Ireland by a serving British monarch, Áras an Uachtaráin and the then government found itself processing an expected request.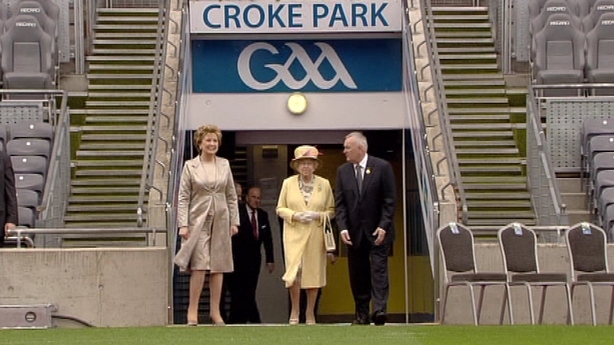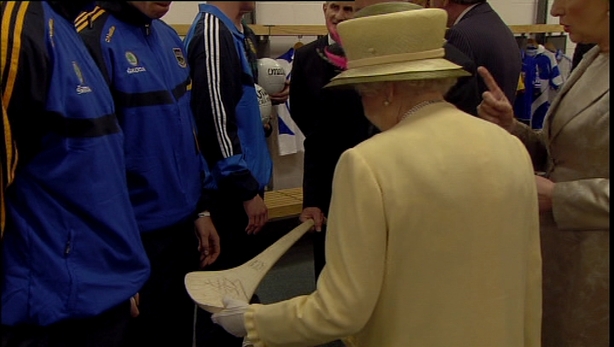 Queen Elizabeth and her husband were interested in visiting Croke Park, the spiritual home of the GAA, where the Black and Tans killed 11 people and injured over 60 more in 1920.
What was being proposed, alongside possible events in the Garden of Remembrance and Islandbridge, suggested potent symbolism.
Martin McAleese agreed to suss out what was possible with the GAA.
He brought with him an able diplomat, David Cooney, the then Secretary General at the Department of Foreign Affairs whose previous posting was as Ambassador in London.
In a meeting with GAA decision-makers the possibility of royal visitors to Croke Park was floated.
Many heads and ears turned in the direction of Danny Murphy. If Ulster said 'no' or even 'maybe', there would be a problem.
His sentiments were succinct. If Uachtaráin na hÉireann was keen for the GAA to facilitate such a request, he would be in favour of supporting it. Game on.
Such gestures have been made and acknowledged, several times, in recent years.
Ronan Kerr, a Catholic PSNI officer and a member of the Tyrone GAA club, Beragh Knights, was murdered by dissidents in April 2011.
Among the GAA members who helped to carry his coffin was Mickey Harte, the Tyrone team manager, although he and his family members were grieving their daughter, Michaela, who was murdered in Mauritius, three months before.
Danny Murphy and successive GAA presidents and officers of the Ulster Council have been to the fore, promoting policies of reconciliation in recent years.
Arlene Foster was keenly aware that minutes before she walked through the tunnel onto St Tiernach's Park in Clones yesterday to take her place in the stand that a new trophy, The Danny Murphy Cup, had been presented to Derry, the winners of this year's Ulster Under 20s championship.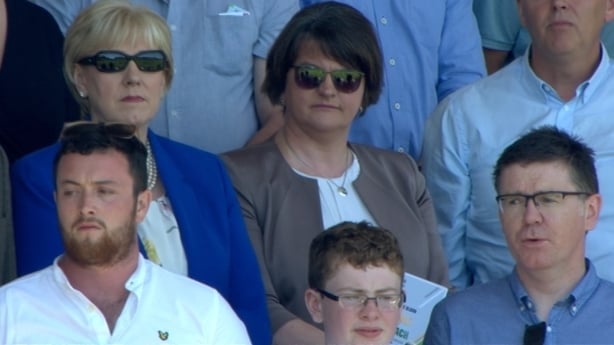 Seating her alongside Heather Humphreys and Joe McHugh guaranteed interesting chemistry.
Heather Humphreys, the Co Monaghan born Minister for Enterprise is a Protestant, and she was able to tell the DUP leader that, in her childhood, she was discouraged from attending social events and games on a Sunday as the Sabbath was set aside for reflection and religious duties.
When he was given a portfolio that included responsibility for Gaeilge, Gaeltacht and the islands, Joe McHugh set about brushing up on his Irish.
Yesterday he found himself being asked questions about "what does Maor Uisce mean" and on some of the intricacies of Gaelic football rules by his cross-border visitor.
In the row immediately behind sat Michelle O'Neill, Sinn Féin's leader in Northern Ireland and Arlene Foster's would-be partner in a power-sharing administration if or when Stormont is rebooted.
There too was Michelle Gildernew, the holder of the job that on bad days at Stormont, Arlene Foster would love to hold - MP for Fermanagh, South Tyrone.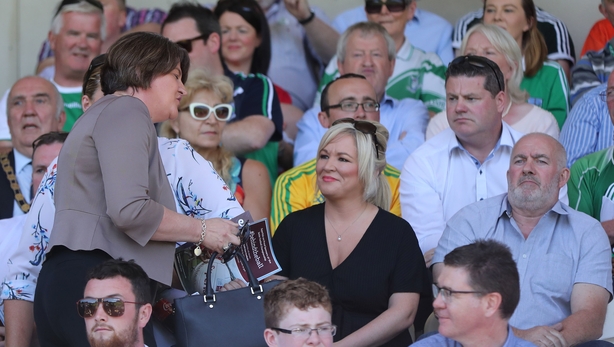 Arlene Foster was not the only Ulster Unionist to the Clones VIP area.
On Monday 4 June, Ulster Unionist Councillor Howard Thornton from Enniskillen was elected the new chairman of Fermanagh and Omagh District Council. It was highly significant by him, so early into his new position, to make the journey to Clones.
There was another noteworthy visitor.
One wag once said about the DUP Assembly member Christopher Stalford, he may look young but he dates back to 1690. It is an unfair assessment of a complex character.
During the Union flag over Belfast City Hall row, the then Councillor Stalford was often a prominent participant in the arguments. But his back story is not widely known.
He is from a working-class Belfast background and he and his family lost their father at an early age in tragic circumstances. He was set upon in a case of mistaken identity, was badly beaten and died shortly afterwards from head injuries.
Since 2016, 36-year-old Christopher Stalford has been a South Belfast Assembly member.
For him to decide that he wanted to accompany his party leader on a cross border journey to a GAA Ulster final was a significant and deliberate decision.
Both will receive flak from some of their support base. But it will be acknowledged by their rivals.
Michelle O'Neill was quick to issue a statement formally welcoming the move. Her party president, Mary Lou McDonald, will likely do the same when she visits Belfast today.
This week's summit of EU leaders will probably confirm no solution to the Brexit problem is in sight.
But in advance of that stalemate that casts a cloud over big-picture politics, Arlene Foster recognised the opportunity presented by her native county reaching an Ulster final.
And on this occasion, she opted to seize the moment.