Taoiseach Leo Varadkar and Minister for European Affairs Helen McEntee have held a working lunch in Madrid with new Spanish Prime Minister Pedro Sanchez and his officials.
The Taoiseach warned that it would not be in Britain's interest to deliberately delay negotiating a credible backstop until October, saying Ireland had the support of the other 26 EU leaders.
The EU has largely rejected Britain's proposal of a temporary customs arrangement as an alternative to the EU's draft Irish protocol on the backstop, which was published in February.
EU and Irish officials are now sceptical that London will bring forward any radically different proposals ahead of the June European Council in two weeks' time.
That leaves only a few months for both sides to negotiate a legally operable backstop to be embedded in the Withdrawal Treaty by October, or possibly November.
The EU Task Force and the British government are still at odds over the issue of Northern Ireland remaining in the customs union and single market for goods.
The Taoiseach had been planning to meet Mariano Rajoy, the long-standing centre right prime minister, but just two weeks ago he was ousted in a confidence vote.
The schedule was rearranged so Mr Varadkar could meet Pedro Sanchez, the leader of the Spanish Socialist Party, who was voted prime minister by the Spanish parliament on 1 June.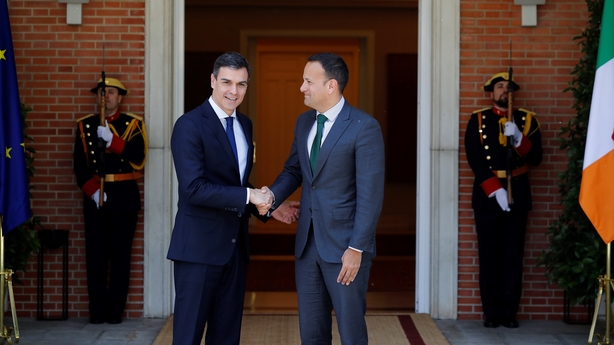 Speaking to reporters after the meeting, the Taoiseach said he did not believe that the UK was deliberately prevaricating on the backstop, but that it was a result of Prime Minister Theresa May's domestic difficulties.
But he added: "Putting this off doesn't make it any easier for the United Kingdom. The European Union is fully united. 27 member states standing together with a common position, led very ably by Michel Barnier and the EU task force."
Mr Varadkar said that in the October European Council - seen as the deadline for the Withdrawal Treaty to be agreed between the EU and the UK - would not be a negotiation as it would only involve the EU27 and not the UK.
The deal would have to have been reached before then, he said.
Mr Varadkar also denied saying he had told the Fine Gael Parliamentary party that Brexit had brought a United Ireland closer.
He said he was against a border poll, saying it would probably be defeated.
Mr Varadkar said: "Talk about a United Ireland at the moment isn't helpful because it gets mixed up with talks around Brexit and there is a concern among the Unionist community that the Irish government has a hidden agenda or in some ways wants to use Brexit to bring about a united Ireland sooner. That is not the case."
Delighted to learn that the Spanish PM @sanchezcastejon learned English in Ireland as a teenager. So with @sebastiankurz and @Xavier_Bettel that makes three European PMs who studied in Ireland. The intangible value of English language learning in Ireland must be huge.

— Leo Varadkar (@campaignforleo) June 14, 2018