At least 55 Palestinians have been killed by Israeli troops along the Gaza border as protesters demonstrated on the day the United States opened its embassy in Jerusalem.
It is the highest Palestinian death toll in a single day since a series of protests dubbed the "Great March of Return" began at the border with Israel on 30 March, and since the 2014 Gaza war.
Palestinian health officials said more than 2,700 were wounded, with around half of them injured by live bullets.
Tens of thousands streamed to the border, some approaching the Israeli fence, a line Israeli leaders have said Palestinians would not be allowed to breach.
Clouds of black smoke from tyres set alight by demonstrators rose in the air.
Demonstrators, some armed with slingshots, hurled stones at the Israeli security forces, who fired volleys of tear gas and intense rounds of gunfire.
The Palestinians killed include at least six children, a medic and a man in a wheelchair who had been pictured on social media using a slingshot.
The Israeli military identified three of those killed as armed militants whom it said tried to place explosives near the fence in southern Gaza.
"The IDF [Israel Defence Forces] will act forcefully against any terrorist activity and will operate to prevent attacks against Israelis," it said in a statement.
Israeli Prime Minister Benjamin Netanyahu described Israel's actions as self-defence against Hamas, saying it was seeking the destruction of Israel.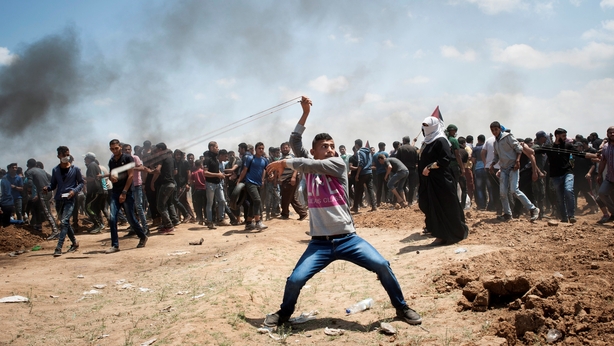 The Palestinian Authority government accused Israel of committing a "terrible massacre".
Palestinian government spokesman Yusuf al-Mahmoud demanded "an immediate international intervention to stop the terrible massacre in Gaza committed by the forces of the Israeli occupation against our heroic people".
The latest casualties raised the Palestinian death toll to more than 90 since the protests started six weeks ago. No Israeli casualties have been reported.
At the protest sites, families sat in the shade of tents nearly 800m from the border fence.
Hundreds of protesters ventured to within several hundred metres of the barrier, while others moved even closer, rolling burning tyres and hurling stones.
Some flew flaming kites to try to torch bushes on the other side of the frontier and distract Israeli soldiers.
Hundreds of Palestinians were treated for tear gas inhalation.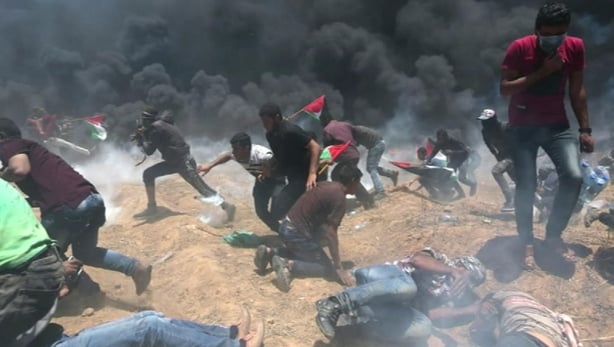 The killings have drawn international criticism, but the United States has echoed Israel in accusing Gaza's ruling Hamas movement of instigating violence, an allegation it denies.
President Michael D Higgins has expressed "deep concern" at the deaths and injuries, saying "the escalating loss of life ... is a tragic example of an unacknowledged failure of diplomacy".
Tánaiste and Minister for Foreign Affairs has expressed concern about the use of live ammunition in response to the demonstrations.
"I am gravely concerned that the use of force seems disproportionate to the reported threat, and I reiterate that an independent investigation is urgently needed, as called for by the UN Secretary-General," he said.
"It is essential that Israeli forces show restraint, if this tragic death toll is not to climb even higher.
"In the context of the opening of the US Embassy in Jerusalem, I call on all leaders to ensure that their statements today promote calm and do not further inflame tensions," he added.
South Africa said it was withdrawing its ambassador to Israel until further notice following what it called the "indiscriminate and grave" attack.
---
Read more
A week of challenges in the Middle East
Key events since Trump's decision on Jerusalem
---
US opens Israeli embassy in Jerusalem
The United States officially opened its embassy to Israel in Jerusalem this afternoon, fulfilling the pledge by President Donald Trump who has recognised the city as the Israeli capital.
"Today we open the United States embassy in Jerusalem, Israel," US ambassador to Israel David Friedman said at the beginning of the inaugural ceremony.
It was attended by Israeli leaders and a US delegation including Treasury Secretary Steven Mnuchin and President Donald Trump's daughter and son-in-law, Ivanka Trump and Jared Kushner.
Mr Trump's recognition of contested Jerusalem as Israel's capital in December outraged Palestinians, who said the United States could no longer serve as an honest broker in any peace process with Israel.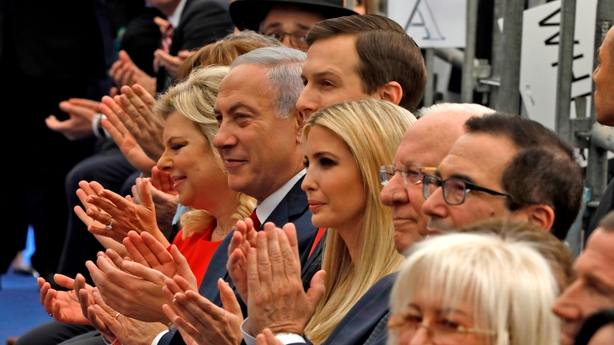 Palestinians see East Jerusalem as the capital of a state they want to establish in the occupied West Bank and Gaza.
Israel regards all of the city, including the eastern sector it captured in the 1967 Middle East war, as its "eternal and indivisible capital" in a move that has not won international recognition.
"What a moving day for the people of Israel and the State of Israel," Israeli Prime Minister Benjamin Netanyahu said.
Speaking at the opening of the embassy, Mr Kushner said: "Jerusalem must remain a city that brings people of all faiths together."
We need your consent to load this rte-player contentWe use rte-player to manage extra content that can set cookies on your device and collect data about your activity. Please review their details and accept them to load the content.Manage Preferences

In a message on Twitter this morning, Mr Trump said it was "a great day for Israel".
However, Palestinian Prime Minister Rami Hamdallah said Mr Trump's recognition of Jerusalem as Israel's capital in December and the relocation of the embassy were "blatant violations of international law".
Coveney rules out Irish embassy move
Mr Coveney said Ireland would not be moving its embassy to Jerusalem "unless and until there is a comprehensive agreement on a broader peace process".
It follows a call from the Israeli government for Ireland to follow the lead of the US.
Israeli government spokeswoman Michal Maayan told RTÉ News it was time Ireland moved its official mission to Jerusalem.
Mr Coveney said the US was "unwise" to recognise Jerusalem as the capital of Israel at this time.
It was also unwise to move the US embassy to Jerusalem, he said, because it was "inflaming an already very tense situation and relationship between Palestinians and Israelis".
Mr Netanyahu told an audience of diplomats and members of the Jewish diaspora that Israel had been the capital of the Jewish people for more than 3,000 years.
He said it had been the de facto capital of the state of Israel since it was founded in the 1940s.
He praised US President Donald Trump for taking the decision to move the US embassy from Tel Aviv to Jerusalem.
Additional reporting by Richard Downes and Tony Connelly