Spending by consumers in the Irish economy is set to break through the €100bn level this year, according to the Central Bank.
In its latest quarterly bulletin, Central Bank economists said that jobs growth, rising wages and very low inflation are combining to boost household spending power.
Forecasting a continuation of strong economic growth, the Central Bank sees another 99,000 people in work by the end of next year, when unemployment will be below 5%.
With average wage growth forecast above 3% both this year and next, and inflation below 1% in the same period, this means higher real incomes and more purchasing power for households.
As a result, the Central Bank has predicted that personal consumer spending is forecast to be €103 billion this year.
Domestic demand will continue to be the main driver of the economy, with a pickup expected in investment, and an export boost as Ireland's main trading partners continue to grow as well.
We need your consent to load this rte-player contentWe use rte-player to manage extra content that can set cookies on your device and collect data about your activity. Please review their details and accept them to load the content.Manage Preferences

But there are risks, notably from the recent tax changes in the US and mooted changes in the EU - which may affect the all important multinational sector - as well as Brexit, and the negative impact it will have on the domestic owned economy.
The Central Bank said a persistent shift in the dollar-euro rate would be an influential factor in determining the location of US multinationals.
It also said that while the recent tax reform in the US has some clear implications for the treasuries of US multinationals, it is not yet clear if there will be any impact on where these big US firms decide to locate future investments.
US companies will have to decide if is is more attractive to invest in the US or abroad.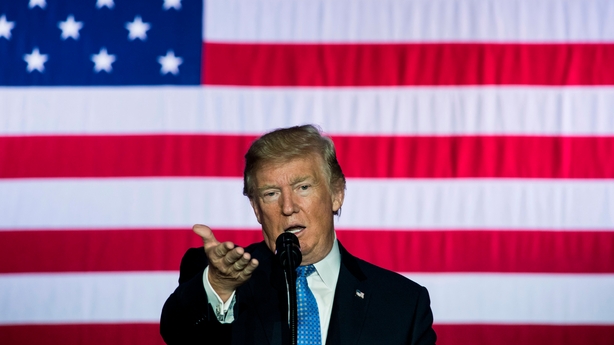 A related link is the possible impact on the international trading system of widespread protectionist measures - in other words an international trade war.
As Ireland is a global trading economy like few others, it is extremely exposed to developments in world trade.
A 1% decline in world trade leads to a 1% decline in Irish exports, and a half a percentage point reduction in Irish GDP, according to the Central Bank.
It said the Government must pay close attention to these US-related downside risks in trade, tax and currency matters, adding that they require constant monitoring. They also underline the need to make sure policy decisions are "robust to such adverse outcomes."
Regarding Brexit, the Central Bank said the main channel through which it has impacted on Ireland so far has been through the currency, with Sterling's 12% devaluation.
However the effects of this have been offset by strong global growth and recovery in domestic demand in Ireland.
But the bank said the current uncertainty about the future of UK-EU relations has the potential to generate further economic and financial volatility, especially if there is an increasing likelihood of a harder version of Brexit.
It said that, in particular, Ireland could be hit by a further sustained depreciation of sterling.
In February the sterling-euro rate averaged £0.88, compared with an average of £0.76 between 2001 and 2016.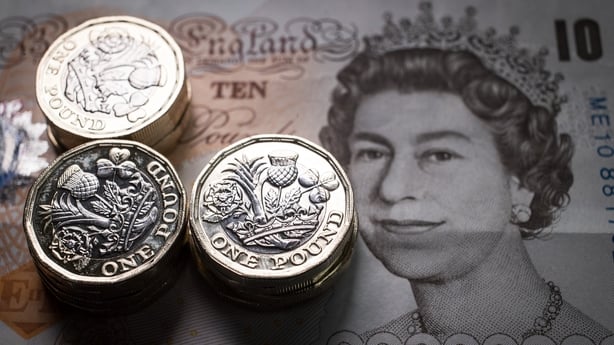 Examining the possible impact of a permanent 10% sterling depreciation - which would hit competitiveness and foreign demand, the Central Bank says there would be two offsetting effects - a weaker sterling would increase UK exports and GDP, which would increase demand for Irish exports.
But these exports would be more expensive for British consumers to buy with a weaker currency - which would reduce demand for Irish exports.
This impact on the traded sector would mean less investment and lower output, accompanied by a small fall in employment and wages, which in turn would reduce household consumption.
Exporters to feel the pain if sterling weakens further
Lower domestic demand would also result in a fall in non-traded sector output. Against this there would be a fall in prices, because of the large share that British goods have in Irish imports.
Overall the effect would be to knock 0.2% off annual GDP over the long run. However the authors of the Central Bank report said that if the currency shock was accompanied by other adverse shocks, like a rise in tariffs, the negative effect on GDP would be bigger.
They also noted that last year - despite the continuation of a weak pound - Irish exports to the UK increased by 8.2%, which suggests there may be sector of firm-specific characteristics that may have helped to mitigate the impact of the sterling depreciation.
The Central Bank also forecasts GDP growth of 4.8% for this year and 4.2% next year.
This follows the CSO's preliminary growth figure for 2017 of 7.8%.
---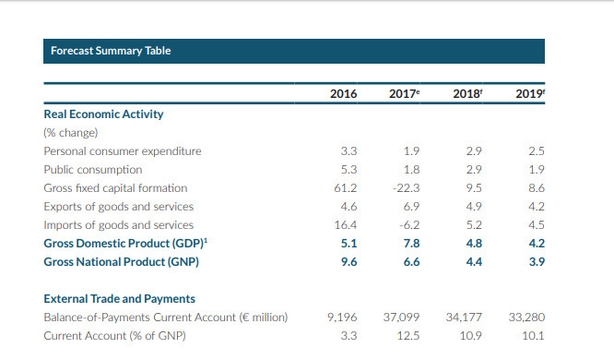 ---
This time last year the Central Bank had forecast that 2017's growth levels would be 3.5%, while it forecast growth this year of 3.2%.
The Director of Economics and Statistics at the Central Bank says modest wage increases of around 3.25% are anticipated over the next two years, as unemployment continues to fall.
Mark Cassidy told Morning Ireland that IT, business and financial services are showing the strongest growth but that wage increases should be experienced across the board.
He said that a significant ramping up in housing supply is expected over the next two years.
But he warned it would take a number of years in order to address the problems of housing supplies, following a number of years of under supply.
Mr Cassidy said we are not seeing the same kind of house price credit bubble that we saw during the boom.