A march and rally in favour of retaining the Eighth Amendment took place in Dublin city centre today.
A referendum is expected to take place in late May or early June on whether to replace or retain the amendment which guarantees the right to life of the unborn.
The Save The Eighth campaign said it would be the biggest event ahead of the referendum.
The rally attracted people from all over the country and some from overseas.
In excess of 15,000 people attended the rally at Merrion Square.
There was no official estimate of how many attended the actual march but at one stage it stretched from the city quays to Parnell Square North.
We need your consent to load this rte-player contentWe use rte-player to manage extra content that can set cookies on your device and collect data about your activity. Please review their details and accept them to load the content.Manage Preferences
Organisers said up to 90,000 took part in the march, where a number of different religious groups were represented.
Campaigners focused on the rights of people with disabilities, claiming that 90% of pregnancies diagnosed with Down Syndrome in Britain end in abortion.
The rally at Merrion Square heard from a Down Syndrome activist who has address the United Nations on the issue.
Spokesperson Niamh Uí Bhriain said the aim of the protest was to say no to abortion in Ireland.
She said the law proposed by the Government would be even more liberal than in Britain.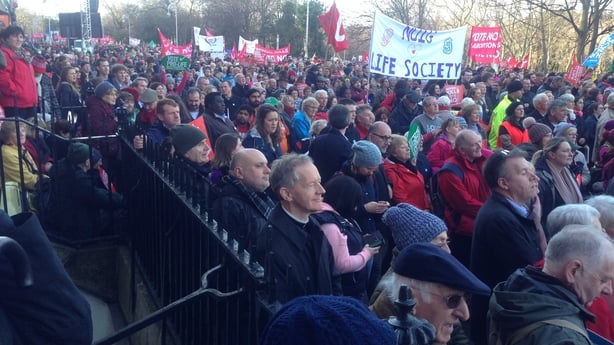 ''For the next 11 weeks our message will be focused on ensuring that the Irish people vote no to this extreme abortion referendum," said Ms Uí Bhriain.
However the repeal group Together for Yes said it wanted to highlight the plight of the nine women travelling from Ireland to Britain for an abortion today.
Dr Siobhan Donohue said disability is not an issue in the calls for abortion rights and that tests to detect disability are carried out later in a pregnancy than the proposed 12-week limit.