A new Sunday Times/Behaviour & Attitudes poll shows support for Fine Gael is 11 points ahead of Fianna Fáil. 
The opinion poll also shows a slight drop in support for Sinn Féin. 
Compared to the last comparable survey in January, the findings show Fine Gael is up four points to 36% while Fianna Fáil is down one point to 25%.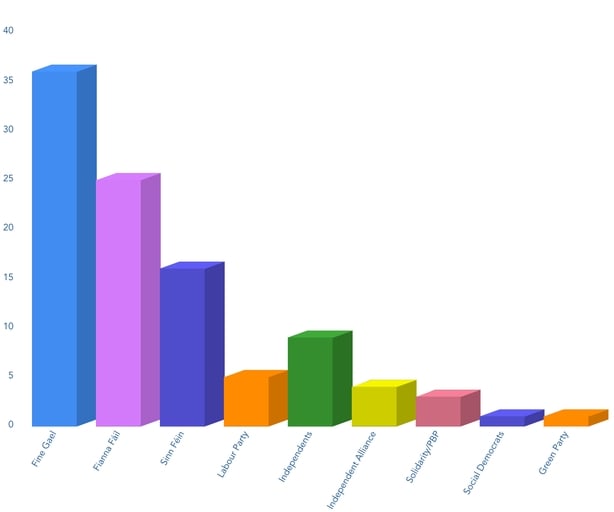 Sinn Féin is down two points at 16%. 
The Labour Party is down one point to 5% while Independents are unchanged at 9%.
The Independent Alliance is also unchanged at 4% and Solidarity/People Before Profit is up one point to 3%. 
The Social Democrats are unchanged at 1%, while the Green Party is down one point to 1%. 
The fieldwork for this poll was conducted between 1 February and 13 February among just under 1,000 voters across the country and the margin of error is plus/minus 3.3%. 
The poll does not reflect public reaction to the launch of the Government's Project Ireland plan yesterday. 
While support for Sinn Féin is down two points in this poll, the fieldwork commenced while Gerry Adams was still leader. 
Those surveyed were asked to rate party leaders and on this question Gerry Adams would have been presented as leader. 
The poll also covered the standard measure of support for political parties and this would have captured the weekend of Mary Lou McDonald's election to replace Gerry Adams.