One of the highest ranking members of An Garda Síochána has said the force's 20-year-old IT system is "not fit for purpose" and is causing "difficulties and challenges."
Assistant Commissioner Michael Finn was responding to a question from Independents4Change TD Mick Wallace at the Oireachtas Justice Committee when he raised the concerns.
Mr Wallace said: "You have had trouble getting breath test figures right, juvenile crime stats right, difficulty getting checkpoint number rights, now we can't get the homicide figures right. Do you not accept that there is a serious failure at management in the guards?"
He claimed that "the problems in how we deliver policing are unlikely to improve dramatically until there is a different hierarchy in place and the present hierarchy has proved itself unfit for purpose in several areas."
Assistant Commissioner Finn said that "you touched on an issue that is at the root of our problems, in that we have an IT system that's 20 years old that is not fit for purpose.
"That is at the root of a lot of issues we are discussing in relation to data and the classification of homicides and how we record it. Technology has moved on massively in the last 20 years."
He added, "The Government have said they are going to deliver a new data IT system which we need. We do not need. We can't deliver it overnight.
"Even if the Government give us all the money we needed tomorrow morning it is going to take to deliver that. We have to get from where we are right now until that system kicks into place."
He said the current system is causing them "difficulties and challenges."
He said that management cannot solve all the problems overnight and added, "Our IT system has caused us massive problems. It is not fit for purpose."
We need your consent to load this rte-player contentWe use rte-player to manage extra content that can set cookies on your device and collect data about your activity. Please review their details and accept them to load the content.Manage Preferences
Earlier, the head of An Garda Síochána's Analysis Service said that he could not sign off on an internal garda review of homicide cases.
Gurchand Singh said he had concerns about the classification of some homicides as some of them "contradicted our crime counting rules".
He was responding to questions from Fianna Fáil justice spokesperson Jim O'Callaghan.
Last September, the Central Statistics Office suspended the publication of any further crime figures for a second time until a garda review into homicide cases was completed.
This review began after it was suspected that a number of cases of murder, manslaughter and violent deaths may have been misclassified.
The original review was for three years from 2013 to 2015.
It found that 41 cases had been misclassified and gardaí decided to then extend it back as far 2003.
Dr Singh said it would be another five or six months before a review of the classification of homicides in the force was complete.
He said some aspects of the review were outside their control, such as access to the state pathologist's laboratory.
In his opening address to the committee, Assistant Commissioner Finn said: "The Policing Authority requested an independent peer review of the quality of the investigations carried out in respect of the 41 cases. This is now being carried out."
Asking about that original homicide review, Mr O'Callaghan asked Dr Singh what his views were when he saw the report.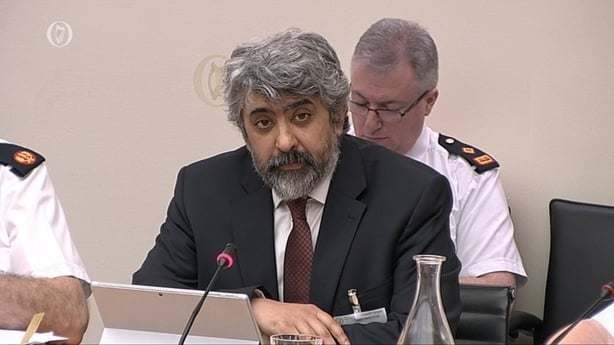 Dr Singh replied: "I still had some concerns. I had two broad sets of concerns. One concern was that when I had a look at the instant classification and some of the surrounding information, I still couldn't square how an incident was classified in the way that it was with the information available. Some of these I felt contradicted our crime counting rules."
"I would be looking at an incident where there was an injured party that was deceased, the offence was down as an assault causing harm.
"Our own crime counting rules say that if there was an assault causing harm and subsequently someone has died, that assault should actually be upgraded to a homicide.
"We had sudden deaths which looked like they were being investigated as homicides. There were times that I couldn't reconcile what was there."
He said that there were concerns in reports around the methodology and the approach taken by members of his team was limited as they only had two sources.
But he felt that was incorrect as his team had always said that they would only rely on two sources.
Dr Singh said that they had argued that they needed to also go to the case files to get a better rounded view of what actually happened.
Mr O'Callaghan asked: "Were you being asked as the analysis unit to sign off on the report? What was your view of the report?"
"I couldn't sign off on the report. I didn't agree with it. I didn't agree with some of the classifications in the report," Dr Singh said.
He indicated that he informed senior garda management that he was unable to sign off on the report.
He later told the committee that he was happy now that his concerns over the classifications have been addressed.
Independents4Change TD Clare Daly said the idea of the most serious crime imaginable being misclassified and potentially not being investigated was hugely traumatic for loved ones.
Assistant Commissioner Finn said the review found that while the IT system did not classify the homicide correctly, they were investigated.
The committee was told that some of the cases are still live investigations.