The Garda Head of HR has told the Disclosures Tribunal that he was shocked when a senior colleague told him that they were going to "go after" whistleblower Sergeant Maurice McCabe at the O'Higgins Commission.
John Barrett said that Cyril Dunne, the former garda head of administration, made the remark at the tail end of a meeting.
Mr Dunne has told the tribunal that he is certain he never made the remark attributed to him. He will give evidence at a later date.
The tribunal is examining whether or not former garda commissioner Nóirín O'Sullivan inappropriately relied on unjustified grounds to discredit Sgt McCabe at the commission, a private inquiry set up in 2015.
---
As it happened: Fitzgerald gives further evidence at tribunal
Fitzgerald 'did not want to interfere' in commission
---
Mr Barrett said the date of the comment was "on or about" 13 May 2015 - one day before the O'Higgins hearings were due to begin.
He said he found the comment shocking and it jarred with what he said was a "cottage industry" of activity seeking to improve workplace conditions for the sergeant.
He said he responded by saying: 'Cyril, you must be joking' but he said he did not note the comment at the time or speak to anyone about it.
Mr Barrett said the significance of it was not clear then.
He was repeatedly questioned about how he placed the date as 13 May. He said he was short on specificity and should have made a minute of what was said but he would supply the tribunal with documentation which may help place the date.
Mr Barrett had been appointed by the garda commissioner to act as an interlocutor with Sgt McCabe to deal with his workplace issues of harassment.
Mr Barrett also said that at an earlier meeting attended by the garda commissioner and other senior gardaí, he was warned to be cautious with Sgt McCabe as the sergeant may record the conversation.
He did not say who made that comment.
Fitzgerald says she took different approach in speech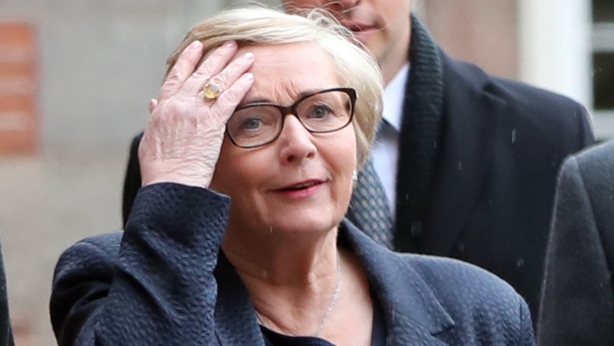 Earlier, former tánaiste and minister for justice Frances Fitzgerald told the Disclosures Tribunal she took a distinctly different approach to that being suggested by the garda commissioner in a Dáil speech she gave in the aftermath of the O'Higgins Commission report.
Under cross-examination from Paul McGarry, counsel for Sgt McCabe, Ms Fitzgerald was asked about emails sent by Ms O'Sullivan to her on 18 May 2016.
In one email, Ms O'Sullivan made reference to the speech Ms Fitzgerald was due to give and Ms O'Sullivan said she enclosed a draft for her consideration.
Last week Ms O'Sullivan told the tribunal she was not drafting speeches for the then minister for justice.
Ms Fitzgerald said today that she could not second guess what Ms O'Sullivan was doing in her emails, but she said the approach she took on the order of business in the Dáil was distinctly different from that contained in the draft.
Mr McGarry asked Ms Fitzgerald if, during discussions with department officials following the publication of the O'Higgins Report in 2016, anybody had made reference to emails the previous year about An Garda Síochána's legal strategy at the Commission.
She said to the best of her knowledge that had not happened.
Ms Fitzgerald said this was a year later and they were at a totally different point.
She said that whatever had happened at the commission, the commission had got on with its work.
Ms Fitzgerald said she asked Ms O'Sullivan directly if one thing was being said in public and another in private in relation to the former garda commissioner's approach to Sgt McCabe at the commission.
Ms Fitzgerald told the tribunal that after the O'Higgins report was published she met Ms O'Sullivan on 19 May 2016.
Ms Fitzgerald said she wanted to understand as clearly as she could what the garda commissioner's approach had been.
She said she put a direct question to her, about whether or not one thing was being said in public and another being said in private.
Ms Fitzgerald said Ms O'Sullivan made it clear she had not questioned Sgt McCabe's integrity and had never accused him of malice, and that Ms O'Sulivan had wanted to treat all witnesses at the commission equally.
The tribunal heard again about a call between the then Deputy Secretary General of the Department of Justice Ken O'Leary, and Ms O'Sullivan on 15 May 2015, the day a row had emerged at the O'Higgins Commission about the Garda Commissioner's legal strategy.
Ms Fitzgerald said she was unaware of the call until she had read Mr O'Leary's statement to the tribunal.
She said that she took a conscious decision which applied not just to emails, but to parliamentary questions, topical issues, or anything to do with the O'Higgins Commission that the clear role for her was not to interfere in any way.
She said she believed Mr O'Leary's response to the call was consistent with that approach.
Ms Fitzgerald said that she would have seen the issue of how Sgt McCabe was being treated at the O'Higgins Commission as a matter for the Judge and the legal teams.
Counsel says email was a 'warning orange light'
Ms Fitzgerald rejected a suggestion that she could have asked the Ms O'Sullivan about her approach to Sgt McCabe at the beginning of the hearings.
Counsel for the tribunal Diarmaid McGuinness said the email of 15 May 2015 was "a warning orange light" to speak to Ms O'Sullivan without interfering in the conduct of the case.
Ms Fitzgerald said it was a totally different time and there would be consequences in terms of the person if she did so.
Mr McGuinness asked if she could have spoken to the Garda Commissioner not about the evidence, but about the general approach to Sgt McCabe.
Ms Fitzgerald said it was a completely different context and legal position and a totally different place and if she had done that, there would have been consequences.
She also said that in their meeting of 19 May 2016 Ms O'Sullivan did not say she had challenged Sgt McCabe's motivation. 
She said the Garda Commissioner had said that there was a lot of confusion between motivation, integrity and "another word".
Ms Fitzgerald also said that she sought advice from the Attorney General and was advised not to relay the Garda Commissioner's legal advice in the Dáil.
Ms Fitzgerald said there was no agenda from her in her response to an internal Department of Justice email about the dispute at O'Higgins.
Ms Fitzgerald said she did not discuss the email sent on the 15 May 2015 with anyone.
Paul McGarry, Counsel for Sgt McCabe, asked Ms Fitzgerald if the email had raised a red light with her at the time. 
She said her approach was not about wanting to distance herself from it but was based on sound principles and the policy and approach to a Commission of Investigation. 
She said even if there was a red light to varying degrees her sense was that this issue was being dealt with at the O'Higgins Commission. 
Ms Fitzgerald said it was not about protecting anybody or any other motive other than letting the O'Higgins Commission get on with its work.
Additional reporting by Sinead Morris