Hundreds of people have attended the funeral of Cranberries lead singer Dolores O'Riordan, who died suddenly a week ago in London.
Dolores' mother Eileen, her six siblings and her children Taylor, Molly, Dakota and stepson Donny were the principal mourners at the small rural church of St Ailbe's in Ballybricken, Co Limerick, close to where she grew up.
Chief celebrant was Canon Liam McNamara, a close family friend who presided at the singer's wedding in Holycross Abbey in 1994.
Archbishop Kieran O'Reilly of Cashel and Emly concelebrated the mass.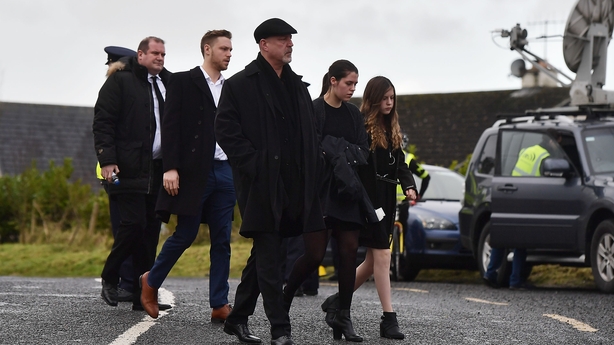 Symbols of her life and musical career, a platinum disc and a guitar, as well as a book of poetry were brought to the altar as gifts.
Canon McNamara said there are no words to describe Dolores or her influence for good over the years.
"Her kind personality and beautiful singing voice earned for her numerous admirers. It must be added that the numbers she rescued from the darkness of depression are impossible to count," he said.
"No words are adequate to describe Dolores or to accurately state the influence for good she has been over the years."
The canon recalled his first meeting with Dolores in 1989 and said that she possessed a very special singing voice, what he described as "a talent worth its weight in gold".
"Intelligent girl that she was, she knew well that she should develop and use that talent. She also knew that talents were given by almighty God to be used generously for the benefit of others."
He said while this is a very difficult day for her family and friends, she is now singing in the heavenly choir.
Canon Liam McNamara said Dolores O'Riordan had an influence for good pic.twitter.com/xVNj68dksK

— RTÉ News (@rtenews) January 23, 2018
"She did have an unique respect for everybody. Coupled with that respect, her kind, loving and generous heart, made her a source of great hope to the Church, during its stormy years. For that we sincerely thank her from our hearts," the mourners were told.
During the course of the mass, radio stations across the country played the Cranberries song 'When You're Gone' at midday to remember her.
In pictures: Funeral of singer Dolores O'Riordan takes place in Limerick
Music at the mass was performed by the Irish Chamber Orchestra Quartet.
Dolores O'Riordan had a 'kind, loving, and generous heart' pic.twitter.com/afvhiAG4fs

— RTÉ News (@rtenews) January 23, 2018
Two symbols from Dolores' musical career - a guitar and a platinum disc award - were brought to the altar by her niece, Eileen, and a life-long friend, Teresa.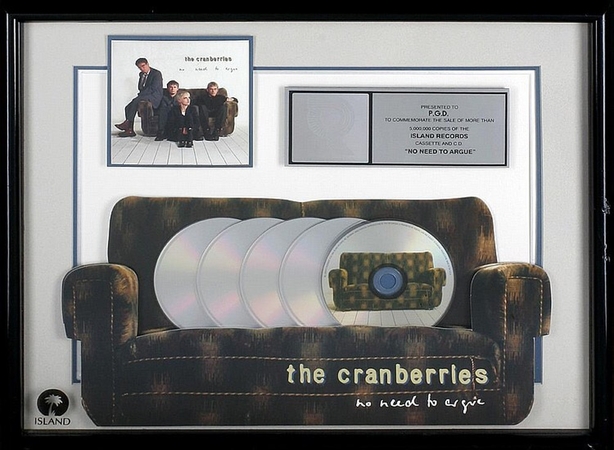 Dolores' nephew, Patrick, presented a picture of Our Lady of Dolours, after whom Dolores was named and the picture originally belonged to her great-great-great-grandmother.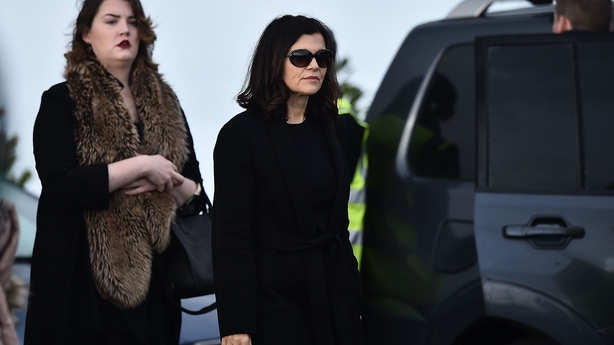 Archbishop Kieran O'Reilly said Dolores "put her God given talents at the service of others".
"From an early age she had a passion and love for music. She has been an inspiration and source of encouragement to many young artists over the years.
"Her gifts have resonated in the lives of many and will continue to do so as her music and her songs will continue to be played and listened to," he added.
"Her singing voice was unique, far reaching and distinctly Irish."
Dolores O'Riordan's coffin following her funeral mass in Ballybricken, Co Limerick. She will be buried in a private ceremony in Caherelly. pic.twitter.com/lTfAN3HKSr

— RTÉ News (@rtenews) January 23, 2018
She was buried beside her late father Terence in a private ceremony in nearby Caherelly cemetery following the funeral mass.
The 46-year-old, who was also a member of alternative rock group D.A.R.K, had been working on a new studio album with The Cranberries in the months before her death.
The mother-of-three was expected to discuss its scheduled release with record label BMG while in England.
The singer was renowned for her distinctive voice and enjoyed huge success with The Cranberries in the 1990s with tracks including Zombie and Linger.
Candles lit the streets of her native Ballybricken last evening as her coffin was brought to Saint Ailbe's church, where she once sang in the school choir.
Thousands of people paid their respects to her family during public mourning events in Limerick city and country over the past two days.
President Michael D Higgins also visited to sympathise with the family, describing her death as "profoundly sad for one so young".
Dolores O'Riordan "was a star that shone bright from the very beginning," says President Higgins pic.twitter.com/GSf068sW5w

— RTÉ News (@rtenews) January 22, 2018