The former garda commissioner Nóirín O'Sullivan has told the Disclosures Tribunal that she faced an almost impossible dilemma when dealing with whistleblower Sergeant Maurice McCabe at the O'Higgins Commission.
She said she had to test the evidence, while also continuing to support him, but she said she never considered him to be malicious and had no reason to challenge his integrity.
The tribunal is examining whether or not the former commissioner inappropriately relied on unjustified grounds to discredit Sgt McCabe at the O'Higgins Commission.
The commission was set up in 2015 to investigate matters relating to policing in the Cavan/Monaghan Division.
Ms O'Sullivan said she told Sgt McCabe at their first meeting that she was committed to ensuring that he was protected in the workplace.
She said that as soon as she took over as acting commissioner in April 2014, she made it clear setting the tone from the top that people had to be supported in the workplace and that individuals had a duty to raise issues, although they may not always be right.
She told the tribunal the first thing she did when she took over was to restore Sgt McCabe's access to the force's PULSE system.
In August 2014, she met Sgt McCabe and his legal advisors, and she said she outlined a number of options to deal with his workplace issues in Mullingar, including the option of appointing a mediator.
Sgt McCabe nominated Chief Superintendent Barry O'Brien to liaise with him. There were also a series of meetings between the head of Garda Human Relations, John Barrett, and Sgt McCabe.
---
Read more
Tribunal told garda liaison has no recollection of any McCabe apology
Questioning of McCabe was 'political dynamite'
---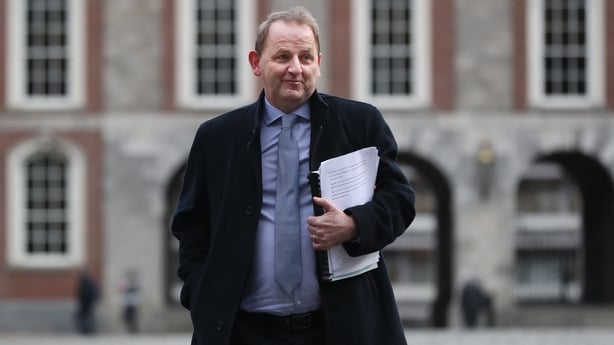 The tribunal heard about a complaint made by Sgt McCabe in relation to an article in the Garda Review magazine in 2015, which he said breached the Protected Disclosures Act.
Ms O'Sullivan said that the issue was discussed during a meeting on 25 February 2015 in the then Garda Commissioner's office, which was dealing with matters relating to Sgt McCabe.
She said the meeting was also discussing a concern raised by Sgt McCabe over a workplace incident that had arisen in Mullingar.
Ms O'Sullivan said that the then minister for justice Frances Fitzgerald had sought a report on the matter.
She said she was anxious that it be communicated to the minister fully all of the actions and supports that the Garda had put in place for Sgt McCabe at that time.
Ms O'Sullivan said the O'Higgins Commission presented a forum to establish the facts and get to truth of the matters that could now be dealt with once and for all.
She said the allegations had led to a public narrative that gardaí were corrupt and that there were shortcomings with investigations and victims had not been appropriately dealt with.
She conceded it was unsatisfactory that there were delays in discovery and appointment of legal counsel for O'Higgins but she did not agree that it was a mistake.
'Important' to test McCabe evidence - O'Sullivan
In her afternoon evidence, Ms O'Sullivan said that she was aware that her instructions to her legal counsel at the O'Higgins Commission might change Sgt McCabe's perception of her.
She said she was faced with an almost impossible dilemma, when she was asked to instruct her lawyers about the line of questioning to be pursued with Sgt McCabe at the inquiry.
Ms O'Sullivan said she had been setting a tone from the top from the outset from her time as Acting Garda Commissioner to support all members who wanted to speak up, and her support for Sgt McCabe was well known within the force and externally.
However, she said it was important to make sure that the evidence being provided by Sgt McCabe to the commission was being appropriately tested.
She said the supports that had been put in place for Sgt McCabe continued through 2015, 2016 and 2017.
Ms O'Sullivan said her understanding of what her legal counsel were advising in May 2015 was that it needed to be put before the commission the matters arising from the refusal of Sgt McCabe's request to get the DPP's directions in relation to the 'Ms D' allegation, the interactions he had with garda management in Bailieboro after that, and what had led him to raise allegations of corruption and malpractice.
She said the decision to instruct the legal team based on what they were advising was a very important decision, and one that she would never take lightly. She said she was satisfied that the advice was coming from a competent and professional legal team.
Ms O'Sullivan said she never thought Sgt McCabe was acting out of anything other than appropriate and proper concerns and she never thought he had an ulterior motive.
She said she understood the challenge to motivation was not about why Sgt McCabe was making the complaints, but to explore interactions between him and local management after he was refused the DPP's directions.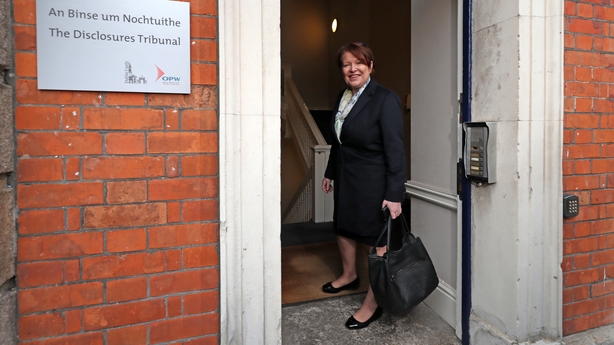 McCabe requested to be released from position
The tribunal heard details of correspondence outlining a request by Sgt McCabe to be released from his position in the traffic unit in Mullingar in May 2015 as he said he felt under threat.
The tribunal was also shown a copy of correspondence outlining that Sgt McCabe had said he could no longer carry on as sergeant in charge of the traffic unit, that he had said the reason for that was Ms O'Sullivan, and that he felt under threat.
Sgt McCabe had made the comments at a meeting with a senior officer on 18 May 2015.
The correspondence was forwarded to Ms O'Sullivan.
Sgt McCabe was appearing as a witness before the O'Higgins Commission at that time.
A row had arisen on the previous Friday, 15 May, over the legal strategy being pursued by Ms O'Sullivan's legal counsel, in relation to the motivation of Sgt McCabe.
Asked about the situation, Ms O'Sullivan said she had always been mindful that anything that happened at the commission may have affected Sgt McCabe's perception of her.
She said she was keen to ensure that local garda management made sure supports were there for Sgt McCabe.
Counsel for the tribunal, Kathleen Leader, asked Ms O'Sullivan if she considered she would have been better off not being represented at the O'Higgins Commission by the same legal team as other senior garda management.
She said this had been done on the advice of the Garda Head of Legal Affairs Ken Ruane.
She said she did not see any conflict at that time but she said it may well be the right thing in the future to consider separate legal counsel.
Ms O'Sullivan will continue to give evidence at the tribunal tomorrow.
Further evidence from garda liaison officer
Earlier, Chief Superintendent Fergus Healy, who was the garda liaison officer at the commission, outlined to the tribunal last week how he had sought instructions from Ms O'Sullivan on the line of questioning being pursued by her lawyers relating to the motivation and credibility of Sgt McCabe.
Chief Superintendent Healy continued giving evidence when the tribunal resumed this morning.
He said he was not aware of the Department of Justice having any input into the legal strategy pursued by Ms O'Sullivan's legal counsel at the inquiry in 2015.
Chief Supt Healy said Ms O'Sullivan had told him during a phone conversation on 15 May 2015 after a row had arisen over the legal strategy, that she was going to speak to the department.
He said he took "the department" to mean the Department of Justice.
However, he told the tribunal he did not know whether Ms O'Sullivan actually spoke to anybody in the Department of Justice.
Chief Supt Healy was also asked about a request by solicitor Annmarie Ryan for an urgent consultation with the then commissioner, who she was representing at the commission, on the same day in May 2015.
He said he definitely spoke to the commissioner about the request.
However, counsel for Ms O'Sullivan, Shane Murphy, told the tribunal that Ms O'Sullivan was expected to say in her evidence that she was not aware of this urgent request.