London's Metropolitan Police has said it is not treating the death of Dolores O'Riordan as suspicious.
The 46-year-old singer, from Friarstown, Kilmallock in Limerick, was found dead at a hotel on London's Park Lane yesterday morning.
A book of condolence has opened at Limerick City and County Council at Merchant's Quay with dozens of people queuing to sign it.
Past pupils from Ms O'Riordan's secondary school, Laurel Hill Coláiste in Limerick, were among those to sign the book.
People queued in Limerick from early morning to sign a book of condolence for Dolores O'Riordan pic.twitter.com/Rw233Y2XZf

— RTÉ News (@rtenews) January 16, 2018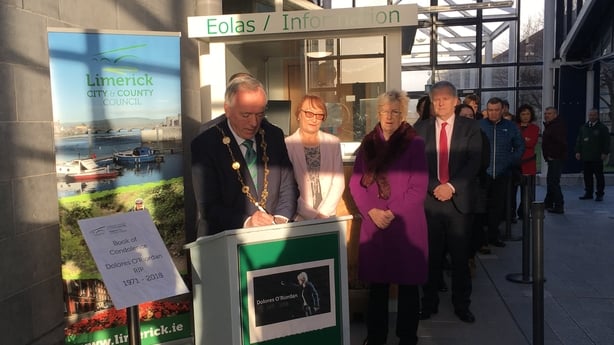 A band who were due to record a song with Ms O'Riordan said they were "heartbroken" the collaboration will not go ahead after the death of The Cranberries' singer.
Hard rock band Bad Wolves were due to record a cover of The Cranberries' hit Zombie.
They posted a message on Facebook saying they were "shocked and saddened" at the news of her death.
The tribute from singer Tommy Vext said: "Zombie is an incredibly personal song and although we are a hard rock band, we always felt the rawness and honesty she projected on stage and in her recordings was something to which all bands should aspire to, regardless of genre.
"When we heard she liked our version and wanted to sing on it, it was the greatest compliment a new band, or any band for that matter, could have received."
Music producer and friend Dan Waite also paid tribute to the singer, revealing she left him a message in that she sounded "full of life".
He said: "Dolores left me a voice message stating how much she loved Bad Wolves version of Zombie; she was looking forward to seeing me in the studio and recording vocals.
"She sounded full of life, was joking and excited to see me and my wife this week. The news of her passing is devastating and my thoughts are with Don her ex-husband, her children, and her mother."
---
Read more
Death of Cranberries singer Dolores O'Riordan 'unexplained'
---
The Cranberries said they were "devastated" at her death, saying "the world has lost a true artist".
The band - Noel and Mike Hogan and Fergal Lawler - posted a message on Twitter last night saying: "We are devastated on the passing of our friend Dolores.
"She was an extraordinary talent and we feel very privileged to have been part of her life from 1989 when we started The Cranberries.
"The world has lost a true artist today.
"Noel, Mike and Fergal."
Former promoter remembers special voice
Ber Angley, who promoted The Cranberries at the start of their career, said he knew Ms O'Riordan was special as soon as he heard her voice.
Speaking on RTÉ's Morning Ireland, he said that he first met the band in 1993, and even though they were at the early stages of their career, they had something unique.
"It was her voice. The other thing was the songs," he said.
"They did a version of Linger at the time, now it was a very crude version of Linger. But I knew they had something.
"I remember mentioning it to other people, saying I would have them back and they should go and watch them. I even remember talking to Louis Walsh at the time and saying, 'you watch this band'."
Speaking on the same programme, the father of a young boy killed in the Warrington bombings said he was unaware until yesterday that The Cranberries song Zombie was written in response to the atrocity.
Tim Parry, 12, and three-year-old Johnathan Ball were killed in the 1993 IRA bombing.
Colin Parry said that he listened to the song yesterday, which he described as "captivating and poignant".
Mr Parry said he was very moved by the singing voice of O'Riordan.
He said: "For an Irish band to sing about the tragedy of my son and Johnathan dying is obviously very poignant.
"It reminded me very, very much of the enormous amount of sympathy and kind mail we got from Ireland, the whole of Ireland, in the days, weeks and months that followed the attack in Warrington."