UN climate experts have said countries urgently need to step up their ambitions to cut emissions if they are to keep global warming within safe limits.
About 163 countries have submitted plans on how they will contribute to meeting the Paris Climate Agreement goal to limit global warming to well below two degrees above pre-industrial levels.
However, put together, the plans are likely to lead to a three degree temperature rise this century, according to the UN.
Nicholas Nuttall, spokesman for the UN Framework Convention on climate change, said the national plans delivered in advance of Paris, "were well known at the time to fall short of the Paris Agreement's long-term goals".
The agreement also calls for countries to take stock of international progress on climate action and ratchet up the ambition of their national plans accordingly.
The first stock taking is set for next year, with the first more ambitious plans due in 2020.
"That will, if followed, eventually get the world on track to the goals and the aim of climate neutrality in the second half of the century," Mr Nuttall said.
"The UN climate conference needs to be a launch pad to that next ambition moment," he said.
This year has seen particularly severe weather of the type climate scientists have long warned about: severe floods in Asia, devastating hurricanes in the Caribbean and United States, and wildfires in California and southern Europe.
In the effort to reduce emissions and stave off worsening impacts, "we're in a race against time," Angel Gurria, secretary-general of the OECD, last week.
"We have to make it stick that it's good business to protect the environment but also that it's good policy," he said.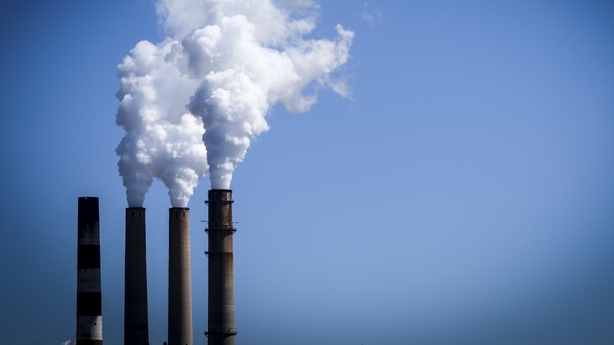 As 195 nations meet tomorrow in Bonn for UN climate talks, they will be working to create rules to implement the agreement, including on sometimes contentious issues such as how reductions of climate-changing gases should be reported and checked by other nations.
They say time is short, with global emissions of climate changing gases needing to peak by 2020 - just three years away - in order to keep warming to relatively safe levels, according to the World Resources Institute.
The appeal comes as a new report published by over 50 US government scientists show that climate change is driven by human action.
Camilla Born, a senior policy adviser for E3G, a London-based climate think tank said: "We are going to have to show increased ambition by 2020 if we are going to really get on track to delivering those long-term goals."
"This is a broader and deeper task than we've ever seen before. This isn't just a conversation about raising targets. This is about structuring our economies differently.
"We are moving in that direction, but we need to move there much faster," Ms Born said.
"It's not a done deal but we've got lots of ingredients to make that happen," she added.
Many developing countrys' plans to curb emissions and adapt to climate change depend on receiving enough finance to implement them.
Wealthy countries have pledged to raise $100 billion a year in climate finance by 2020, to help developing countries cope with the impacts of climate change and reduce their greenhouse gas emissions.
However more than $4 trillion is needed for developing countries to implement their plans, according to the Least Developed Countries (LDC) Group which represents the world's 47 poorest countries.
"LDCs and other developing countries cannot take ambitious action to address climate change or protect themselves against its impacts unless all countries fulfil and outdo the pledges they have made," said Gebru Jember Endalew, the Ethiopian chair of the group.
"We face the unique and unprecedented challenge of lifting our people out of poverty and achieving sustainable development without relying on fossil fuels," he said.
The group is pushing for the Bonn talks to come up with more promises of cash to fund the needed changes.
Least-developed countries alone, in their climate action plans, have said they need at least $200 billion just to adapt to worsening climate impacts, including harsher droughts and worsening floods.
Not finding it will be "a serious barrier to ambitious climate action", he said.