Aside from the human tragedy of a family being left without a mother and wife, the murder of a journalist within an EU member state has led to shock and disgust.
Located in the city's European Quarter, just a few miles from Strasbourg's historic old town, the five buildings that comprise the official seat of the European Parliament are all named after distinguished politicians.
The Winston Churchill building is a case in point.
This week something extraordinary happened. A room in the parliament was named after a person just eight days after her death.
Hundreds of MEPs applauded the decision to rename the press room in the parliament after distinguished journalist Daphne Caruana Galizia.
She was the investigative journalist from Malta who was brutally assassinated in a car bomb on 16 October.
Her grieving husband and three sons travelled to Strasbourg on Tuesday. MEPs paid tribute to Ms Galizia by observing a minute's silence in her honour.
The family's raw emotion was evident as they appeared in the parliament's public gallery so soon after her barbaric killing.
Ms Galizia was killed in broad daylight close to the family home. Such was the magnitude of the bomb blast that the mangled shell of her car ended up in a field dozens of yards away from the initial explosion.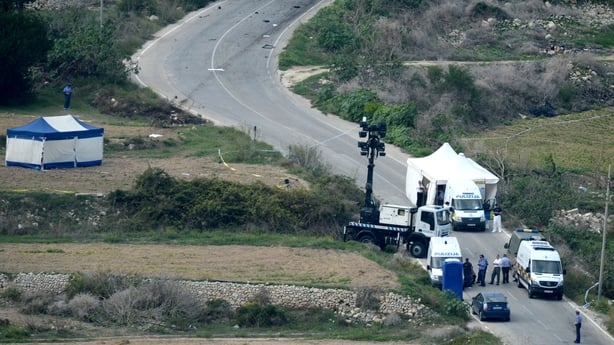 The morning after his mother's death, Ms Galizia's son Matthew wrote a graphic description on Facebook, that he arrived at the scene when the car was still blazing. He tried to rescue his mother but it was too late. He looked down and her body parts were all around him.
The courageous and dogged journalist was murdered because someone wanted to stop her from reporting.
Aside from the human tragedy of a family being left without a mother and wife, what is shocking for MEPs is that her murder took place in another EU member state.
Gianni Pitella, the leader of the Socialists and Democrats group, labelled her murder "an attack on democracy."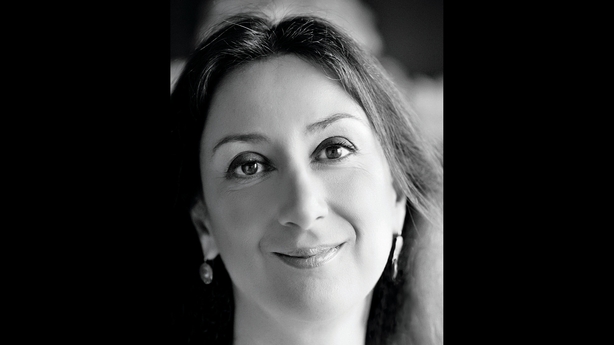 Ms Galizia was already known to a lot of MEPs for her groundbreaking reporting on the leaked Panama Papers.
To put figures on her impact as a journalist, the population of Malta is 430,000 people.
400,000 people read her blog each day.
During Tuesday's European Parliament debate on the protection of journalists and media freedom in Malta, a German Green MEP pointed to some uneasy truths about Malta.
Sven Giegold personally knew Ms Galizia.
He said the fact that she was blown up in broad daylight was a brutal demonstration of power by people who consider themselves to stand above the law.
He said it was Ms Galizia who had shed light on money laundering and corruption in Malta.
He listed a number of illicit activities that the murdered journalist had made public, "Letter box companies held by members of government; the sale of passports to so-called investors; tax avoidance for multi-national companies; and online gambling based on weak supervision and hyper-low taxation."
Then came the most cutting charge against Malta.
Mr Giegold said, "All these cases have one thing in common - Malta has sold its sovereignty to dirty money. Malta has replaced the rule of law, with a culture of impunity and fiddling between powerful political and financial elites."
Strong words. Words that the establishment in the Maltese capital Valletta will reject.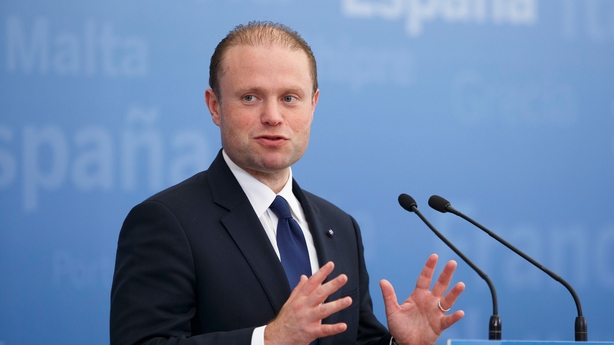 On Wednesday Prime Minister Joseph Muscat said the murder does not define Malta as a nation. He called on the country to unite and send a message that the murder was a unique event.
He acknowledged that Malta's reputation has suffered but pledged that the rule of law is as strong in Malta as it is in other EU member states.
He has said the US Federal Bureau of Investigation has been asked to help local authorities investigate the murder.
President of the European Parliament Antonio Tajani said Europol should join the murder inquiry as part of an international investigation to bring those responsible to justice.
He also said he expected the Maltese authorities "to spare no effort in getting to the bottom of what happened".
During this week's debate, Dutch Liberal MEP Sophia In 't Veld said the journalist's murder was more than the murder of an individual as she was exposing international networks of corruption and criminal money laundering.
"So it's not just a Maltese problem. This is a European problem," she said.
The European parliament has agreed to send a delegation to Malta to look into alleged cases of money laundering and corruption.
Back to her sons' Facebook posts. Matthew, Andrew and Paul have said that justice will only be served when "everything our mother fought for – political accountability, integrity in public life and an open and free society – replaces the desperate situation Malta is in"
They have called for Mr Muscat to "take political responsibility and resign. Resign for failing to uphold our fundamental freedoms. Resign for watching over the birth of a society dominated by fear, mistrust, crime and corruption.
"Resign for working to cripple our mother financially and dehumanise her so brutally and effectively that she no longer felt safe walking down the street."
Rightly or wrongly there was a perception in the European Parliament this week that Malta is a country that has "sold its sovereignty to dirty money".
Bringing her killers to justice will help to dispel this reputation. Clamping down on nefarious activities such as money laundering would take things a step further.
At 2.35pm on Monday, 16 October Ms Galizia posted a blog post. The final two lines of it read, "There are crooks everywhere you look now. The situation is desperate."
Less than half an hour later she was wiped out by a car bomb.
She may have been brutally assassinated, but her memory will live on in the European Parliament buildings, where her name will adorn the press room.