The Minister for Housing has said his department is not considering changing the law in relation to evictions.
There have been calls for the Minister to close off a loophole that allows landlords to terminate a tenancy by selling the property or moving a family member into it.
However, speaking on RTÉ's Morning Ireland Eoghan Murphy said "we can't bring any change to the law that would prevent evictions".
"We have to make sure we find a balance between people who are renting the property and the person who owns the property. There are very strong protections in law for the person who is renting the property," he said.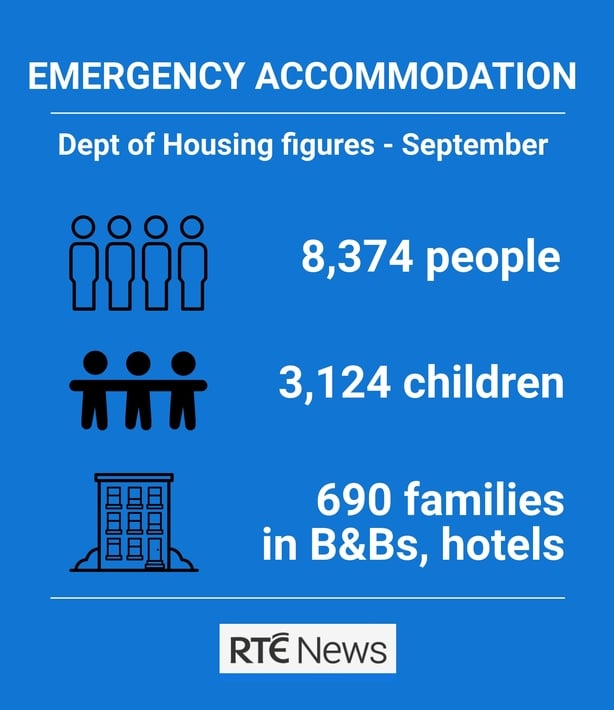 The Ombudsman for Children has called on Mr Murphy to make the needs and rights of children who are living in emergency accommodation a specific focus of policy attempts to improve the homeless situation.
Speaking on RTÉ's News at One, Dr Niall Muldoon said that there are not "any visible changes of a sufficient level" in lowering the numbers of children who are becoming homeless and forced into emergency accommodation.
Mr Muldoon said that every month the numbers of children without a home are growing, something he said is a "disgrace" and while a lot of initiatives are talked about he is not seeing enough changes on the ground.
He said that free bus passes for children in emergency accommodation is the only child-specific measure introduced to help children specifically.
He said children with special needs or disability are not catered for.
We need your consent to load this rte-player contentWe use rte-player to manage extra content that can set cookies on your device and collect data about your activity. Please review their details and accept them to load the content.Manage Preferences
Mr Muldoon referred to a rapid-build programme in Lewisham in Britain which saw a number of two-bedroom units built in just 12 weeks.
He said issues like planning permission and other systemic delays need to be cut through in Ireland so we can put children's needs and rights first and ensure this generation does not grow up with a serious psychological and physical impact.
He said the practical side of bringing children up in emergency accommodation - like bringing them trick or treating - becomes very difficult.
The Director of Advocacy at Focus Ireland, Mike Allen said it is "baffling" for the minister to say the Government cannot bring in legislation to prevent evictions.
Mr Allen also disputed the assertion by the Residential Landlords Association that making this change in legislation for landlords with a buy-to-let mortgage would be unconstitutional.
Speaking on RTÉ's Today with Sean O'Rourke, Mr Allen said the biggest single cause of homelessness for families is lack of protections in the private rented sector.
Focus Ireland said many tenancies are terminated as the landlord wants to sell up or move a family member in.
He said a change in the legal "loophole" would allow landlords to sell with tenants in place.
On the same programme, Fintan McNamara of the Residential Landlords Association said changing the law would have a very negative effect on investor sentiment.
He said it would deter landlords coming into the market and claimed it would be unconstitutional.
Meanwhile Mr Murphy has said the number of people accessing emergency accommodation remains "unacceptably high", but he said the latest figures show that some progress had been made.
He said that for the first time in three years, the number of families exiting emergency accommodation in Dublin had increased for two months in a row.
"All the work that the volunteer organisations are doing with the local authorities is helping. We are making some progress and want to continue to make progress in the months ahead," he said.
Mr Murphy said while they have seen an increase in the number of families looking to access emergency accommodation and placements, they are addressing that demand.
Figures released yesterday showed the number of people living in emergency accommodation had reached a record high, with 8,374 people accessing emergency accommodation in September.
The figures from the Department of Housing show that 3,124 of these were children.
The number of people in emergency accommodation in Dublin in September was 5,953, while 690 families were being housed in hotels and B&Bs across the country.
Mr Murphy said that the 690 families in hotels and B&Bs is 20% lower than in March of this year, adding that efforts were being made to reduce that further.
The Inner City Helping Homeless group has accused the Government of short-term solutions and not being focused on preventing homelessness.
Inner City Helping Homeless group accused Government of not being focused on preventing homelessness pic.twitter.com/lD2PKCFmLS

— RTÉ News (@rtenews) October 27, 2017
The Head of Advocacy with Barnardos said the impact of living in emergency accommodation on young people cannot be emphasised enough.
In a statement, June Tinsley said: "While we see a slight drop in the number of homeless families in Dublin in September, this is not near enough of a decrease to have any significant impact.
"In fact, at this rate it would take almost 12 years for all of the families currently homeless in Dublin to enter long-term accommodation," she added.