The number of people living in emergency accommodation has reached a record high, with figures showing 8,374 people accessed emergency accommodation last month.
The figures from the Department of Housing show that 3,124 of these were children.
The number of people in emergency accommodation in Dublin in September was 5,953, while 690 families were being housed in hotels and B&Bs across the country.
The situation in Dublin has improved slightly, but charities say it is being offset by escalating homelessness elsewhere around the country.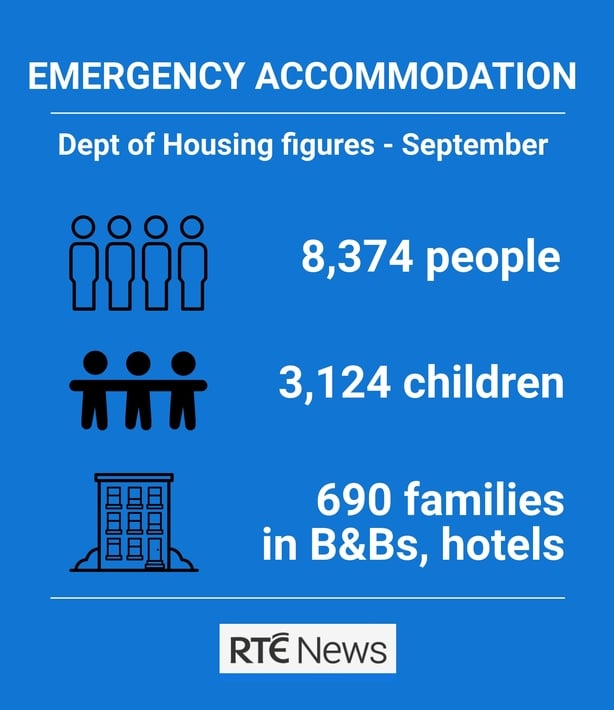 The Department of Housing has said that there were 2,000 exits from emergency accommodation in the first six months of 2017.
Minister for Housing Eoghan Murphy told the Dáil this evening that the number of homeless families in emergency accommodation in Dublin fell for a second consecutive month in September.
He said this was welcome progress and that things would improve as more homes were built and Housing Assistance Payment supports were increased, as committed to in Budget 2018.
However, Fianna Fáil's housing spokesman Barry Cowen told the minister that the homeless figures were still up.
Minister Murphy said more families are being taken out of homelessness than are entering emergency accommodation.
He acknowledged to Sinn Féin's spokesman Eoin Ó Broin that it was too slow and more needed to be done.
Mr Cowen said he did not doubt that more families were leaving homelessness, but the figures were up.
Focus Ireland has said that there was a new record number of homeless people, and another new record number of children are now homeless.
Director of Advocacy at Focus Ireland Mike Allen said: "The Minister rightly highlights the extraordinary work which local authorities, homeless organisations and the department are doing in collaboration to support record numbers of households to move out of homelessness.
"However, far too little is being done to prevent people becoming homeless in the first place.
"The single largest reason for families becoming homeless is that their landlord is either selling up or moving members of their own family into the accommodation. Under current legislation these are perfectly legal reasons to terminate a tenancy contract and render a family homeless .
"We have been pleading with minister after minister to close off this loop-hole and protect families in their homes, but with no result. Unless action is taken to deal with this issue, all our efforts to support families out of homelessness will be futile."