Minister for Finance Paschal Donohoe has said he is unambiguously sending out the message that the Government would use powers to force the issue of tracker mortgages to be resolved.
"We will make use of powers and choices that are available to us to allow and force this issue to be resolved," the Minister told the Dáil.
He was speaking during a Dáil debate on a motion by Fianna Fáil on the tracker mortgage controversy, which includes a call to provide a detailed explanation on how the issue occurred in the first instance.
He said some of the banks had laid out timelines in relation to payments and he would hold the banks to these timelines.
Mr Donohoe said he wished some of these timings were different and reflected the urgency of the issue.
He said that if the Central Bank reports that expectations are not met, he would take further action.
On the role of the Central Bank, he said they were the independent regulator of the banking sector and it was important their role is understood.
On the options open to him, he said he would look at further requirements on the banks in terms of statements and reports back to the Government.
He also said he would explore options as "an activist shareholder," and he would look at banking pay and remuneration.
Earlier, Mr Donohoe described the behaviour of the banking sector in relation to tracker mortgages as "disgraceful and a scandal."
He said it should never have happened and the Government is determined to ensure that it should be resolved.
Minister for Finance describes behavior of banks over tracker mortgages as 'disgraceful and a scandal' https://t.co/N9jivcMSHQ pic.twitter.com/9bu2XUORFv

— RTÉ News (@rtenews) October 25, 2017
Mr Donohoe said that the Central Bank has been conducting an industry-wide examination of the issue and several enforcement actions are under way.
Speaking on RTÉ' Six One News, Mr Donohoe said he may decide to introduce new requirements for banks to report directly to Government.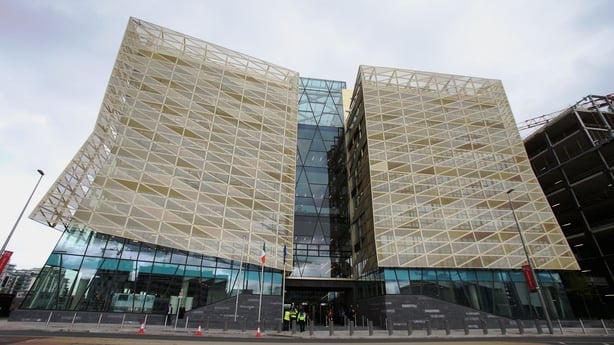 "Based on its ongoing investigation into the tracker mortgage issue, the Central Bank is of the view that some bank behaviour up to now has been unacceptable, legalistic and not customer centred," he said.
He added that the Central Bank is also concerned that two banks had failed to fully identify customers impacted.
The Director of Financial Conduct at the Central Bank has said she is under no illusion that the Central Bank will have to pursue banks vigorously to ensure they provide fair compensation and redress to those affected by the tracker mortgage issue.
Derville Rowland said she had no doubt more people would be identified and included by a deadline set for November.
She also said she expected lenders to demonstrate with their behaviour that they would do the right thing by their customers.
The Governor of the Central Bank has said that it is "incumbent on the heads of the banks to ensure that all affected customers are identified, and to ensure that redress and compensation are delivered swiftly to those to whom so much distress has been caused."
All five banks caught up in the tracker mortgage issue have provided updates on their progress in offering compensation and redress to affected customers.
---
Explainer: The tracker mortgage scandal
---
Ulster Bank says 1,000 of its nearly 3,500 affected customers will receive payments by the end of this year, with this figure rising to 2,500 in the first three months of 2018.
The lender added the remainder of affected customers will have received compensation and redress by June of next year.
So far it has made payments to just 100 customers.
Ulster Bank will offer customers who lost their homes as a result of the tracker scandal an upfront initial payment of €50,000.
The bank's impacted customers have been put back on their tracker rate.
Just under 2,000 affected Permanent TSB customer accounts have been identified, with 98% of them now back on their correct tracker rate.
It says the remainder of accounts will have been moved back by the end of October.
Permanent TSB said 1,448 impacted customers of the bank have been fully redressed and compensated and relevant payments have been made to them.
This represents 73% of the 1,971 customers the bank stated that it had identified as impacted.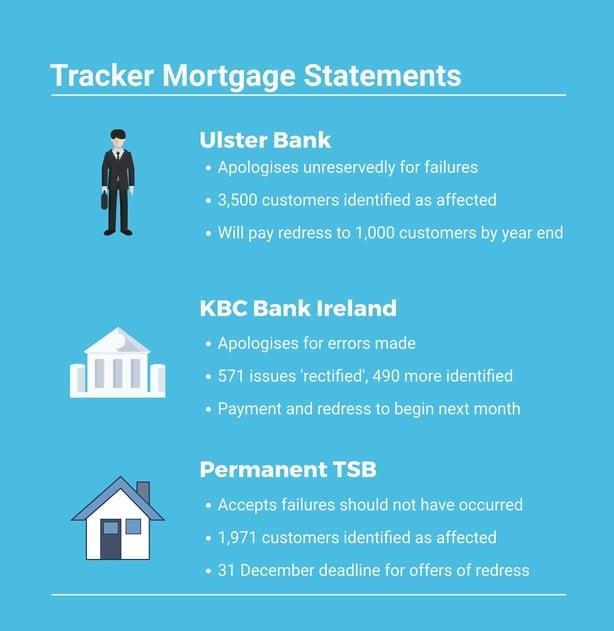 KBC Bank has said that 571 tracker mortgage customers were already rectified in 2010, with a further 490 customers identified to date.
They say that an additional 200 to 600 cases may be identified.
In a statement they said that they "expect to have concluded the identification of the vast majority of customers impacted by the Tracker Examination by year end."
They say that a number of customers have already had their mortgage rate corrected.
A spokesperson for the bank said that the vast majority of tracker mortgage customers have accepted redress offers and received compensation payments.
AIB has said that a review of 650,000 accounts resulted in the identification of more than 30 different groups of impacted customers.
They say that the majority of customers have been redressed.
At the end of September 3,416 customers were found to not be on the tracker mortgage rate which they were entitled to. 91% of these had their trackers restored and were also redressed.
They say the remaining cases will be completed by the end of the year.
In a statement they said an estimated 170 further cases may be found be the end of the year.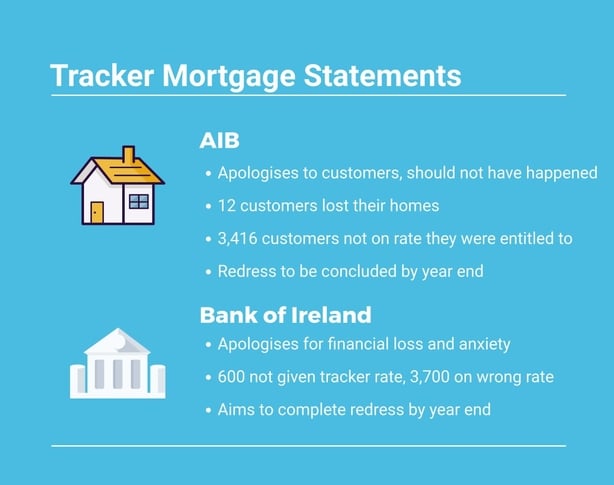 Bank of Ireland says it has identified around 600 accounts where a right to, or option of, a tracker rate was not appropriately provided to customers.
A further 3,700 accounts were found to have a rate differential of an average of 0.15% applied to the rate of interest on their trackers.
They say customers from this group were returned to the correct rate between March 2016 and August 2017 and they will shortly receive compensation.
Compensation is set to begin for these 4,300 customers from 10 November.
All five banks included apologies to the public within their statements.
Francesca McDonagh, Group Chief Executive, Bank of Ireland said: "I unreservedly apologise to all impacted customers for the financial loss and anxiety this has caused them and their families.
"I am fully committed to fixing this as quickly as possible," she added.
Responding to the statements by the banks, Ms Rowland said "words don't count, actions do."
She said that the Central Bank had been very dogged in pursuing the tracker mortgage issue and would continue to be.
She said: "We have used lots of regulatory powers and we will use lots more."
Ms Rowland said 13,000 people had been identified, because of the Central Bank examinations and €163 million had paid out in redress and compensation. Much more would be paid back by Christmas.
Asked about the possibility of criminal investigations she said "theft and fraud offenses are entirely a matter for An Garda Síochána".
The Central Bank, she added, takes very seriously its regulatory reporting options and keeps them under constant review.